Outdoor sculpture
Washburn's annual Outdoor Sculpture Competition and Exhibition is a presentation of juried sculptures created by artists from Kansas, around the country and occasionally, abroad. Presented with fanfare in the summer, the sculptures can be enjoyed all year on campus.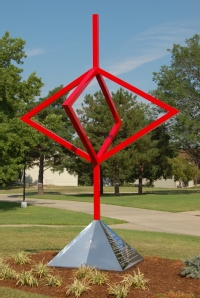 Interested in participating next year?
Each selected sculpture receives a $1,500 honorarium.
Find out more about the competition and exhibition.
Questions? contact Rugena Hall in the President's Office.