Carole Chapel
Carole Chapel is available for meditation and special events. The 1,500 square foot structure is nestled among Scotch and Austrian pine trees east of Benton Hall and south of the Memorial Union. The Chapel was moved to campus and dedicated in December 2004.
When is Carole Chapel available for meditation?
7:30 a.m. to 8 p.m. Monday through Friday and noon to 5 p.m. Saturday and Sunday when classes are in session
7:30 a.m. to 4:30 p.m. Monday through Friday when classes are not in session
The chapel is not available when the university is closed, including holidays, and when the chapel is reserved for a special event.
How do I reserve Carole Chapel?
University-sponsored groups, including student and departmental organizations, may reserve the chapel for free.
The public may reserve the chapel for weddings or other ceremonies for a fee.
To reserve the chapel, contact the

Memorial Union

administrative office at 785-670-1725.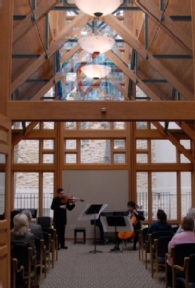 Who is the chapel named for?
Carole Chapel is named for Carole Bloomfield Etzel, b ed '63. Along with her husband, Tim, bba '64 and honorary doctorate '07, she was instrumental in moving the chapel to the Washburn campus from the former Menninger Foundation site in northwest  Topeka.
The Menninger Foundation donated the chapel to the university when its clinic was relocated to Houston in 2003. The chapel originally was built in 1996 and named for Topeka philanthropist Irene Nunemaker.
The chapel's stained glass window was designed by John Whitfield, bfa '64, of Lindsborg, Kan. It was constructed by Topekan Steve Clark, ba '73 and jd '76, owner of 1904 Stained Glass. When the chapel originally opened on the Menninger campus the window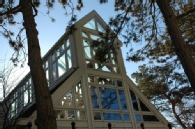 was deemed the Scott S. Smith Memorial Window, after a member of the Menninger staff. Smith's widow, Marie, also a longtime Menninger staffer, donated the window.
Carole and Tim Etzel were active in the fundraising effort to relocate the chapel to Washburn. Carole Etzel has served on the Washburn Women's Alliance Advisory Board and is a member of Friends of the Mulvane Art Museum Tim Etzel was formerly on the Washburn Board of Regents and served on the Washburn Foundation board. The Etzels are members of the President's Club of the Lincoln Society and provided a lead gift for the establishment of the Living Learning Center.