Events
2016 Kansas Day Celebration:

"The Kansas Budget: Are We Really in Kansas Anymore?"
The CKS annual Kansas Day presentation will be given by Duane Goossen on Kansas Day, January 29, 2016. Henderson Hall, Room 208, at 4:00 PM
  Duane Goossen hails from Goessel, Kansas. He graduated from Bethel College in North Newton, Kansas, and holds a master's degree from the Kennedy School of Government at Harvard University. He began his career as a building contractor and ran for the State House of Representatives in the late 1980s. While representing Marion and Chase counties for seven terms in the Kansas House of Representatives, he became recognized as a moderate Republican and a voice of reason on budgetary matters, and an expert on the state's finances. Eventually Governor Bill Graves chose Goossen to be Director of the Kansas Budget Division in the governor's office. Duane served in that capacity for twelve years from Republican Bill Graves' second term through the administrations of Democrats Kathleen Sebelius and Mark Parkinson. He received the National Association of State Budget Officers' Gloria Timmer Award for career achievements in a state budget office.
  Duane left the Kansas Budget Division position with the advent of the Brownback Administration. Since that time he has continued to be a voice of clarity and reason regarding the Kansas's precarious fiscal situation, first as a member of the Kansas Health Institute, the foundation-supported, think-tank created from the proceeds of the sale of Wichita's Sisters of Mercy Hospital, and now as an independent consultant, editorialist and blogger.  He currently writes and speaks about the Kansas budget and state finances as a Senior Fellow with the Kansas Center for Economic Growth. He is married to Dr. Rachel Goossen of the Washburn History Department..
---
Kelly Erby, Ph.D., is new head of CKS listserv
Kelly Erby, Ph.D., is now managing the Center for Kansas Studies email listserv. People who would like to join our listserv should send an email to:kansas-studies@lists.washburn.edu
---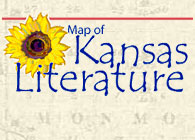 View recent student work
on the
Map of Kansas Literature
. Students have chosen specific Kansas authors and poets, researched their lives and work, and composed web pages about each writer. This site is an ongoing project and contains the work of three semesters of student research at this time.