News Archive
December 2012:
 WU Student Readings at Blue Planet Cafe
December 7, 2012: Students participating in the Fall 2012 "Contemporary Forms" course read from their own works at the Blue Planet Cafe in downtown Topeka. 
November 2012:
On November 1, 2012, the department of English conducted a graduate school workshop for English majors in the Vogel Room of the Memorial Union at 3:00 pm. The workshop covered topics ranging from the preparation of application materials to the different types of programs and financial assistance available. Please contact erin.chamberlain@washburn.edu if you missed the workshop or would like to receive more information.

September 2012:
VISITING WRITER: KWAME DAWES
4 p.m., Wed., Sep. 5, 2012 at Mabee Library: Award-winning Jamaican poet Kwame Dawes, editor of top lit mag Prairie Schooner, visited Washburn to read from his work and discuss his current research of playwright August Wilson via the Guggenheim Fellowship. Learn more at kwamedawes.com.  
May 2012:
Leslie Switzer, English Education, received the Secondary Level Outstanding Student Teacher of the Year award. This award is presented to a student who demonstrates excellence in teaching throughout her student teaching assignment. Leslie student taught at Jardine Middle School in Topeka.
The following English Education students successfully completed their student teaching in the Spring of 2012. From left to right: Dr. Terry Rolfs, University Supervisor, Brandi Benson, Stephen Eschmann, Brenda Blackman, Leslie Switzer, and Dr. Danny Wade, Coordinator of English Education. Not pictured are Alison Ketzner, Katie McKee, and Krista Nosker.
Corey Zwikstra, Assistant Professor in the English Department, was presented the Student Life Achieving Excellence Award.  The nominator stated that he "is genuinely interested in student reactions to material, welcomes interruptions that provide insightful information, is willing to provide students additional assistance any time...WU is lucky to have him!" 
April 2012: 

Congratulations to the twelve English majors who were inducted into the Phi Rho chapter of Sigma Tau Delta, the national English honor society, on April 25, 2012!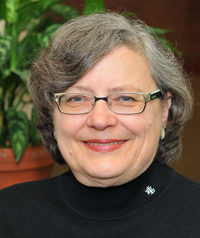 Mary Sheldon, Associate Professor of English, was selected to receive the Ned N. Fleming Excellence in Teaching Award at Washburn's Employee Recognition ceremony on April 17. This award is given yearly to a faculty member who demonstrates excellence in teaching on a consistent basis.
Eight student presenters and four faculty mentors from the WU English Department attended the 2012 National Undergraduate Literature Conference at Weber State University in Ogden, Utah. Read more ...
March 2012:
The Student Life team is pleased to announce that Danny Wade, Associate Chair and Assistant Professor in the English Department, was presented the Achieving Excellence Award for his excellence in working with students.  His nominator stated "I hope that someday I can be half the teacher Dr. Wade is. He is my role model, my inspiration."
Author Sherman Alexie, winner of the National Book Award, visited Washburn University on March 9 and delivered the 2011/2012 Klemmer lecture, co-sponsored by the English Department.
February 2012:
Tom Averill's novel rode was named Outstanding Western Novel of 2011 as part of the Western Heritage Awards given each year in Oklahoma City, home of the National Cowboy & Western Heritage Museum. This award has been won in the past by James Michener, Thomas Berger, Larry McMurtry, A.B. Guthrie, Barbara Kingsvolver and Cormac McCarthy.