Meet the Leadership Institute Staff
2013 to present
Dr. Michael Gleason began as Director of the Leadership Institute in May, 2013. In this role he oversees the curricular and co-curricular elements of the Leadership Institute and teaches courses within the Leadership Studies Minor/Certificate Programs. He also coordinates efforts related to visiting professorships in leadership. At Washburn University, Michael serves on the Honors Advisory Board, the High Impact Community Engagement Practices Committee, and the University Judicial Board. He was a participant in the Leadership Washburn class of 2013-2014 and has been a facilitator from 2014 to present. He completed his Lean Six Sigma: Yellow Belt in July of 2014.
Prior to coming to Washburn, Michael worked at Wartburg College in Waverly, Iowa, where his primary role was facilitating mentoring and experiential education programs, as well as advising students and providing professional development opportunities for faculty and staff. In addition to these responsibilities, Michael served as the Director of the High School Leadership Institute, was a Leadership Fellow, taught numerous courses in the Institute for Leadership Education, and served on the Leadership Working Group. He also worked for Camp Adventure™ Child and Youth Services, an international leadership development program for college students. In this role he coordinated the recruitment and training of students attending colleges and universities across the United States.
Michael earned a Ph.D. in Educational Leadership with an emphasis in Higher Education from Iowa State University. He has a Master of Arts in Education in Post-Secondary Education Student Affairs and a Bachelor of Arts in Economics, both from the University of Northern Iowa. His research interests throughout his graduate coursework related to mentoring and leadership development.
He and his wife Megan have one son, Henry, and a daughter, Sylvia.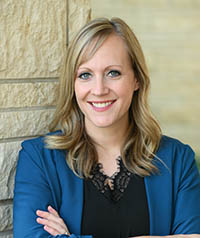 2014 to present
Lauren Edelman joined the Leadership Institute as the Associate Director in January, 2014. Lauren's responsibilities include serving as the faculty advisor for the Student Leadership Council and providing mentorship for the student facilitation of communication, programming and outreach efforts within the organization. She teaches various leadership courses, including LE100: Exploring the Concept of Leadership and coordinates the Leadership Learning Community. In addition, Lauren assists in the planning and development of the Leadership Challenge Event™ and provides mentorship to the two Leadership Institute Fellows. At Washburn University, Lauren also serves on the Washburn Leadership Retreat Planning Committee, University Judicial Board, High Impact Community Engagement Practices Committee, and co-advises the Washburn chapters of the Mortar Board and Alpha Lambda Delta honor societies. She was a participant in the Leadership Washburn class of 2014-2015.
Prior to starting at Washburn, Lauren served as the Assistant Coordinator for K-State First, Kansas State University's first-year experience program. In this role she coordinated the Guide to Personal Success mentoring program, which matched first-year students with K-State professionals for an interactive mentoring experience. She also worked as a Graduate Assistant with the College of Business Administration, New Student Enrollment, and the University Program Council at the University of Nebraska-Lincoln.
Lauren has a Master of Arts in Educational Administration with an emphasis in Student Affairs from the University of Nebraska-Lincoln, and a Bachelor of Arts in Mass Media from Washburn University.
Lauren and her husband have a daughter named Logan and will be welcoming a new member into the family soon.  
Gayle Davis
Senior Administrative Assistant
2008 to present
Gayle Davis is currently the Administrative Specialist of the Leadership Institute of Washburn University in Topeka, Kansas. She supports the Director and Associate Director in all office operations. She works with the Student Leadership Council and Team Leaders of the Leadership Institute to aid them in accomplishing their tasks. She oversees the student workers throughout the semester and works with event planning for the Institute. Gayle promotes Washburn University and the Leadership Institute throughout campus and the community by providing information and answering questions at various venues and informational meetings.
Gayle holds a bachelor's degree from Oklahoma State University in Vocational Home Economics Education. Since teaching in a public high school, she has spent many years as an office assistant with the last nine at Washburn University Leadership Institute.
Gayle enjoys reading, cooking, sewing and traveling with her husband to see family and friends. She and her husband, Jay, have resided in Topeka since 1987 and have three grown children and nine grandchildren.
2017 to present