Event:
"10 Days in Cuba: What we did on our summer vacation"
Drs. Bob Beatty and Mark Peterson along with Dr. Beatty's wife, Stacie, and grad school colleague of Bob's,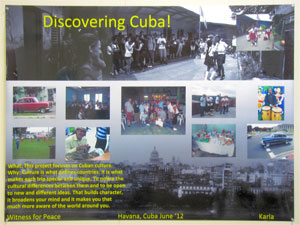 Dr.John Linantud (now at the University of Houston) led19 Washburn students on a 10 day educational exploration of Cuba in June, 2012. The Washburn group was able to go directly from the U.S. to Cuba,without any subterfuge or re-direction through Canada or Mexico owing to a license provided by the U.S. State Department to Witness for Peace. As a people-to-people experience the Cuba trip was a revelation for the Washburn students, few of which had traveled extensively, and none of which had visited Cuba before. While most of the 10 days were spent in Havana, three days were spent out of the city as the group traveled in an ancient yellow school bus to Giron and the Bay of Pigs, then northeast to the city of Varadero, Cuba on the Florida Strait, and then back to Havana.
[Select a thumbnail photo to see the larger image.]
Baseball is historically Cuba's national recreational pastime although soccer (futbol) has been gaining in recent years. Conrado Marrero is the oldest livingformer major league baseball player in the world and he lives inHavana. Dr. Beatty had visited him on two prioroccasions and was able to negotiate a visit for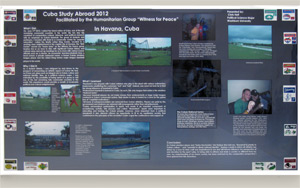 the Washburn students on this trip. At 102 years old Mr. Marrero is blind and has lost most of his hearing, but he can still recall every hitter he faced during his time with the 1950s era Washington Senators. He still closely follows baseball in both the U.S. and Cuba.
Schooling for children in Cuba is extensive and heavily supported by the government. Schools for children are not the technological wonders that many American children experience, but they are extremely well-staffed and the curriculum appeared to be quite rigorous. Cuba prides itself on universal literacy and our experience showed little evidence to the contrary. Arts and crafts are widely incorporated in the curriculum as well, and the country sees the arts as a significant source of foreign hard currency.
Havana is a city of more than 3 million. Cuba has a total population of approximately 11 million. The cityis anattention grabbing mix of the colonial very old, themore recent post-colonial old, the pre-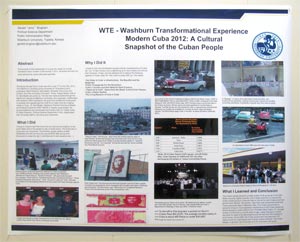 revolutionary, the post-revolutionary, and the post-Soviet eras. Quaint horse carts and mid-century cars and trucks vie for space on the city's congested streets. Most of the cars are 50s era 'Detroit Iron' held together with makeshift resourcefulness. In addition, a good many post-revolutionary Soviet Ladas (Fiats made in the Soviet Union in the70s) cruise the streets, and now more recent vintage vehicles are becoming available. The quality of motor fuel is poor, and there probably isn't a vehicle in Cuba that doesn't need new piston rings and a fresh set of spark plugs. Neither necessary auto component is available anywhere except on the black market at prices unaffordable to the typical Cuban. Most of these ubiquitous smoking hulks are there to haul people from place to place as taxis. Fuel prices and vehicular decrepitude make recreational driving virtually non-existent.
The state has divided the economy in Cuba into two sectors. One sector controls those aspects of the economy that generate foreign trade and acquisition of hard currencies. This sector includes large-scale agriculture,mineral and natural resource exploitation,and tourism. The other involves what economists euphemistically refer to as the informal economy and personal services of all sorts. This sector has
experienced considerable release from governmental oversight and people are generally permitted to engage in lots of market-like activities involving things like home remodeling, restaurants, mechanical repair, retail vending of crafts, kitsch, prepared food stuffs and beverages, and personalservices. Ownership of personal dwellings, motor vehicles and other assets is now permitted by the Communist government, however, restrictions against too much acquisitiveness or ostentation are still enforced through the Committees for the Defense of the Revolution (CDRs), and the massive, but faceless mid-level bureaucracy of Cuban officialdom is not wholeheartedly supportive of the prospect of abandoning the socialist economic program. In the past year the government has eliminated a half million public jobs, but "no one starves in Cuba" which means that even without employment all this people – perhaps as much as 7% of the work force – continues to receive a ration card and some level of cash subsidy from the state. Cuba's economy has suffered terribly from first the collapse of the Soviet and Warsaw Pact countries' economies and now, more recently, the European monetary crisis.