Presidential search concluded
On January 11, 2023 the Washburn University Board of Regents selected Dr. JuliAnn Mazachek as the university's 15th president. 
December 15, 2022
To the Washburn community,
This week, the Board of Regents interviewed presidential candidates. We were impressed by the candidates and their interest in leading Washburn. I want to thank my fellow regents for their dedication and diligence in this challenging and important work. We know everyone is eager for news but ask for your continued patience. There is much to consider as we determine a finalist and negotiate an agreement. It is an exciting time and we look forward to making an announcement in January.
Wishing you a wonderful holiday season,
Shelly Buhler
Chair, Washburn Board of Regents
Search Begins - April 2022

Search Begins
4/18/22
Dr. Jerry Farley announces his plans to retire.
Search Firm RFP - June 2022

Search Firm RFP
6/8/22
Request for Proposals issued for a search firm to assist in the process.
Search Firm Hired - July 2022

Search Firm Hired
7/11/22
WittKieffer, based out of Oak Brook, Illinois, is selected as the presidential search firm.
Search Committee Named - July 2022

Search Committee
7/28/22
The Washburn University Board of Directors appointed a presidential search committee comprised of Washburn University students, faculty, staff, alumni and Topeka community members. Greg Greenwood, Washburn University alumnus and recently retired EVP and Chief Strategy Office for Evergy, will serve as the chair of the presidential search committee.
Advertising for Candidates - Fall 2022

Advertising for Candidates
Fall Semester 2022
This is a future milestone. This phase is expected to last at least 60 days.
An interim president may be appointed to assist in the transition.
Candidates Interviewed - 2022/2023

Candidates Interviewed
2022/2023
This is a future milestone and timing is dependent on the response from potential candidates. This phase is expected to last at least 2 weeks and could take longer depending on the number of candidates selected for interviews.
New President Selected - Spring 2023

New President Selected
Spring Semester 2023
This is an expected date and not a firm deadline. The process will continue until the right person is identified and hired.
Information About Washburn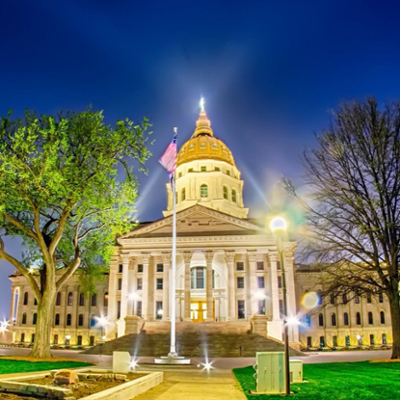 A City on the Move
Wherever you look in Topeka, from downtown renovation and company expansions to the hub of state government, this is a city on the move! With a population of more than 127,000 people, Topeka provides a long list of entertainment and activities that you might find in larger cities, while offering a friendly and inclusive culture that makes everyone feel welcome. It is the best of both worlds!
Learn about the Choose Topeka campaign that has attracted national buzz and why there is no better place to call home.