Campus Climate Survey 2020
You have heard Washburn leadership, faculty, and staff say many times that Washburn exists to help each of you become your best self. This is the heart of the mission of our university. Like any healthy organization, we know how important it is to reach out and ask our community how things are going. In this spirit, we are conducting a university-wide Campus Climate Survey and are asking every student, faculty, and staff member to give us their input and perspective.
The Campus Climate Survey launched February 3 and will be open through February 24, 2020.
You should have received an email Feb. 3 with your link to access the survey. The email came from the address ValueYourVoice@washburn.edu with the subject "Washburn Campus Climate Survey." Please watch for this important email and link, and complete the survey as soon as you can.
The survey is completely anonymous; the results will not be tied to any one individual.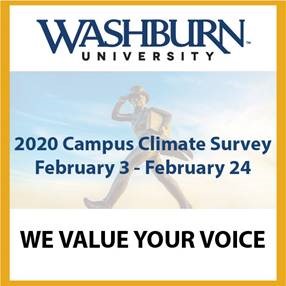 Response Rate
Response rate as of February 17.
Students                 Faculty and Staff
  24%                                 37%