Campus Climate Survey 2020
You have heard Washburn leadership, faculty, and staff say many times that Washburn exists to help each of you become your best self. This is the heart of the mission of our university. Like any healthy organization, we know how important it is to reach out and ask our community how things are going. In this spirit, we conducted a university-wide Campus Climate Survey and asked every student, faculty, and staff member for their input and perspective.
The Campus Climate Survey launched February 3 and was open through February 24, 2020.
The survey was completely anonymous; the results are not be tied to any one individual.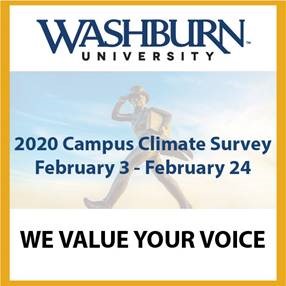 Response Rate
Total response rates for the survey.
Students                 Faculty and Staff
  30.4%                                 49.6%
Students who participated had their name (not connected to any of their responses) put on a list of respondents and we pulled names randomly from that list to award 24 prizes. Prizes included three Apple iPad minis, 10 $100 gift cards to the Ichabod Shop, 10 $50 gift cards to the Ichabod Shop, and an Xbox One.
We do surveys periodically because the feedback provided is instrumental in informing Washburn's plan for the future – the plan for continuous improvement and forward progress across the university. Further, hearing your feedback and perspective about how we, together as an institution, respect and support each other is a key component to achieving our core value of inclusion.
If you have any questions, please do not hesitate to contact