STEM Educators Conference
Come and learn the latest techniques in teaching science, technology, engineering and math at this full day conference on the Washburn University Campus in Topeka. This year's theme is "Inspiring STEM Learning."  Keynote speakers for the conference will be Karen Ansberry and Emily Morgan -- authors of the award-winning Picture-Perfect Science series and Teaching Science Through Trade Books.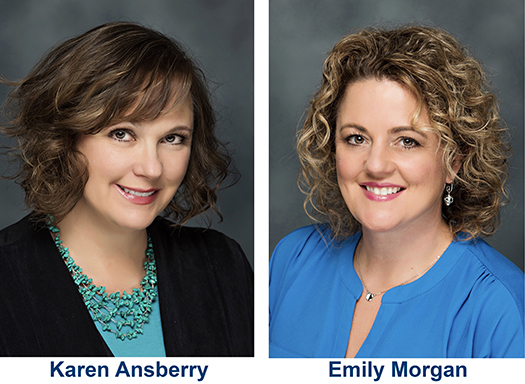 The conference will feature multiple professional tracks and breakout sessions for teachers from elementary schools through middle and high school. The conference fee for tickets includes registration and all materials  as well as a catered lunch.
2020 STEM Educators Conference Agenda
Friday, March 13. 2020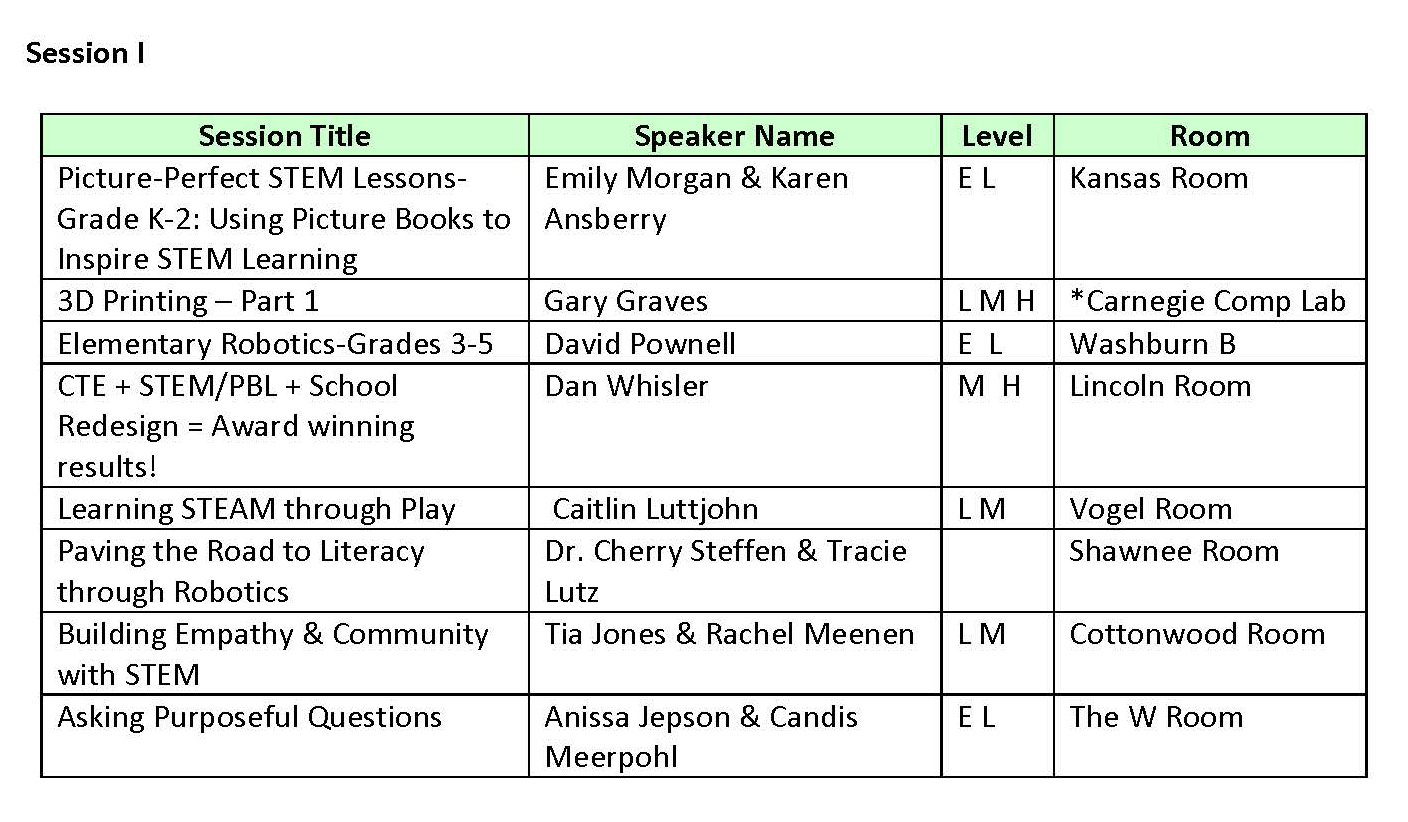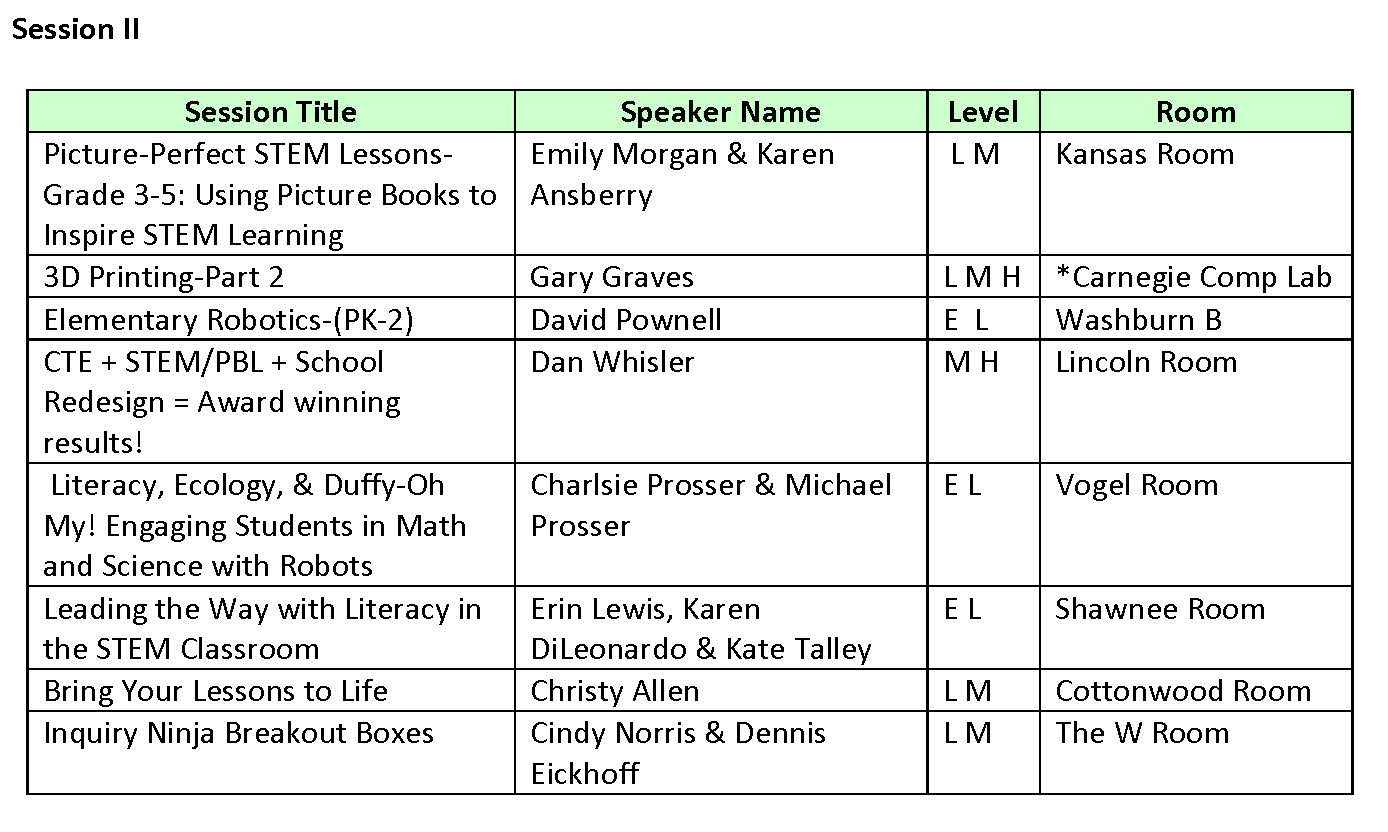 *All sessions are in Memorial Union, with the exception of Gary Graves (Carnegie computer lab)
E – Early    L – Elementary    M – Middle/High
 To register for the conference, go to: STEM Conference Tickets
Breakout Session Descriptions:
"Picture Perfect STEM Lessons" - "Picture-Perfect STEM Lessons-Grade K-2: Using Picture Books to Inspire STEM Learning and Picture"-"Perfect STEM Lessons-Grade 3-5: Using Picture Books to Inspire STEM Learning" – Early, Elementary, Middle
"Paving the Road to Literacy through Robotics" - Have you ever considered how coding is synonymous with learning to read? Coding requires a series of steps to be followed to complete a task just as early readers must follow a series of steps or 'phonics guidelines' to perform the task of reading (decoding). This presentation will demonstrate the how to integrate robotics and coding into reading instructions as students learn to follow and report the sequence of events in a story.  
"Asking Purposeful Questions" -Questions are the beginning of a path towards discovery, imagination, and STEM exploration.  'Purposeful' questions are well-placed questions that help youth expand and clarify their thinking, develop their reasoning and navigate science and engineering experiences with sharpened intentionally and focus.  In the Asking Purposeful Questions educators will experience a STEM activity as they deepen their understanding of the power of purposeful questions.  The activity serves as the context for staff to practice the skill of asking questions.  
"CTE+STEM/PBL+ School Redesign = Award Winning Results"! - Energy. It is the lifeblood of our society and a basic requirement for quality of life. It is an industry where career opportunities are going unfilled. It is also an ideal topic for PBL activities to engage students, helping make real-world connections to not just STEM, but subjects like economics and politics, too. Aligned with the vision of "Kansans CAN" and the model for redesigning schools, the first year working with a pilot program for the BTU CrewTM curriculum ended up taking students to Houston, TX and Washington, D.C. Come learn how your district can get started participating in these exciting STEM programs, too!
"Inquiry Ninja Breakout Boxes" - Breakout Boxes are activities that require students to work together, use inquiry, creativity, and problem solving skills to unlock the boxes. They must solve challenging puzzles and follow directions carefully to succeed. This unique professional development workshop involves learning about the corn industry while experiencing how to use Breakout boxes in the classroom. Workshop participants will be using the breakout boxes to learn about the history of corn while also "unlocking" new knowledge about how the Kansas Corn Commission is investing in teachers. Discover how the use of a breakout box can challenge and teach students in a new way.
"Building Empathy and Community with STEM" - In this session, teachers will learn about STEM projects that focus on empathy and impacting the community.  A highlighted student project will be a step-by-step design process of building Halloween costumes for students in wheelchairs.  In this session we will cover a book, website, and Skype call that can all be used with this project and how that covers multiple literacy standards.  Examples of how students learn empathy for others and ways to build strong school communities will be shared. Another discussion topic will be STEM summer academy and teacher professional development opportunities to learn alongside with students.  Many STEM projects, ideas, and resources will be given, you will not want to miss this session!
"Bring Your Lessons To Life" - Thousands of schools across the country are using Tower Gardens to engage their students. Why? According to Global Teacher Prize Finalist Stephen Ritz, "The Tower Garden is the most cost- effective school garden aligned to academic outcomes one can ever imagine." This state of the art aeroponic gardening system was developed at NASA/EPCOT and helps teachers grow food and grow young minds. The project-based learning lessons and exercises designed by Seton Hall University focus on STEM education. Free for educators, these CCSS and NGSS aligned lesson plans will engage your student in the learning process, utilizing critical thinking, self-reflection, data gathering, communication, and evidence-based claims. Incorporating Tower Garden into your existing curriculum is easier than you might think. You can use the Tower Garden to teach students about a variety of subjects, including science, math, literacy, and of course healthy eating!
"Literacy, Ecology and Duffy- Oh My!  Engaging Students in Matha and Science with Robots" - See how we purposefully select Children's Literature and form connections to STEM standards in the classroom using both Ozobots and Bee-Bots. The main focus areas include Monarch migration and telling time using books like Senorita Mariposa and It's Duffy Time. Community connections will be shared too, specifically with the Baker Wetlands. Also, there will be time to interact with the bots.
"Leading the Way with Literacy in the STEM Classroom" - Project Lead the Way Launch is a PreK-5 STEM curriculum that taps into student's exploratory nature through engaging, hands-on, problem-based activities. Presenters will share an overview of literacy integration in PLTW modules as a way to connect real-world scenarios to engaging, problem solving STEM activities.  Educators will learn that by tying literacy and STEM together, they can develop students' literacy skills and expose them to the wonderful world of science, technology, engineering, and mathematics. Collaborative discussion will also take place to share literacy resources that can be used in any STEM classroom. Let's Launch your student's learning to new levels
"Elementary Robotics" – Participants will have opportunities to explore robots and how they can be integrated into the curriculum.  (PK-2) Session will explore robots including Bee Bots, Dash, Lego We-Do to name a few.  (3-6) Session will explore Dash, Sphero, EV3 to name a few.