Bachelor of Science in Forensic Chemistry
Consistent with the mission of the University and the College of Arts and Sciences, the Department of Chemistry is committed:
to provide a broad spectrum of undergraduate students with a supportive environment in which to develop the necessary understanding of chemical principles, and analytical and critical thinking skills,
to engage in scientific research,
to serve the scientific and local communities.
Students entering the Forensic Chemistry Program come from diverse backgrounds and may apply their acquired chemical skills in equally diverse occupations over the span of their career. The Department of Chemistry addresses this diversity by focusing on individual student interests and strengths through personal advising, small class sizes, individual instruction, hands-on experience with scientific instrumentation, intern appointments, and guided undergraduate forensic research. The Chemistry Department faculty is itself diverse and exemplifies commitment to learning and contributing by engaging in scientific research, collaborating with forensic scientists, presenting and publishing, as well as volunteering to improve the quality of living in the larger Topeka community.
Beginning courses are designed to give the student an awareness and understanding of scientific chemical principles and problems. Advanced courses in Forensic Chemistry are planned to meet the specialized needs of students interested in careers in forensic laboratories, which may include graduate studies.
Bachelor of Science in Forensic Chemistry
| | | |
| --- | --- | --- |
| Course Number  | Course Title  | Credit Hours |
| CH 103  | Introductory Forensic Chemistry  | 3 |
| CH 151  | Fundamentals of Chemistry I  | 5 |
| CH 152  | Fundamentals of Chemistry II  | 5 |
| CH 202  | Professional Forensic Chemistry Seminar  | 2 |
| CH 203  | Forensic Chemistry Laboratory  | 2 |
| CH 320  | Analytical Chemistry  | 3 |
| CH 340  | Organic Chemistry I  | 3 |
25% of the total minor hours must be taken in residence at Washburn University.
The Washburn Chemistry Department, located in Stoffer Science Hall, is well equipped with modern instrumentation for instructional laboratories and research.
Major instrumentation
Varian 400-MHz Nuclear Magnetic Resonance (NMR) Spectrometer
Thermo ATR-Infrared (IR) Spectrometer
Thermo Gas Chromatograph-Mass Spectrometer (GC-MS)
GOW-MAC Gas Chromatograph (GC)
Finnigan LCQ Ion Trap Mass Spectrometer
Perkin Elmer Ultraviolet-Visible (UV-Vis) Spectrometer
Perkin Elmer Atomic Absorption (AA) Spectrometer
Varian Eclipse Fluorescence Spectrometer
High Performance Liquid Chromatograph (HPLC)
Fast Protein Liquid Chromatograph (FPLC)
Beckman Coulter Capillary Electrophoresis (CE)
Thermo NanoDrop Spectrophotometer
Leeds LCT fluorescence trace comparison microscope
TIDAS microscope spectrometer
NMR

AA




HPLC

 

GC-MS

IR

MS

UV-Vis
For a complete description of the individual classes, go to the course catalog at: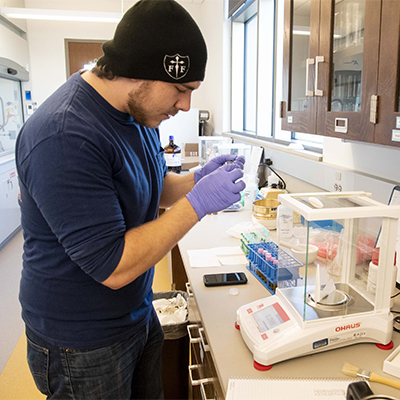 On campus research opportunities
When Ian McClain first toured campus as a high school senior and saw the new Kansas Bureau of Investigation building on campus he knew he had to explore the opportunity to study using the state of the art equipment the professionals were using. As a senior, he's researching procedures that KBI scientists use to measure the THC content of marijuana, an impressive skill he can put on his resume.
Kansas Bureau of Investigation (KBI) Lab
GET IN TOUCH
WITH Department of Chemistry
Department of Chemistry
Stoffer Science Hall, Room 312
1700 SW College Ave
Topeka, KS 66621