Washburn University is a proud hosting partner of Hostile Terrain 94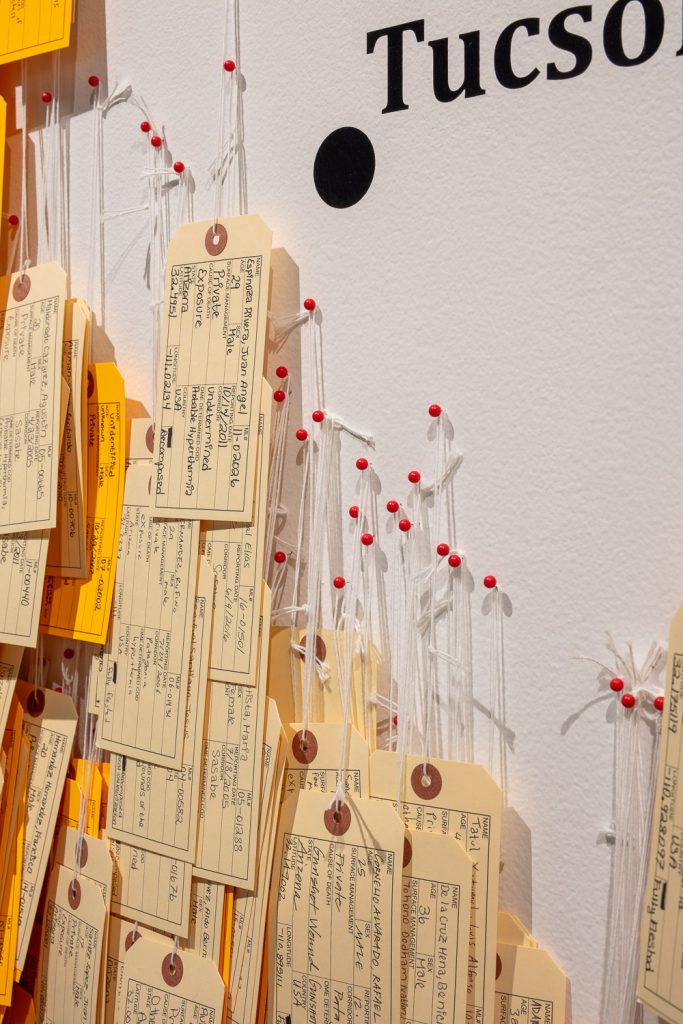 Hostile Terrain 94 (HT94) is a participatory art project created by the Undocumented Migration Project (UMP), a non-profit research and arts-education collective, directed by UCLA anthropologist Jason De León. This art installation is intended to raise awareness about the realities of the U.S./Mexico border, focusing on the deaths that have been happening almost daily since 1994 as a direct result of the Border Patrol policy known as "Prevention Through Deterrence" (PTD). 
The exhibit consists of about 4,000 handwritten toe tags, each representing a migrant who died trying to cross the southern U.S. border between 1994 and 2019.
These tags are geolocated on a wall map of the desert showing the exact locations where remains were found. Some tags include QR codes allowing smart phones to view videos of a migrant's family members sharing stories of the individual's life.
This installation will simultaneously take place at a large number of institutions, both nationally and globally in 2020. Washburn University is the only location in Kansas to host Hostile Terrain 94.
In addition to the exhibit, on display now at Mulvane Art Museum until December 2020, Washburn will also host a series of events and community conversations about immigration during the fall.
Visit Hostile Terrain 94
HT94 is now on display at the Mulvane Art Museum through December 2020. Please visit the museum's website for current hours and social distancing guidelines.
Participate in a HT94 event at Washburn
* Due to COVID-19 we've moved most events to electronic formats. All times Central 
Latinos Beyond Reel: Challenging A Media Stereotype Virtual Film Screening and Discussion
October 1, 2020 | 6-8 p.m.| Facebook Live
Latinos are the fastest-growing segment of the U.S. population, and among the most diverse -- accounting for one-sixth of all Americans and tracing their origins to more than 20 countries. They are also a rising force in American politics. Yet across the American media landscape, from the broadcast airwaves to cable television and Hollywood film, the reality and richness of the Latino experience are virtually nowhere to be found. Join us for a screening of the film followed by a discussion with Graciela Berumen (Center for Student Success), Marisa Gonzalez (Sociology), Dr. Jason Miller (Anthropology), and Christina Valdivia-Alcala (Tonantzin Society.
The Condor and The Eagle Virtual Film Screening and Discussion
October 16, 2020 | 5:30 p.m.| https://event.webinarjam.com/register/127/n7yn7fxn
Washburn University, Hostile Terrain 94, Tonantzin Society, and the Mulvane Art Museum continue their collaboration and bring to you, The Condor & The Eagle. To understand the treacherous journey migrants make, we must delve deeper into the problems migrants face in their native lands. Global climate injustice creates uninhabitable or very hostile regions, forcing thousands to make the perilous journey to the United States. Deaths from border crossing have surpassed 4,000 since 1994. By featuring an indigenous perspective with a focus on our planet, we hope to amplify the dangers of climate change and how all exacerbate the migration/asylum crisis throughout the Americas. We seek solutions and ideas that can propel our call for human rights and environmental justice forward Our Mother Earth, and we as her children, are increasingly vulnerable. Panelists include: Casey Camp-Horinek, Hereditary Drumkeeper of the Women's Scalp Dance Society of the Ponca Nation of Oklahoma. Because of Casey's work, the Ponca Nation is the first Tribe in the State of Oklahoma to adopt the Rights of Nature Statute and to pass a moratorium on Fracking on Tribal Lands, Bryan Parras, Xicano Houston, TX - Healthy Communities Organizer with Sierra Club and Co-Founder of t.e.j.a.s. He is a longtime environmental justice advocate based in Houston, TX; Yudith Nieto, Mexican-American artist, organizer, language justice worker originally based in Houston, Texas, where she advocated for the fenceline community of Manchester in collaboration with Texas Environmental Justice Advocacy Services (t.e.j.a.s); and Fernanda Preciado, Panel Moderator, and a Xicana that makes her home in and outside the United States. She is the Culturally Relevant Pedagogy intern for Tonantzin Society. Her work focuses on social justice for BIPOC through the academic, cultural, and political lens.
Prior events
"May Our Voices Ring True," an event with Huascar Medina, Poet Laureate of Kansas
August 27, 2020 | 5-7 p.m. | Facebook Live, Zoom or YouTube
Join Kansas Poet Laureate Huascar Medina who will present "May Our Voices Ring True." Through poetry, he will help audiences share their experiences and discover what truly connects us. "I want to share what it means to me to be a Kansan. I hope, in return, Kansans do the same with me." Sponsored by the Sociology and Anthropology Department, WUmester, and Humanities Kansas.
Invisible Graves: Migration, Lost Identity, and Forensic Anthropological Initiatives in South Texas
September 16, 2020 | 6 - 8 p.m. | https://washburn.zoom.us/j/96267952112?pwd=cVI5RHZ3ZTJlQVY2RjNITmh0dS9tQT09
Forensic Anthropologist Kate Spradley discusses the plight of thousands of Mexican and Central American migrants that cross the United States border every year. The majority of migrants that die in Texas are buried in unmarked graves in remote cemeteries with no regard to identification efforts violating human rights of the dead and creating a humanitarian crisis. As a forensic anthropologist with extensive experience exhuming and identifying unidentified migrants, Dr. Spradley will discuss migrant deaths in Texas within the broader context of migration, human rights, and dignity and the forensic anthropological initiatives that provide answers to families searching for their loved ones.
Border South Virtual Film Screening and Discussion

September 25, 2020 | 4-5  p.m. | Facebook Live

Mexico now deports more immigrants than the United States. Border South melds ethnography and cinema verité to explore the harsh environment and brutal journey of undocumented immigrants from Central America crossing through Mexico towards the United States. Use the link to screen the film anytime between 1:00pm PST on September 24 and 1:00pm PST on September 25. Then, return at 4:00 pm on September 25 for a Q and A session with Anthropologist Jason De León and filmmaker Raúl O. Paz Pastrana.
Want to get involved?
Special thanks
Hostile Terrain 94 at Washburn University is made possible through generous contributions by the Washburn University Academic Diversity and Inclusion Committee, Center for Kansas Studies, College of Arts and Sciences, Forensic Anthropology Recovery Unit, Mulvane Art Museum, Sociology and Anthropology Department, and The Vice President of Academic Affairs Major Research Grant as well as Humanities Kansas and the Tonantzin Society.
For more information about Hostile Terrain