We have outstanding faculty who are practicing in the field. They understand your needs and the current environment.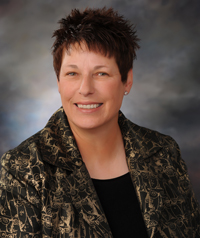 Assistant Professor
Director of RN-to-BSN Program 
Jeanne has been the RN to BSN Program Director since August 2014. Prior to this position, she was an Assistant Professor teaching in the prelicensure program since 2008 and the graduate program since 2012. She has taught medical-surgical nursing, pharmacology, health assessment, and nursing informatics. In addition to her role as program director, Jeanne serves on the Kansas State Board of Nursing and is a Course Reviewer for Quality Matters.
Jeanne graduated from St. Mary's College with an ADN, St. Louis University with a BSN, University of Missouri - Kansas City with an MSN, and is currently completing her doctorate specializing in educational technology and e-learning.
---
Adjunct Faculty 
Heather is a 2005 BSN graduate of Washburn University. She completed her MSN with a focus on nursing management and leadership in 2011 from the University of Southern Indiana. Her primary clinical experience is in emergency nursing in addition to experience in nursing administration. She is board-certified as an emergency nurse (CEN) and maintains certification in BLS (instructor), ACLS (instructor), TNCC (instructor), ENPC, ABLS and is a SANE nurse. Heather teaches NU 451 and co-teaches NU 495 in the RN-BSN program. She is currently a DNP FNP student at Washburn University. Heather is a member of the ANA, KSNA, ENA, IAFN, and STTI. Heather's professional and clinical interests include emergency nursing, primary care, access to care, sepsis, mental health care, forensic nursing, nursing education, nursing leadership, quality improvement and risk management, and nursing culture. Heather and her husband stay busy as graduate students at Washburn University slated to graduate in May 2017.
---
Adjunct Faculty 
Dennis currently teaches in the English program.




---
Adjunct Faculty 
Cindy has a diverse background of experience in nursing from clinical to corporate healthcare settings. She has been a nurse educator for over 10 years and served as the Director of Nursing in a community college. Her areas of expertise are leadership, community health, medical-surgical nursing and healthcare informatics. She graduated from Rochester Community College with an ADN, University of Minnesota with a BSN and Western Governors University online MSN – Education.
---
Lecturer/Instructional Designer 
Dr. Merillat's experience and skills represent a union between technology, education, and interaction design. In the course of her career she has played many different roles: programmer, systems analyst, business analyst, interaction designer, program manager, project manager, consultant, trainer, educator, instructional designer, researcher, author, and entrepreneur. The common thread running throughout has always been the challenge of how to successfully use and integrate the latest technology into an organization. She currently has a faculty position with the School of Nursing, Washburn University with the role of instructional designer.
---
Adjunct Faculty 
Angie started in the healthcare field as a Patient Care Technician in 2010 on Stormont's Post-Surgical Unit where she is still a PRN RN. She has been working in education since 2014 where she first began teaching at Washburn Tech's LPN program and then transitioned into the Simulation Coordinator position for Washburn Tech's Regional Simulation Center which was a grant funded project. She recently went back to working full time on the floor at Ransom Memorial Hospital in Ottawa.
---
Adjunct Faculty 
Jo has been an registered nurse for over 25 years and an advance practice registered nurse for 15 years. Dr. Owen earned her doctorate of nursing practice in 2014. She has extensive experience in medical-surgical nursing, burn/trauma nursing, and family practice. She has taught at the graduate and undergraduate level at Washburn University and is a subject matter expert in health assessment. She currently works as a family nurse practitioner in a Veterans Affairs setting.
---
Adjunct Faculty 
Suzy has been teaching in LPN, ADN and BSN nursing programs since 2014. She earned her BSN in 1986 and has worked in Medical-Surgical, Medical-Psychiatric units, prn and Home Health while raising ten children. She managed a school-based health clinic in Maryland for 15 years. Suzy is currently a prn Home Health and Hospice nurse, with particular interest in population based nursing, and chronic pain. She is a member of the American Society for Pain Educators.
---
Adjunct Faculty 
Lynn is a Clinical Informatics & Practice Manager at Children's Mercy.  She began her nursing career with an associate degree and worked as a registered nurse for 11 years before completing her bachelor degree.  Her undergraduate studies involved traditional classroom learning but her graduate studies were all online.  





---
Lecturer 
Director of Mobile Simulation and Community Education 
Kathy has been an RN for over 35 years.  She received her MSN in nursing administration from Fort Hays. Her areas of interest and experience include OB, administration, TeamSTEPPS, community/public health, and high impact initiatives. She is currently the Director of the Collaborative Outreach Advancing Community Health (COACH) Program.