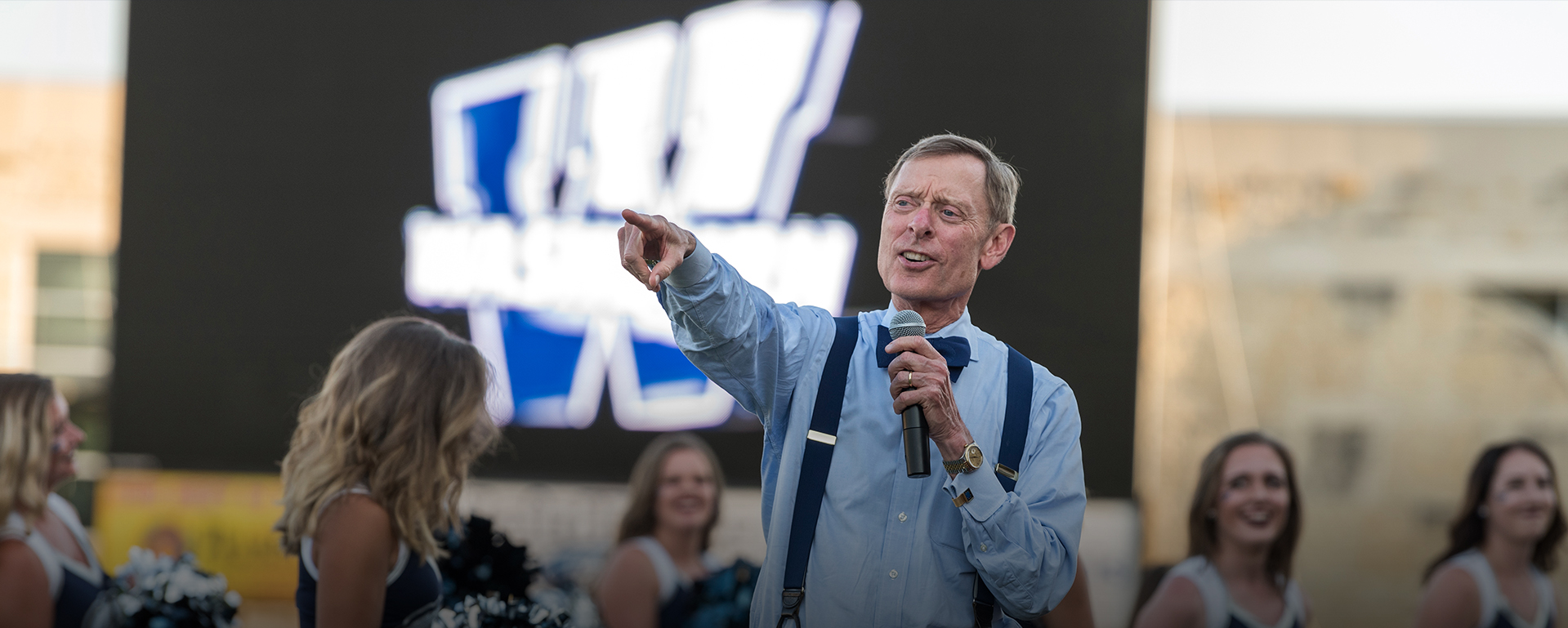 Current Honors Students
Welcome back to your Washburn Honors community! This page contains some basic information about current Washburn University Honors Program offerings.  For additional information, including specific information about your Honors requirements and important announcements, please visit the Honors Student Council section of D2L.
Fall 2022 Courses: 
HN 201 A : Ethical Responsibilities of Leadership (James Barraclough)
This class is a survey of the fundamental ethical responsibilities of leadership. Doing this requires examination of obstacles to, and opportunities for, ethical leadership, and it requires an understanding of the cultural contexts of leadership and an articulation of a personal ethics statement as a foundation for applied ethics in the leadership process.

HN201 B: Contemporary Literature (Kara Kendall-Morwick)
This course surveys literature from about the 1960s to the present—an era often called postmodern. The postmodern period is marked by changing demographics and a deepening awareness of our global interconnectedness; shifting understandings of race, class, gender, and sexuality; social unrest and political activism; the proliferation of popular culture and new media; consumer capitalism and its discontents; and an increasingly urgent climate crisis. Postmodern writers emphasize multiculturalism and the diversity of human experience, reject essentialist notions of human identity, and eschews grand narratives and dominant ideologies in favor of an emphasis on mini-narratives and subjective perspectives, particularly those that have been historically marginalized or ignored. Rather than attempt a comprehensive study of postmodernism as a homogeneous literary movement, we will explore the proliferation and diversity of postmodernisms, reading selected works of fiction, poetry, and drama to examine how postmodern writers have perceived, responded to, and shaped the history and culture of the last 60-plus years. 

HN201 D: Intro to Religion (Chris Jones)
This course serves as an introduction to the academic discipline of religious studies. We will explore the human side of religion through the careful study of contextualized religious communities. Along the way, we'll develop a
vocabulary for describing and comparing religious communities, and we'll learn some scholarly approaches to explaining why people are religious. Prerequisite: None.

TH202 HNA: Acting I- Honors (Theodore Shonka)
Movement, voice and improvisation exercises and activities. Introduction to basic acting principles and practice, developing focus and imagination.

HN 301 A: Literacy Criticism and Theory (Kara Kendall-Morwick)
This class provides a survey of critical and theoretical approaches to the study of literature and culture from ancient times to the present. Although the first few weeks focus on theories of the purpose and value of literature in particular, the bulk of the semester covers critical and theoretical schools relevant to a wide range of disciplines in the humanities and social sciences, including post structuralism, psychoanalysis, Marxism, cultural studies, postcolonial and critical race theory, feminist theory, queer theory, ecocriticism, and post humanism. Students will read and interpret theoretical works and practice applying critical approaches to literary and multimedia texts and social and cultural phenomena. This class is particularly valuable for students who plan to pursue graduate studies in the humanities or social sciences.

HN301 B: Media Law, Ethics & Diversity (Kristen Grimmer)
This course takes an in-depth look at the First Amendment, ethics, and diversity from a media practitioner's standpoint. Students will think critically about the freedoms of speech in the United States, privacy in a digital age, and common legal protections in the workplace. The course will also include an examination of professional ethics in mass media and how those may be applied in case studies. Furthermore, students will also examine the societal representations of gender, race, and disability in media and how those images influence and reinforce cultural stereotypes. Prerequisites: MM 100 or consent.

HN301 D: Writing Science Fiction Fantasy (Izzy Wasserstein)
From imagining the future based on current trends, to creating alternate histories, to imagining worlds and cultures vastly different from our own, speculative fiction (here taken to mean science fiction, fantasy and supernatural horror) requires of those who write it wide-ranging imagination, careful extrapolation, attention to detail, and the ability, as Theodore Sturgeon put it, to "ask the next question." In this course, students will read widely from speculative fiction, craft their own speculative fiction, and engage deeply with one another's writing. Particular attention will be placed on the demands of speculative fiction, including world building, extrapolation, and interdisciplinary knowledge. The course will take the form of a workshop.

HN 202 A & B: Exploring Concepts of Leadership (A- Madeline Lambing/ B -Gabrielle Price-Offermann)
This course provides a survey of leadership theories and introduction to the academic study of leadership using case studies and contexts of the leadership process. To do this, it requires identifying personal leadership potential, articulation of a personalized leadership theory, and leadership concepts applied in a Campus Action Project.

HN 202 C : Mock Trial (Danielle Hall)
By participating in Mock Trial you will:
-Learn the basics of trial advocacy, and how to polish these basic skills so as to attain competitive success.
-Develop and sharpen your oral communication skills.
-Develop advanced research skills.
-Develop and sharpen your analytical ability.
-Learn through competition with your classmates and teams from other universities.
-Be better prepared for law school.


SO100 HN Introduction to Sociology (Honors Learning Community) Lindsey Ibanez
This course introduces students to theories, concepts, and methods used by sociologists in the study of society. Through this course, students should come to realize how many aspects of their lives are influenced by the social world in which they live and, as a result, should obtain a better understanding of themselves as social individuals and their place in society. Students will also develop an awareness and appreciation of how other individuals, groups, and/or societies have arrived at quite different perspectives. Learning Community


HN302 A John Brown (Kelly Erby)
This class explores one of the most controversial figures in U.S. history, abolitionist John Brown. Born in 1800, Brown came of age during a period of profound social, cultural, economic, and religious upheaval. We will seek to understand Brown in the context of the rapidly changing world in which he lived. We will treat Brown as neither madman nor martyr, but as a son, businessman, father, and political activist who came to see the use of violence as the only possible way to put an end to the evil of slavery. We will further explore popular reactions to Brown, both during his lifetime and after his execution. Readings, discussions, guest-speaker presentations, exams, films, and assignments seek to bring out and sharpen critical thinking about past and present American society, culture, and politics.


HN 101 A & B: Honors Freshman Experience (Section A: Kerry Wynn / Section B: Stephen Hageman)
***This is the Honors version of WU 101. Incoming Honors Freshman should enroll in this course instead of WU 101. HN101 is a three credit hour course, designed for first year honors students (incoming honors freshman) providing students with a common first-semester experience. Course content will focus upon information literacy,
technology, and the transition into the Washburn University Community of Learning in addition to exposure to co-curricular activities (a.k.a., passport activities). Common themes such as the exploration of writing, study skills, research, wellness, technology, plagiarism, and others will be covered to introduce students to a series of best practices for success.


HN 392 A : Directed Readings
This section of 392 allows students to develop their own plan of study supervised by either the Dean of the Honors Program or another faculty member who has agreed to supervise a student's independent study. Juniors are encouraged (but not required) to enroll in this course prior to enrolling in Honors Thesis.


HN 399 A : Honors Thesis
Like HN392A, this course is designed to be an independent study but with the focus being on fulfilling one of the requirements for completing the Honors Program – the thesis.
To learn more specific details about these courses, point your browser to
www.washburn.edu/schedule and click on the link labeled 'Course Schedule.' Next, at the top of the window, select 'Honors' in the second drop-down box and click 'Search.'
In the event than an Honors course will not fit into your current schedule, you can take advantage of the Honors contract to receive Honors credit for a non-Honors course.
For more information, download the Contract here:
To be considered for an Honors Contract, be sure to complete and submit the Contract within the first two weeks of the class.