Self-Checkout in Mabee Library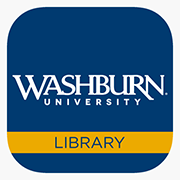 Self-checkout is now available in Mabee Library with the Washburn Self-Checkout app. Search for "Washburn Self-Checkout" in Apple's App Store or the Google Play Store and download the app on your phone or tablet. 
Mabee Library Self-Checkout in 4 Easy Steps:
Request a book from Mabee Library.
Once you receive notice that your book is available, stop by Mabee Library to retrieve your book from the Hold Shelf at the Welcome Desk.
Use the

Washburn Self-Checkout app

 to check out your book.
Deactivate your book at the Deactivation Station next to the Welcome Desk.
Washburn Self-Checkout App Instructions:
Download the Washburn Self-Checkout app (available in the App Store or Play Store) to your mobile device. If prompted, allow the app to access your camera, send you notifications, and access your location.
Open the app and sign in with your Washburn email and password.
Scan barcodes on the items you want to borrow with the camera on your mobile device and when you are done, click Finish. Barcodes on some items are located inside the back cover.
You will receive an email receipt with your items listed and due dates.
Have questions?
Call us: 785.670.2485, Email us: refemail@washburn.edu or Chat with us: www.washburn.edu/chat