October is special.
The Woodley Press began publication in October of 1980--
with Eleanor Bell's Flights Through Inner Space.
We are celebrating our 20th anniversary by publishing a second edition of that book--
this month--so can say we have come full circle.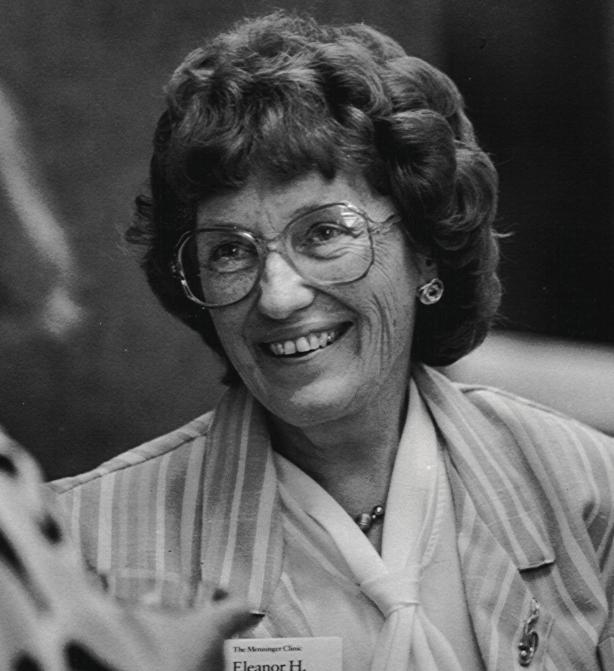 Eleanor Bell
I consider Eleanor Bell a very good friend, and no one is more strongly associated in my mind with The Bob Woodley Memorial Press. First, she was, as I was, a friend of Bob Woodley. She worked closely with Bob, the last year of his life, in planning and putting on a writers' conference at Washburn--which, since I participated in it, was when I first got to know her. Then, after his death, in the summer of 1976, Eleanor was one of the principal editors of the first Inscape which Headwaters published, which Bob had been working on as editor, but was then published in his memory. Then she became very active in Headwaters over the years it existed, and frequently had poems published in Inscape, which still does exist.
Meantime, the idea for The Woodley Press was born in Emporia, Kansas, in the spring of 1980 when, after members of Washburn's Headwaters had done a return poetry reading for Emporia's Quivera writers' group, Keith Denniston, the faculty advisor for Quivera, Eleanor Bell and I, and a few others, sat discussing the problems of aspiring writers in the state, and where they might get published. We remarked that we had five members who had book length collections of poems, plays, and stories--but where could they ever hope to get them published? We had a small memorial fund for Bob Woodley, from which we had been giving $25 awards for the best poetry and best prose published each year in Inscape, and I think it was Keith who first suggested, "Why don't you use that money to establish your own press and publish those books?" By the end of the evening he had convinced us to try. The five books we intended to publish were collections of poetry by Eleanor Bell and Cynthia Pederson, collections of short stories by Larry McGurn and John McNown, and a collection of one-act plays by Tom Kennedy. Somehow (it's a long story) John McNown's book got away, but we did establish the Woodley Press as school started in that fall, and, in the next two years, published the other four books. But Eleanor Bell's Flights Through Inner Space was the very first, published in October of 1980, so the book that taught us that we could in fact do what we have now been doing for twenty years and thirty-five books (and many other things as well).
The next year, after we had also published Larry McGurn's The Printer, and Other Stories, Eleanor won first place in the Kansas Authors Club annual competition in the category of the sonnet, and Larry in the category of the short story (while I won second place in the sonnet, but didn't even place in the short story), which more or less endorsed our press and its first two authors. Both have been active with the Woodley Press for those twenty years, both on the board and serving as officers--Eleanor is now the secretary, Larry the vice president and chairman of the Manuscript Selection Committee--so I tend to think of them together, as among my oldest friends among Kansas writers, and the most faithful in the Woodley Press activity. As it happens, each has been the editor of another Kansas author's first book among the four that the press has already published this year: Eleanor, Roger Kirschbaum's Hunter Ranch, a collection of his poetry, and Larry, Junie Davis's Confessions of an Uppity Woman, drawn from her weekly columns for the Topeka Capital-Journal. And both Eleanor and Larry knew Bob Woodley well--while nobody else now on the board of directors (except me), would be doing what they are doing, at least in some respects, in his memory.
Eleanor did everything for that first edition of Flights Through Inner Space, from typing the copy (with a special script ball for an IBM typewriter, I believe), to laying it out, to placing pictures and illustrations to balance the text. That was twenty years ago, and neither one of us had yet had an hour on the computer. The book was only 48 pages long, saddle-stitched, contained 22 poems, and sold for $3.50. But it has been out of print since 1986 (so already was when we began assigning ISBN numbers to our books that year). And Eleanor has resisted re-printing it so long as there were other Kansas writers who deserved, but didn't have, their first book. Finally, we have convinced her to publish a revised version of Flights Through Inner Space for our 20th anniversary, and I am serving as her editor.
I don't have a very demanding job, because I think of Eleanor as herself the best editor we have on the board--the first one I would turn to if I wanted a careful job of editing done--and, again, she is making most of the decisions. But it is always good to have another set of eyes take a look (Do you want that type font? A running header? A short biographical comment at the end? With a picture? On recto or verso?). And the book is certainly much more than a reprint. It is a complete revision--in the tradition of Walt Whitman's Leaves of Grass, I tell her. Most of the original poems are there, and the original title and cover and authors' introduction are unchanged. But the number of poems are more than doubled, to 49, and many of the original poems are revised, perhaps only in a word, but perhaps more, so that now the book is much more substantial, and is sub-divided into five sections: Flights of Wonder, Flights of Reflection, Flights of Remembrance, Flights of Delight, and Flights of Whimsy. So a new edition is definitely justified.
The qualities of Eleanor's poetry remain the same, however. First, there is a nice sense of control, from the sonnet form to patterns imposed by the subject, managing carefully thought out ideas, so that Eleanor is frequently provoking you to think again about something (but, though you come to know her positions on many subjects, she will seldom overtly attempt to persuade). And, finally, presiding over all of this, there is a sense of language that is genuinely poetic, from the title metaphor to the patterns of alliteration in an individual poem.
You can buy a copy of the new edition (for $7.00 plus $1.50 postage) from The Woodley Press, Washburn University, Topeka, KS 66621, (785) 234-1032, zzlaws@washburn.edu, or from the author herself at vanbell@parod.com (then she makes the profit). To encourage you to do that I will offer the poem that was my favorite in 1980, and is still my favorite (but then I write sonnets, too):
Cycle ride
Tonight I fly beyond the speed of dreams
and feel earth fall away beneath my feet,
escape the grasp of time and rush to meet
the burnished liquid-silver stars whose gleams
drip silently into black icy streams
of night. My circling arms corral the heat
of you nested against me on the seat.
The incandescent eye propels its beams
hollowing a tunnel through the night,
and gazing past your helmet I can see
an earthy realm of sensuous delight
where spirits ride the wild wind's ecstasy.
Now reaching out, I catch a dream in flight
to give you as a souvenir of me.