For the early months of 2001 I am appealing to the members of the board of the Woodley Press
to present Kansas authors (with books in print) who they know better than I do
(perhaps one whose book that board member has edited).
For February I turned to a board member who has edited a record four Woodley Press books,
and is currently President of the Bob Woodley Memorial Foundation
(herself featured as my Kansas Writer for April, 2000)
Denise Low,
presenting the author of the first book the press published last year, which she edited,

Caryn Mirriam-Goldberg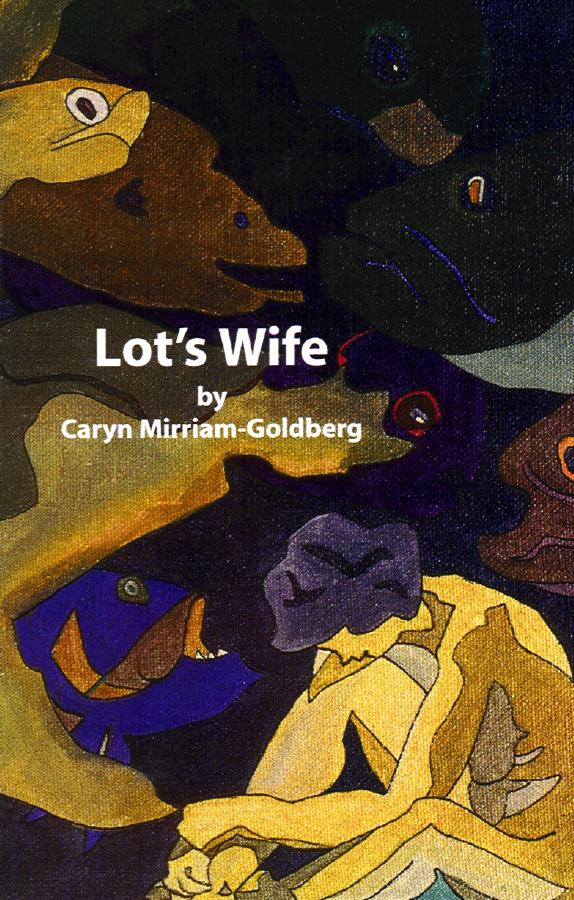 LOT'S WIFE
Denise Low's Introduction
Woodley Press is honored to present Caryn Mirriam-Goldberg's first book of poetry, Lot's Wife. The book especially fulfills the mission of the press: to publish exceptional first books by regional writers. Woodley is one of the few presses in Kansas to publish fiction and poetry on a regular basis. In 2000 the press celebrates its twentieth year of slow but steady publications. The press continues to produce several books a year through entirely volunteer efforts.
The author of Lot's Wife has a distinguished writing and academic career, including previous publication of many of these poems in leading journals. She conducts writers workshops in the Midwest, as well as teaching in one of Goddard College's (Plainfield, Vermont) low residency programs.
This is dramatic work. Myriad actors speak, often in direct addresses to the audience, about the mysterious world around them. Many are women's voices, and the book can be seen as a study of what it means to be a woman at the beginning of the new millennium. Many are characters from the Bible, fairy tales, and Graeco-Roman mythology.
Noah's teenage daughter speaks about confinement on the ark. In the title poem Lot's wife continues to reflect about her choice to look back: "I'm frozen here, cactus-like,/remembering the songs trained/to follow me my whole life." The verse humanizes Lot's wife, and brings her into a contemporary dialogue. Myth blurs into everyday reality.
Hera and Rapunzel are other characters to encounter here, as well as an unknown young woman, a mortician's daughter. Mirriam-Goldberg surprises us with her inventive situations, and also her language. In "Three Women with Breast Cancer" she describes the incomprehensible with imagery from plants, ending with the picture of women walking among trees, while "the knots of bone and branch loosen."
These are remarkable poems, blending conscious and unconscious; adult and child; male and female. I thank her for these poems.
Denise Low
CARYN MIRRIAM-GOLDBERG grew up in Brooklyn, New York and central New Jersey before heading west. She received her BA at the University of Missouri, and her MA and Ph.D. at the University of Kansas. She teaches at Goddard College, and she conducts writing workshops for people of many backgrounds and ages around the country. Her books of prose include Write Where You Are: How to Use Writing to Make Sense of Your Life (Free Spirit Press), and she is currently editing an anthology entitled Mothering on the Edge: Transforming the Myths of Mothering. Her poetry is published widely in many journals. She makes her home in a field just south of Lawrence, Kansas with her husband, three children and assorted animals.
CELIA SMITH, whose painting appears on the cover of this book, was born in Malaga, Spain and grew up between Malaga and Madrid. She graduated from the University of Madrid, and she arrived in Lawrence, Kansas in 1968. She has shown her work at many shows, including Lawrence, Topeka, Kansas City, Seattle, and Albuquerque. Her work has garnered dozens of awards at fairs and exhibitions, including Washburn University's Mountain-Plains Art Fair, Topeka, Ks.; Culture without Borders, Kansas City, Mo.; Artcetera Arts Festival in Joplin, Mo.; Riverbend Art Fair in Atchison, Ks.; Art in the Park, Lawrence, Ks. Her painting "Moby Dick" was included in the touring exhibit, "Unpainted to the Last."
As an example of the poetry in Lot's Wife, we offer the title poem:
LOT'S WIFE
Why "not look back"?
Why "salt"? I stand in the desert
and lick my fingers. So salty
even though it's a place
ordinary people shouldn't sweat,

but I'm not ordinary - I'm a pillar,
suspended on the banks of what was bad
and what was an escape.
"Why look back?" the vulture asks.
"Why not go with the kids
to that new salvation?"

Instead, I'm frozen here, cactus-like,
remembering the songs trained
to follow me my whole life.
I didn't go with them.
I looked back into the center
of the bodies rushing like water
and saw something ringed
with blood and salt:
a thumb print deeply imbedded on the world.

I looked quickly into my own imagination of the past
and believed this was solid ground
after oceans recede.

But the way salt
clings to salt, hardens
in the sun, it hurts me sometimes.
It makes me want to stop remembering.
You can order Lot's Wife from The Woodley Press (hit the link for instructions).