Roger Kirschbaum
In a sense I am co-featuring Eleanor again in November in featuring Roger Kirschbaum
and his new book, Hunter Ranch, which we published in June,
for Eleanor was the editor of that book.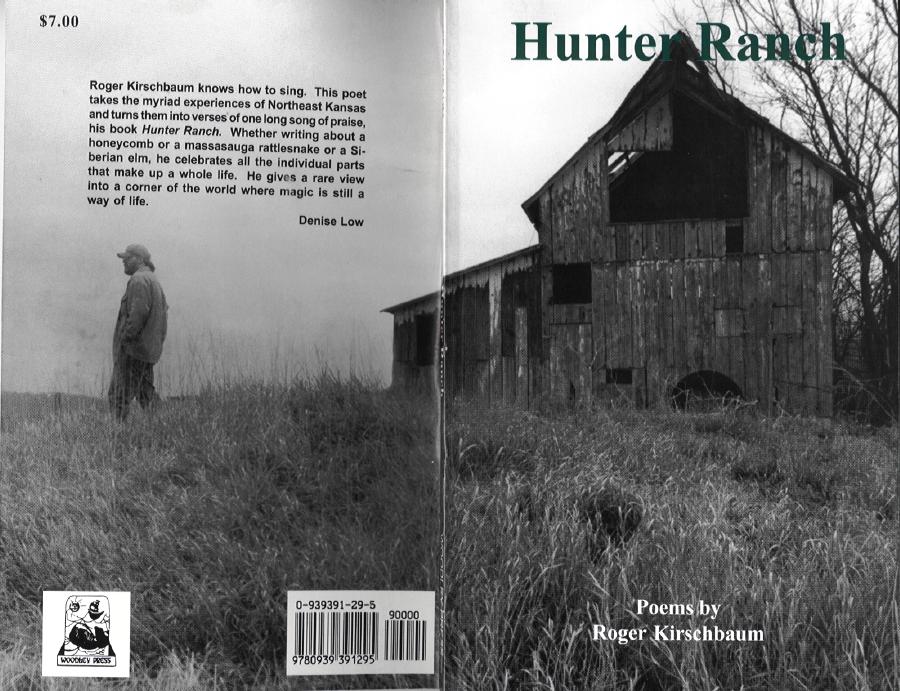 Roger Kirschbaum Hunter Ranch
Roger Kirschbaum is an adjunct instructor of English at Highland Community College, Highland, KS, an instructor at the Atchinson Adult Learning Center, Atchinson, KS, and a graduate student in the Professional Writing Program at the University of Missouri-Kansas City, who has won a number of poetry awards and has published his poetry widely. As Hans P. Bremer says in the Introduction, "If the term regionalism is a devotion to the interests of one's own territory, Roger Kirschbaum is a regionalist of the most profound order. . . . Hunter Ranch, a once thriving cattle operation in Doniphan County, Kansas, became a refuge of recovery for Roger in 1996. Having suffered the loss of his first wife in a boating accident, he delivered himself from the throes of grief by penning a cycle of poems laced with blackberry wine, honey, and Van Gogh's peaches, their pith dripping from his tongue like need or revelation . . . [generating a] sense of rebirth . . . [and allowing] Roger the energy and compassion to decipher a richer Spring beyond the Winter of his discontent." As Denise Low remarks, "Roger Kirschbaum knows how to sing. This poet takes the myriad experiences of Northeast Kansas and turns them into one long song of praise, in his book Hunter Ranch. Whether writing about a honeycomb or a massasauga rattlesnake or a Siberian elm, he celebrates all the individual parts that make up a whole life. He gives a rare view into a corner of the world where magic is still a way of life."
As a sample of the quality of the book, I offer the first poem, "Julie's Hands" (my own favorite), which is was originally published in Red Rock Review, and was nominated for a Pushcart prize:
Julie's Hands

. . . have known every small pain,
accepted their fate at arm's length.
This afternoon they plunge a trowel
time and time again, into the earth
to rip up the small rosettes of Bull Thistle
that have surfaced quietly like melanoma.
Her bare hands have no affection for bracts
each leaf's tapered lance. As the light abandons
the fields, the wheelbarrow fills. Clouds
begin to slip a glove over the day. The wind
is kind when it laughs at her aspiration.

. . . dream the perfection of labor,
that what they hold is in their care
has a perfect beginning and a perfect end,
a sincere desire to be tamed. In work
her hands sign sermons for our impairments.
Heaped by the wire fence, like butternut squash
stones from the eroded hillside have surrendered
dead weight for her approval. Her pile of rock
is so basic it is the meaning of genius; whatever
she touches means everything to her. Watching, I
am sure I have never done anything that amounts to anything.

. . . are the meaning of everything forgotten.
She holds hands with everything we've abandoned,
makes love in a bed of memory, unconscious
of judgment, our individual terrors. She
palms a bottle cap, drops it into her pocket. Limbic
and primeval, she takes everything into consideration;
species and epoch, footprints, vestigial and rudimentary,
blind to the charm of her virtues. She is cracked,
damp with sweat, littered with history, time,
and regret. I have put her in my mouth like a word,
and come away, disturbed by ancient music--dumb.
You can buy a copy of Hunter Ranch (for $7.00 plus $1.50 postage) from The Woodley Press, Washburn University, Topeka, KS 66621, (785) 234-1032, zzlaws@washburn.edu, or from the author himself at krkjpoet@aol.com (then he makes the profit).