DENISE LOW

For September of 2003, I am returning to another special friend, the fourth Kansas writer I featured,
in April of 2000, who has just published another new book, Thailand Journal.
I tell her that it is my favorite, in part because it is the most recent one I have read,
in part because it is so exotic, and in part because it is the first one published by the Woodley Press.
We should have published one of her books long ago, but she was on the board, and concerned
about conflict of interest. Most of the comment below was written three years ago.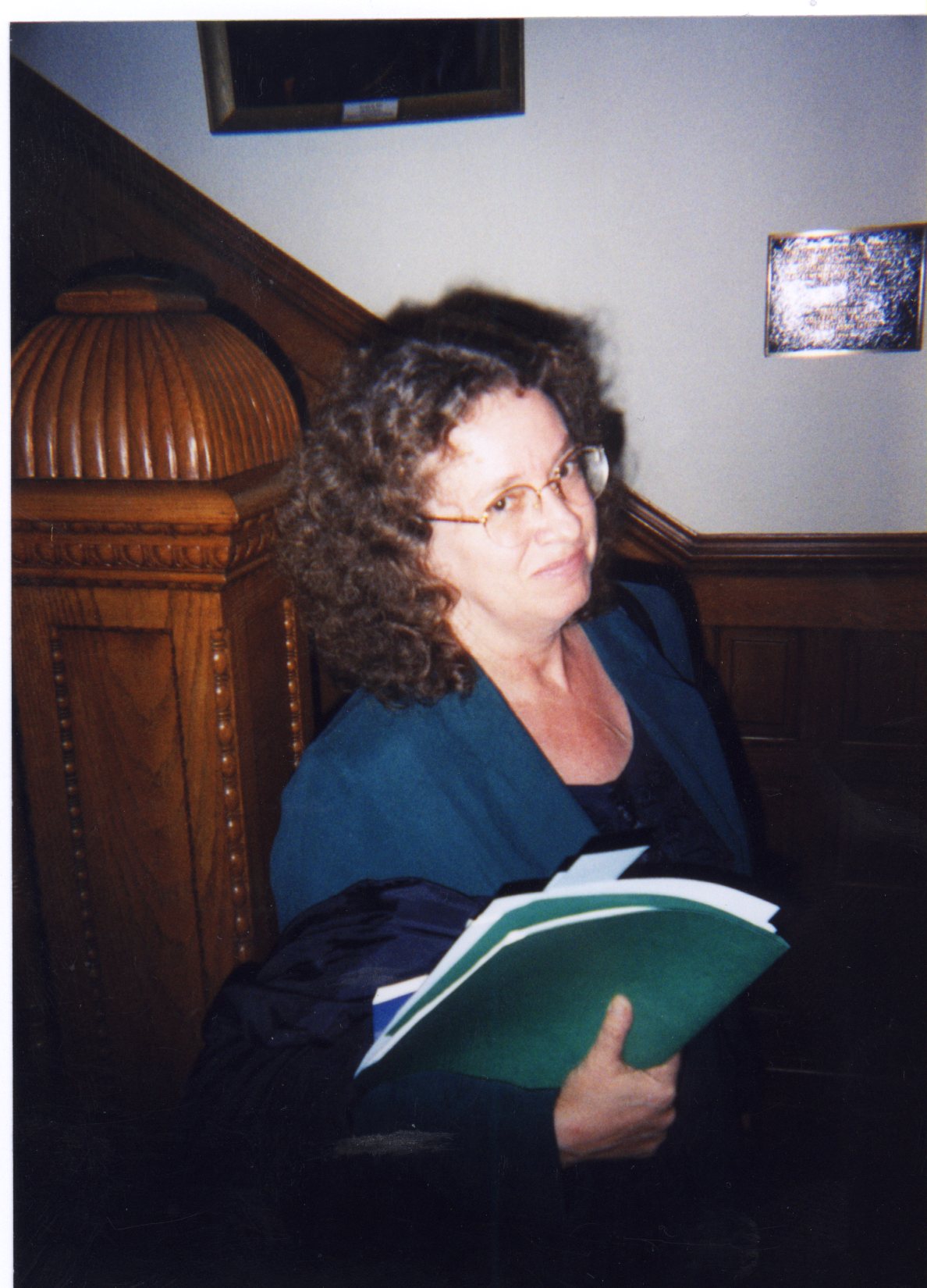 _____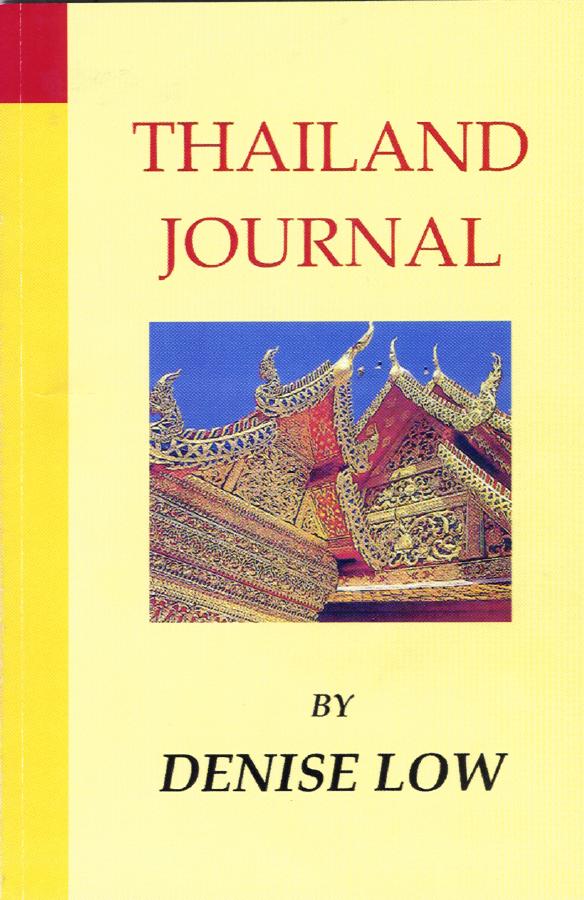 Denise Low
When I think of Kansas poets, I think first of Denise Low. She is certainly one of the most widely known poets in the state, with a solid record of publication, and has won several important honors for her writing over the years. But she is probably most strongly identified with Kansas poetry in my mind because she has helped more other Kansas poets achieve wider recognition than anyone else I know.
Like David Tangeman, Denise is definitely a Kansas writer, though she grew up about 100 miles further south, in Emporia. She, too, was educated in Kansas--at the University of Kansas (B.A., 1971; M.A., 1974; Ph.D., 1997), and Wichita State (M.F.A., 1984) and, in the process, came to call Lawrence her home: "I loved this hilly river town when I came here in 1967, and I have never lived far away from it since then." She has taught in the English Department at Haskell Indian Nations University in Lawrence since 1984, specializing in Creative Writing and American Indian Studies, and is now the chair of the English Department there.
Considering its content, it would be hard to find a writer whose own work is more deeply grounded in those Kansas roots than Denise's work is. From the lyrical essays in Touching the Sky (see the title essay, which counterpoints verse and prose) to the review of flora and fauna in Spring Geese to reading the language of rivers in Starwater--she is a Kansas poet. As she has said, "I feel an obligation to the hills and rivers that support my life, to elaborate on their place in human culture." And, as the exercise of memory is at the center of a poet's power for her, she gives us Kansas memories--from the people and places in her own past, to the Kansas history she has imbibed, to the pre-history experienced in, say, picking up a fossil on a riverbank.
She has published widely and regularly in periodicals--as poet, essayist, and reviewer--and her published books are:
Dragon Kite, in Mid-America Trio, (BookMark Press, University of Missouri-Kansas City,1980)
Quilting (Holiseventh Press, 1984)
Spring Geese and Other Poems (University of Kansas Natural History Museum, Lawrence, 1984)
Starwater (Cottonwood Press, University of Kansas, Lawrence, 1988)
Selective Amnesia, then in Stiletto One (Howling Dog Press, Lawrence, 1988)
Vanishing Point (Mulberry Press, Wichita, 1991)
Tulip Elegies: An Alchemy of Writing (Penthe Publishing, Lawrence, 1993)
Touching the Sky: Essays (Penthe Publishing, Lawrence, 1994)
New and Selected Poems, 1980-1999 (Penthe Publishing, Lawrence, 1999)
(And I save her most recent book for mention below.)
She is a distinguished editor, as well, became known to many Kansas poets when she was an editor, for several years, for the literary magazine, The Cottonwood Review, at the University of Kansas, in the course of which she edited two successful collections of Kansas poetry: 30 Kansas Poets, in 1979, and Confluence: Contemporary Kansas Poets, in 1984.

But I know Denise best for the work she has done for the Woodley Press. The Woodley Press had never published a book of her poetry before this year, for she already had publishing connections before the Woodley Press was established, but she has been involved with the press from the time she wrote the "Introduction" for Gene DeGruson's Goat's House in 1986, about the time she came on the board of directors. She then edited our most prestigious volume to date, Kansas Poems of William Stafford, in 1990, to celebrate our 10th anniversary (now thirteen years ago!), which William Stafford allowed us to do largely because of his friendship with Denise. More recently she edited Michael Poage's The Gospel of Mary, in 1998, and our first book in the new millennium, Caryn Mirriam-Goldberg's Lot's Wife, early in 2000. So she has definitely been one of the more active editors for the Woodley Press. Beyond that, she was the President of the Bob Woodley Memorial Foundation, our CEO, for the first two years of this century.

In her own books and those she has edited she has regularly collaborated with other artists and photographers over the years to do some very interesting things with illustration and in format--so has produced some good-looking books. But some of those books listed above are now out of print, and while I certainly invite you to consider the Woodley Press books she has edited, the book I am featuring now is the new book, Thailand Journal, which you can order directly from Denise (e-mail: deniselow9@hotmail.com), or from: The Woodley Press, c/o Amy Fleury, Assistant Professor of English, Washburn University, Topeka, KS 66621 or (amy.fleury@washburn.edu).

As I remarked above, Denise is, in a sense, the quintessential Kansas poet, but, as she tells us, "This book derives from a trip to Thailand, where my son Daniel Low spent over three years in Chiang Mai. One summer I joined him for a sojourn, and the experience drew together many threads of thought." As a sample, I present my favorite poem from the book:
Two Gates

I look through glass and see a young woman
of twenty, washing dishes, and the window
turns into a painting. She is myself 30 years ago.
She holds the same blue bowls and brass teapot
I still own. I see her outline against the lamplight;
she knows only her side of the pane. The porch
where I stand is empty. Sunlight fades. I hear
water run in the sink and she lowers her head,
blind to the future. She does not imagine I exist.

I step forward for a better look and she dissolves
into lumber and paint. A gate I passed through
to the next life loses shape. Once more I stand
squared into the present, among mango trees
and scissor-billed birds, in a Thai garden, almost
a mother to that faint, distant woman.
I also continue to include one of her earlier poems I especially like (the title poem from an earlier collection):
Selective Amnesia

I step down into
the museum basement
like I've done dozens
of times and finally see
the duck-billed dinosaur
running across the wall on
tiptoes, bones turned silent.
The skull crest is a misplaced
bishop's miter maybe filled
with tunnels for air or sound.
The eyeholes are voids,
the jaws a hinge of blades
held in the solid rock coffin.

All other trips down these stairs
I overlooked it, another blurred
wall pushed aside for years
forgotten except for
flickers in monster movies
and dreams where I am chased
by something unseen
and when I reach the end
I see piles of bones
laid down in rocks
and something invisible rises
high on its toes
about to catch me but
I jolt awake.