Bobbie J. A. Pfeifer
For the month of July, 2003, I am featuring a relatively new friend, a Kansas author I became acquainted with when she took a trip to Scotland sponsored by Washburn's KTWU along with my wife and me in May of last year. We enjoyed her company, and did discover that she had published a book, but it was not until she made a presentation on her writing and publishing experience two months ago at the meeting of the local chapter of the Kansas Authors Club (of which she is now a member) that I bought a copy and read it.

_____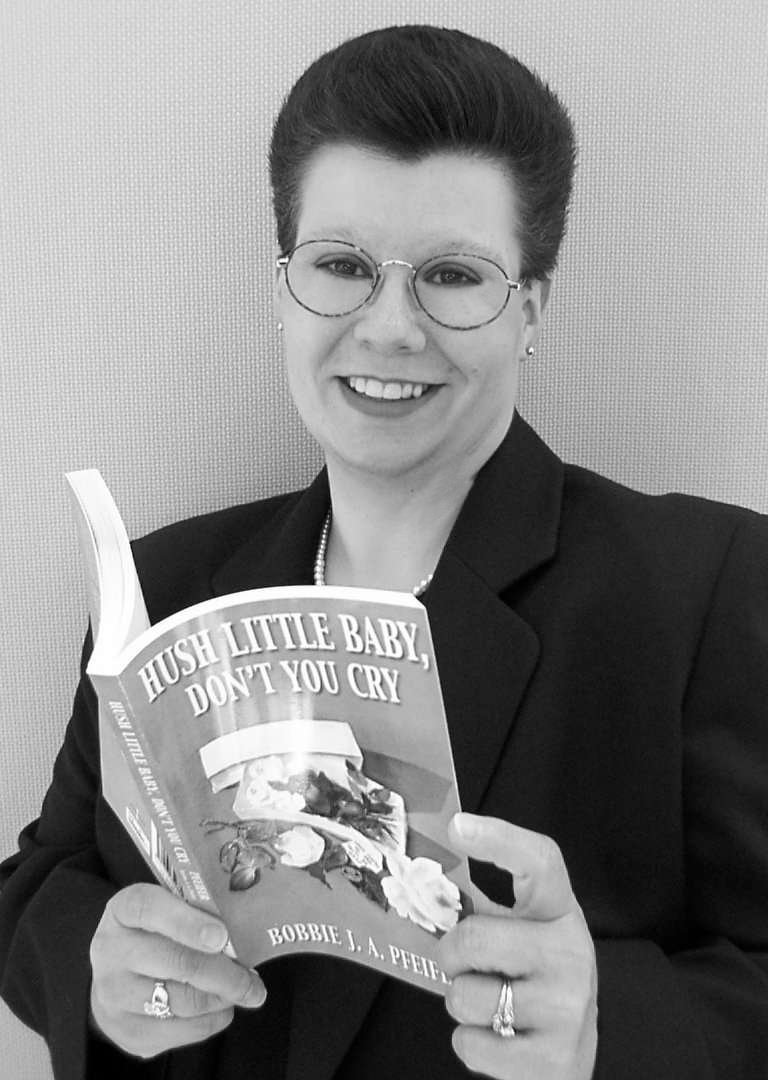 _____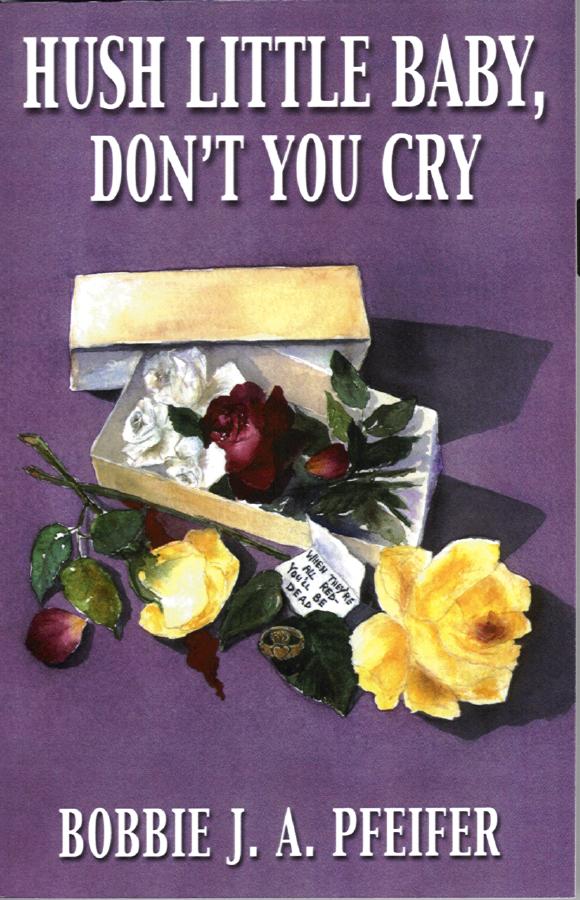 I present this biographical information, and comment on the plot, from the back of the book:
Bobbie J. A. Pfeifer has been a lifelong resident of Topeka, Kansas. She graduated from Washburn University of Topeka and has worked a variety of jobs, from High School Science Instructor to Local Business Owner. But it was her passion for writing that drew her to the computer, where she's furthering her talents as a writer. Hush Little Baby, Don't You Cry is her first suspense novel. She's at home with husband, Tim; sons, Jared and Daren; and two miniature dachshunds, Ebony and Ivorie. Currently, she's working on her second novel.

Would you kill someone to save yourself? Jessie Doyle, a twenty-three-year-old college graduate, never believed she would until she became trapped in her own life-threatening dilemma. From the moment they met, Luke Rogers knew he'd one day possess Jessie's soul. He set out and accomplished just that. Blinded by love, Jessie was tangled tighter in his web of deceit. After months of psychological and physical abuse, being held captive by the threat he'd kill her if she ever left him, and the loss of her unborn child at the hands of his assault, Jessie devised a desperate plan to escape. Convinced Luke would kill her, Jessie realized the only way she'd ever be free would be to kill him--first. Finally, he was dead. But who really killed Luke Rogers?

Consumed with guilt, Jessie left the horrors of her hometown. When she took a job in northern Vermont, she thought she was leaving her old life behind. But someone followed her who believes he knows the truth. Accident or not, Jessie must have played some part in killing Luke. And she should suffer for that--in fact, she should die.

To save herself, Jessie must uncover the stalker's identity. But what will she do when she knows? She has to protect the secret and keep herself from being murdered in the process. In doing so, she may be involved in killing someone--for the second time.

In Hush Little Baby, Don't You Cry you'll be seized on page one and held spellbound to the end as Bobbie J. A. Pfeifer takes you an a breathtaking journey into the world of a tortured young woman who's desperate to regain her life.
As a sample of her writing I offer the opening of Hush Little Baby, Don't You Cry, which sets up the double mystery:
I remember the blood that oozed from Luke's severed leg, forming a pool. The rest of his remains lay several feet away, each limb twisted to unnatural positions . . .
I cringe, and struggle to force down the memories. They have a will of their own. I can still hear the train howl its final farewell. And there I am, staring once again at the mangled body. Glistening in the moonlight, a bone protrudes where his foot had been. A reddish fluid trickles from his eye--now bulged open, staring into mine.
I staggered that night, toward the house. Faintness caused me to stumble, and I fell to my knees. That's when I noticed the dampness and wiped spatters of blood from my cheek. The reality of what I had done struck while I gazed at the thick crimson smears coating my fingers.
It was my moans that pierced the silence of that night . . .
To find out more about the author and the book, including a review from The Topeka Capital-Journaland information on how to order a copy, and the latest on her second novel, Winter Storm (which she expects to publish this year), consult the author's own web site: <http://www.bobbiejapfeifer.com>.