David Tangeman
David Tangeman's book of poems and stories, Gathering Reunion, was published by The Woodley Press in 1995, and won the Kansas Authors Club Coffin Award (for the best book published by a member the previous year) in 1996. David has been a good friend (of me and my wife) for many years (used to paint our house before vinyl siding), and he was the first Kansas writer I featured when I began this website in 2000. Now, in 2006, he has self-published a collection of 44 of his poems written in the last ten years, under the title Black Cow (I'll let the title poem, quoted below, explain the title)--so I am featuring him a third time.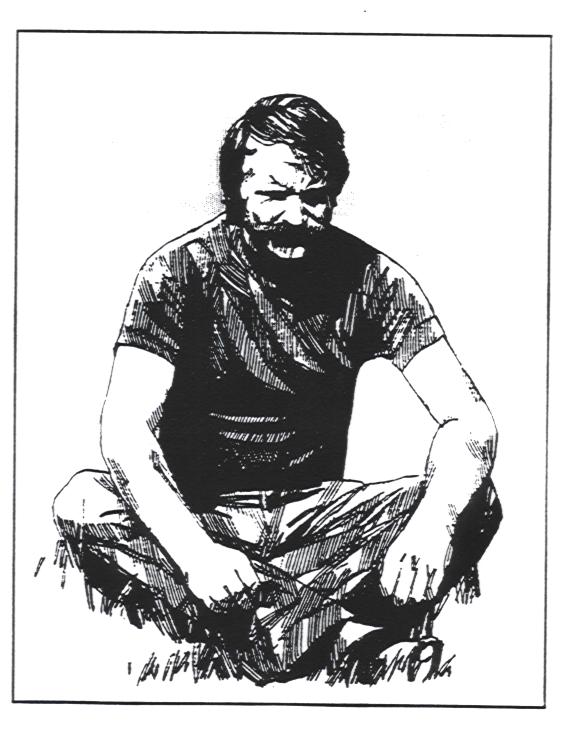 _____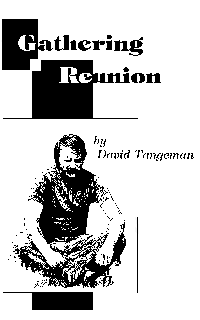 David is the most Kansas author I know. I grew up in Southern California, but he grew up on a farm in Nemaha County, in Northeastern Kansas, where he still has close ties to family and friends. He holds degrees from three Kansas universities, Emporia State, Kansas State, and Washburn. He is, however, a Kansan who went to Vietnam. He taught English in secondary schools before he was drafted to serve in Vietnam, and has since worked with students with special needs and taught English part-time at Washburn University (among other things). He has been active in Topeka writers' groups, and, as I have known him for over thirty years (it is about that long ago that we made video tapings of him reading his own story By the Shelter Belt and one of the parts in my play Mishima). He was one of the informal editors of my first novel, The Bridge of Dreams, as I self-serialized it here (having contributed a "Where?" to "Bridge 1"). I particularly liked the texture of his first book, both the poems and the stories--whether of farm and family, or of war, or of both woven together.
In 2000 I offered you the shortest story from David's Gathering Reunion:

Cy's Story: An American Parable
As soldiers their closeness was military-molded and die-cast in Vietnam. Now, lost deep within triple canopy jungle, the patrol became buddies in search of rescue. "Climb a tree and see where in hell we are," one suggested. "No way," the other answered; "I'm afraid of heights. You climb. You look." So he had climbed until, ragged of breath, he wrapped legs around thinning trunk. His arms, like boas, constricted the topmost bough. He looked.
Faces, moving legs and arms--he saw faces of enemy viet cong covering the trail below. Below, back leaned against the trunk was the buddy waiting betrayal by a shout. Look up he thought. But the man below felt movement and side-glanced into enemy faces. As he stood the rifle slipped from lap to jungle earth. He raised his hands; was surrounded. The rifle rose and fell in blood. He did not cry out. He did not look up.

The man branched above possessed one grenade. This grenade he fingered. One grenade cannot kill them all he thought. The viet cong removed the boots; pulled knives and slit the clothing. The tongue and penis were sliced off before they skinned him. Everything but the body they carried off. When he came down from the treetop he cried: "One grenade would not have killed them all." The body he buried under leaves and jungle debris. Later he was rescued. Officially, the soldier was classified as lost.

This story was one of the finalists in a 1992 competition for the best Short Short Story held by Washburn's writers' group, Headwaters, and published in their literary magazine, Inscape. Provoked by a consideration of the other two finalists in that competition, Al Clovis's "Goodbye, Grace!" and Tom Ellis's "Nantahala Falls" (as I added Tom to the Kansas authors with a book in print in March, 2001) I also added what I consider to be a fine poem David wrote on Al Clovis shortly after his death.
Listening to Al
A distillation of guests sharing
with the hostess a spoken word: "Stay"
remained at table and sat in the tapering
afterglow of curry chicken--a potluck
dinner of writers centered by a table
illumined by beeswax flame
candling above and reflecting
a pond of mirror atop which drifted
rose petals floating in a water-filled
crystal swan sporting a cranberry red neck--
all of us momentarily
listening to Al talking in that metered voice
a storyteller uses in speaking of rattlesnake
hunts and wine and liver transplants and a
lump they found out Friday, just yesterday--
fifty-one percent chance the doctor said, but
the nurse said one hundred--was cancer.
Al turned: "Good cornbread."

Now, for February, 2007, I am featuring David again by quoting two poems from Black Cow:
Black Cow
This morning I am inbed with black cow thoughts--
not the sort you'd expect of a years ago farm kid
grown like ripe wheat on a 1950's family Kansas farm
with black Angus cattle pitched like tar balls
against the pasture's green; or nightdissolved
like shadowblotches with greenfire faery eyes.
No, I am thinking of black cows tasted after school:
the long--coated with dark chocolate--
caramel candy tongue sold by Benedictine nuns--
who were like black cows themselves,
rosary wrapped in those days with black
chocolate habits that disguised the sweet stiff,
married-to-Jesus tongue of wrapped belief
as those wimpled rulers of recess bell
roistered toward tthe yellow bus hard
little farmer eyes familiar with birth:
naked, feathered or furred,
and butchered death:
plucked, skinned and plattered. These
convent nuns stood us in gendered lines and asked:
Who wants to be a priest?
with farm kid hands shooting toward heaven
and waving acres of dirt beneath fingernails;
who surveyed choregirls with spatula eyes
that turned budding virgin marys from dishtowel and skillet
with a question: Who will be the bride of Christ?

We raised our hands, those some of us
who believed that beyond cows and dirt
was a garden without hoes and spades
where weeding pulled the rootless sinners out;
was a pond splashing with saints
anxious for us to throw in nets and fish;
was a henhousewhere all eggs were gathered;
was a world where black cows lasted,
no matter how many licks.

November 1996
I add Naomi's favorite poem from the new book:

Podding Peas

A circle of women under a spreading elm
sit in spring warmth podding peas.
Industry becomes them.
They hike their dresses
and spread their knees
because
each lap holds a kettle
or bowl
or crock.

Women and girls work
shelling peas at a private pace
together
equal in effort
because
each empties kettle,
crock
or bowl
into a single bucket at the center of their podding.

"You don't have to take out the tiny ones,"
a mother tells the child.
"Oh, but those are baby peas and might
cry if you left them in the pod alone,"
answers the child.
"Hmmm. Well. You could be right,"
the woman replies
because
she knows
the unformed and undersize
peas will float
and rinse away,
but a child who pods peas will stay to snap the beans.

That's David's new book as a poet. But I am adding this note on David as actor for March, 2007, since Naomi and I have just seen him as the Fourth Tempter in T. S. Eliot's Murder in the Cathedral March 17th. This play, directed by Karen Hastings at Grace Episcopal Cathedral in Topeka, Kansas, is the best play I have seen so far this year, and, in a uniformly strong cast, David was the most impressive, his performance suggested by this picture in the Topeka Capital-Journal. The FourthTempter is most compelling, of course, as he tempts Becket with his own strongest desire--for martyrdom.
David Tangeman as the Fourth Tempter

David is, and has been over the years, one of the best actors in Topeka, as he demonstrates once again.

You can reach David at <david.tangeman@washburn.edu>, to share Vietnam experiences, talk about poetry, or order a copy of Gathering Reunion (for $7.00, plus $1.50 postage) directly from him (then he gets the profit). Or you can order it from The Woodley Press by following the directions given on that Web Site (where the page presenting David's book offers another one of his poems, From the Potter's Field). As I remark in my introduction to that book, David is a particularly good reader, of his own work and that of other writers. If you need such a program, he would probably come read anywhere in the world for round-trip travel and a modest honorarium (assuming his schedule allows).