---from Dark Fire
IV, Another Side
Somehow she found herself outside.
Moonscape of hackberry trees and fence
and the wrecks that Speck collected at the head
of a ravine, upended, wheeling stars…
going? As she thought it, it occurred to her that she was out
of there too, able to ask the question. Out.
---from Sun City
Sun City
Three thousand days of Kansas sun,
and it comes on again: the six o'clock
and steel perimeter
upturns beyond the sums and squares
of window sash, and runs
along the asphalt shingles
of a roof curling
into coral conflagration,
the air between us burning,
burning into day.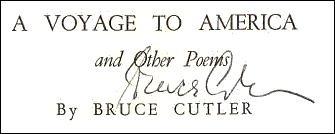 ---from A Voyage to America
The Plains Are Hills
The plains are hills
are a salt-sea deep
that boil on brines of a billion years,
are skinned by winds to skullsmooth mounds;—
drawn clean as a needle
through ocean eyes
you stand, a man
a moving mark, appear
at daysend and the long decline of One
whose wheel insinuates its flame in dust.
Quick choirs of Venus,
the winds reply.
Angel, god
god and angel, touch my thigh.
Disclose your dell, unloose your limestone spring
tear up the sunruts to the sex of hills:
reveal, reveal
grind me on your wheel of going
rattle your bones of days
and make me dance
tease me with your milk, summon me with blood
for the way goes down to dark. There is fruit hanging on the arms of night,
there is thyme
and thistle
there are presences in air
blacksnake agonies in grass, banks of clouds
broken by wind-hooves, the stars in shards.
There is another in my bone,
some one,
and one
one riding the rim of day
one locked in dark escarpments of the night.
Another. Hair stands up like quills. My eyes,
my heart, divide
sink like stone in their seeming.
---
---from The Maker's Name
There is prose in Kansas
There is prose in Kansas,
trains and jets,
wheat and milo.
Mostly there is prose in Kansas.
Say at Solomon Fork
you find a Santa Fe Mixed 26
that makes its way
from Rago Spivey, Zenda
hauling gypsum, turkey-red
and in the coach-express
fresh flowers, milk,
a young Dalmatian in a cage,
and Ammon and Amos Unruh,
Amishmen who do not choose
to recognize
the button or the Ford,
smiling completely
eating knockwurst-cheese
and nodding as the red
(so help me) lantern passes.
And then your Buick jumps
across the rails as straight
as sonar at a mirror-glint:
there are long rat-tails that kerosene
has swatched across the sky
and a sound
like someone's strangulation;
taking out your roadmap you can still
see trainsmoke
hobble along a long horizon,
barely gray
beneath six sabrejets.
There is prose in Kansas,
trains and jets
wheat and milo
Mostly there is prose in Kansas.
Dedicated to Bruce Cutler:
We Sell the Earth
--Farmville, VA realty slogan
The Herald's Classifieds read, reread
a hundred times, it's not the hubris
but the breach of etiquette that's surprising--
in a foyerful of well- spoken khaki,
navy blazers, brie and chardonnay
the rhetorical fart, ripe
and gunshot-loud.
Dear friend, without you here
where can I carry absurd outrage to?
You'd have smiled, recalled Petronius,
reminded me of Weil's title: "The Iliad,
a Poem of Force." How do we sell
what we belong to? How amortize the sky,
birdsong, an acre of grass?
You understood the lure of irony, its cool
dry tang between the teeth; knew too
how outrage carries its own Achilles heel.
You gentled what you touched:
see the shadows in the hackberry glade;
the wheat is a wheyey wish under
sun and wind. And you saw the facts
for what they were: the Sand Creek massacre
a wave of flotsam soldiery that surges over
the banks . . . taking out their bowie knives to start
to hack at the scalps, to take off fingers three
at a time and get at the rings, to take the noses,
take the ears, take the lips and testicles,
take the blankets, take the buffalo robes;
the CT scan's flecks on lung and kidney,
cancer's dark arpeggios. In their shadows,
quietly, you danced.
Friend--far from what you called
this grainy thorax of the world,
a quick wish from out east: Be
well. I just want to tell you
how steadily the earth moves,
how silently the green rhetoric of leaves
reveals the Trail of Tears.
---Craig Challender, from As Details Become Available, Pecan Grove Press, 2012.
Return to Top of Page