David Ohle was born in New Orleans, Louisiana in 1941. He recieved his BS from Louisiana State University in 1965 and his Masters of English from the University of Kansas in 1972. David taught at the University of Texas from 1975 - 1984. He began his teaching career at the University of Kansas in 2000 instructing in fiction writing and and screenwriting as well as a part-time lecturer. David retired from KU in August of 2015.
David's short fiction has appeared in the likes of Esquire, the Transatlantic Review, Paris Review and Harper's among others. His writing has been described as experimental and surreal.
Return to Top of Page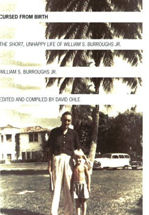 Early Moldenke
An Excerpt from Motorman
By David Ohle
Moldenke was a brightly burning candle with a short wick, destined to burn low and give off gas. As a child, they kept him in a building with structural moans whose eaves cracked in summer heat and gathered winter ice. At that point his chest held two lungs and a single heart. He experienced a shortened boyhood, a small degree of youth and carelessness. Most phenomena puzzled him then, sent him on aimless walks among the leafless ether trees. He would fix on his goggles, his gauze pad, and study the flying birds. It alarmed him when they cast frightened earthward glances.

Come spring he would press his face against his bedroom lookout and wait for the green bird to circle one of the dying ethers, settle on it and peck spirals around its dry trunk. He would then fold himself into a canvas chair and jot notes about the bird's behaviors: Rapid pecking followed by pauses. Long, agile tongue coated with a jellylike substance, good for rooting in tree trunks for larvae. When the long tongue is retracted, it apparently wraps about the brain. This he discovered when he found a dead green bird in the gutter and dissected it on the kitchen table with scissors and paring knife.