In memorium I would like to introduce in this month of September,
perhaps my earliest friend among Kansas authors,
certainly the earliest friend of the Woodley Press--
I would say its Godfather (but I'll tell that story below).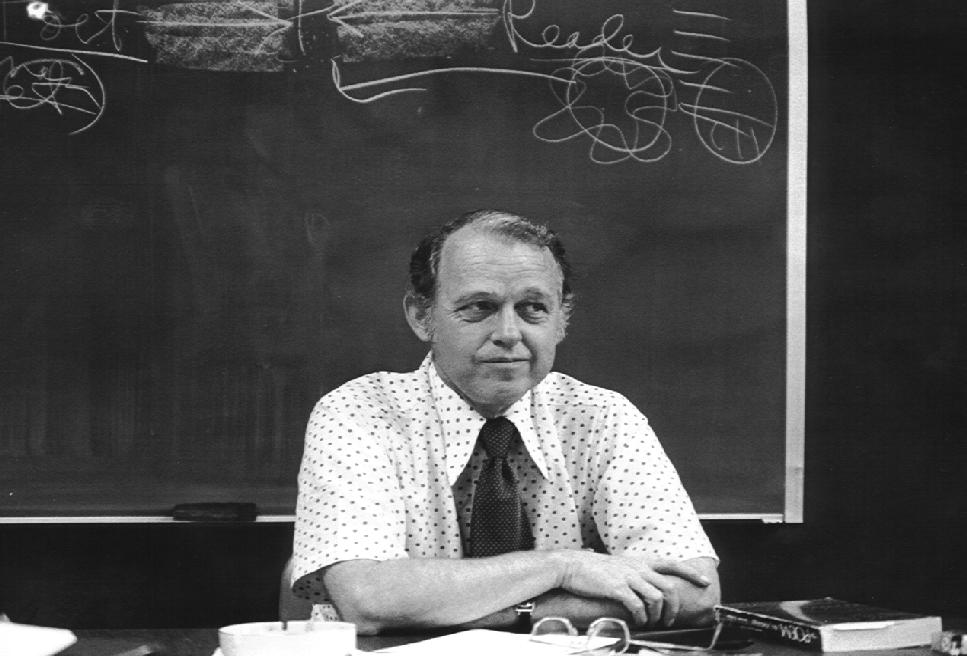 KEITH DENNISTON
As I reflect back over the years I knew him I would certainly judge H. Keith Denniston, who died May 15, 1999, in Emporia, Kansas, at the age of 73, one of the giants of Kansas literature. Keith was born in Kansas City, Missouri, grew up there, and graduated from Central High School. He probably always thought of himself as a Kansas Citian, for he had family and friends in the city, and it was not a particularly long drive up I-35 from Emporia. He made that trip often, so always knew most of the writers who were active in and about Kansas City quite well, and would regularly attend, and participate in, the local writers' activities--like the River Front Readings organized by his good friend, Phil Miller, and the Writing Place activities directed by Judy Ray. And I know he particularly identified with the Kansas City Jazz mystique, which he honored in his own verse drama, Jazz Moods.
But he lived in Emporia most of his adult life--and that was his strongest identification for most other writers in the state--our man in Emporia. After attending Park College and the University of Missouri, and taking post-graduate work at the University of Missouri in Kansas City, then at the University of Kansas (where I first met him, as a fellow graduate student, those many years ago), earning a master's degree in English in the process, he took a job in the English department at Emporia State University, and taught 41 different courses, I understand, over his 33 year career there, before he retired in 1990.
For years he was Director of Creative Writing at Emporia. That was his primary identity for me, and always seemed to be the professional center for him. Over the years that our paths crossed in one way and another, he may have been the most creative teacher of creative writing in the state, particularly in the influence he had on others--both students and fellow teachers. He was always experimenting, and provoking his students to experiment, teaching every variety of creative writing course--like the course in which his students produced their own television series as a take-off on the then popular Mary Hartman, Mary Hartman. And his emphasis was on performance, exhibiting the oral qualities of literary expression--as he affirms in the introduction to his Jazz Moods, where he says that, following Edith Sitwell and "scat singers" (an interesting combination), he has tried to write poetry that makes the human voice an instrument in both the literary and musical sense, that might then allow it to harmonize with Tim Wiesberg's Night Rider recording.
As part of this teaching emphasis, Keith was the sponsor of the Quivera Literary Club at Emporia State, which annually published the Quivera Literary Magazine, one of the longest lived and best known literary magazines produced by college students in the state. But beyond the magazine, Keith also took the show on the road, toured the state with members of Quivera doing dramatic productions of poems, plays, and stories written by the members--with the special quality that they were well rehearsed readings. But Quivera would tolerate the relative informality of other literary groups, like the Headwaters group at Washburn University, allowing them to return the visit with a format where each reader might surprise everyone with what he read as the number he had drawn out of the hat came up. Many of those who worked with Keith, say for all four years that they were students at Emporia State, became his life-long friends, and several became teachers of creative writing at other institutions--where his example then became a model, reinforced by continued personal contact with him. That was one way that he became so well known in the creative writing community across the state--so many out there had known him at Emporia.
Another way that he became generally known among college English teachers in Kansas is that, for some years, he was also chairman of the General Education Literature (GEL) conference at Emporia--where teachers from other institutions with general education requirements would present papers, usually as panel members. I remember debating Classical or Popular (Ancients vs Moderns) with Jim Carothers from the University of Kansas, as his new course in Baseball Literature was burgeoning while our course in World Literature had dwindled from three full sections to part of one--finally to evaporate completely by the time we were offering our own course in Baseball Literature. Participation was good at the Conference, in part because Keith managed to get some distinguished writers to come as conference speakers. I remember Truman Capote one year, and know that Leslie Fiedler was the main speaker the year I debated Carothers, for he improved on Carothers' case by arguing that the classics, like Homer, were the popular literature of their own time, whereas Carothers' basic argument had been survival--that more students will sign up for popular courses (which is true).
Keith also participated in other people's conferences, particularly writing conferences, as well, and probably helped organize more conferences in other places in the state than anyone else in the field. So he knew almost all the teachers of creative writing in Kansas colleges so well that it seemed natural for the organizational meeting for Kansas Writing Programs to be held in his living room back in October, 1977, and that organization, with a floating presidency and annual meeting, two or three name changes (and an informative newsletter), was probably the most active group of writers in Kansas for about ten years. And, through it all, Keith remained the gentle provocateur.
But I finally knew him best, worked with him most closely, in connection with the Woodley Press. It was after one of those out-of-the-hat readings of Washburn's Headwaters group for Quivera in Emporia, in the spring of 1980, as Keith and Eleanor Bell and I (and a few others) sat drinking beer together, that the idea of the Woodley Press was born, and Keith later served on its board of directors for years. He also served as chairman of the manuscript selection committee, and as editor for Phil Miller's Cats in the House, and Michael Johnson's Ecphrases. And the Woodley Press published his Jazz Moods, which he and a group of friends frequently performed around the state (I saw it done three times, once at a meeting at Fort Hays). I know it is a very readable "poem," for I read it to David Tangeman, who was driving, on the way to a Woodley Press summer meeting at Keith's house shortly after it was published in 1987. His house was always available for such meetings, meetings designed to evolve into parties, in good part because his wife, Conci, shared his spirit of generous hospitality. Those who knew Keith well remember him as a very gregarious person--a party animal--though I knew him less well in that manifestation (since parties just make me nervous). But that gregarious spirit was always ready to serve the literary activities Keith was involved in as well. Whether after a student reading, as part of a weekend retreat with other faculty members in Cimarron, or during the social hour at his home for a visiting celebrity, Keith knew how to make everyone feel welcome. It became a standard thing for The Woodley Press to hold its summer, brainstorming session at Keith's home in Emporia, because the whole environment (including that unique house itself) lent itself to that informal activity.
His own writing was also distinguished, I believe, and was widely published. I consider him a particularly good writer of short stories. The four stories he contributed to the volume structured on the four seasons that he collaborated on with Phil Miller (who wrote the poetry), From the Temperate Zone (Potpourri Publications, 1995), are all interesting stories, but I found the story selected for summer, "The Love Affair," most memorable, for it presents the relationship of the patient to the cancer that kills him as a love story so provocatively that I passed a copy on to my oncologist. After his own death, I found the last words of "The Love Affair" worth reflecting upon: ". . . I realized that there was at last no more me, at last I am it; I am the cancer, or rather, it is I, and in that delicious moment I knew suddenly the rightful name of my lover, and with ecstasy I whispered, 'I love you, Death!'" But I leave you to contact Potpourri Publications (P.O. Box 8278, Prairie Village, KS 66208) about that book--(telephone 913-642-1503, e-mail <Potpourpub@aol.com>) , while I encourage you to buy the greater bargain ($3.00) The Woodley Press published by offering one of the moods out of Jazz Moods.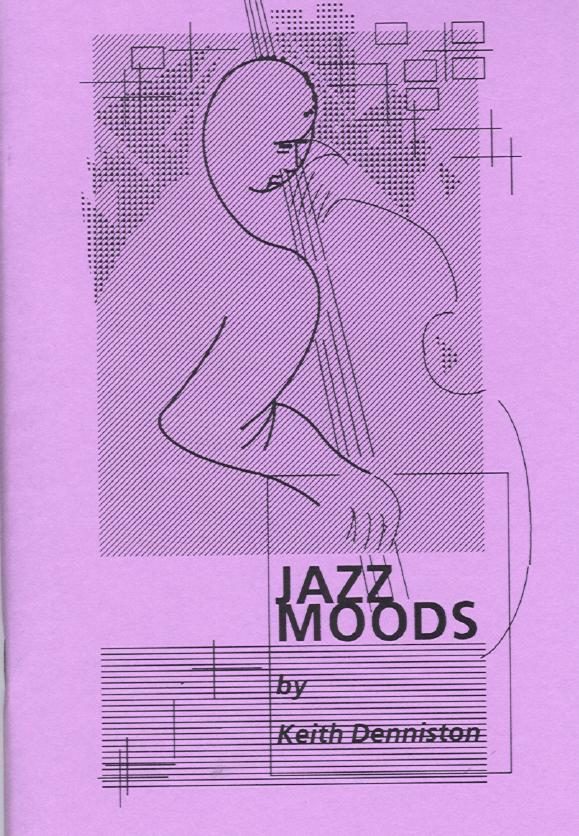 X. The Score Card
Tired and balding he drinks bourbon and coke
Trying to believe that he is not a joke
And to prove it he is on the prowl.
Listen, you can hear the old wolf's howl.

"Tonight, Sonny Beaumont's gonna score!
Tonight, Christ, I gotta score!
It will make me feel
Like life is like worth living again
If I can get me
Some female company tonight,
Some doll who'll hollar, 'Daddy, Daddy,
Quick, give me some more,'
And want to do it till my aching back is sore.

So I gotta score tonight
With some dame I hope ain't too bright,
Only thing, I hope she looks all right
'Cause my nerves are all screwed up tight

I ain't sold a car, used or new
For the last month, or three, or is it two,
And I feel the Boss Man giving me the eye,
But how in the hell can I
Be expected to sell
One of them lemons
Since the damned economy fell to hell!
Oh shit!

But I don't get depressed
Like the rest;
I get dressed
In my best.

Man, I like the way these new pants hug,
They're so tight they make my eyeballs bulge,
Got my shirt unbuttoned to the waist,
But the gold chain shows I got good taste.

That beauty drinking Oly Gold
Looks like she could be had,
She wants it so bad,
But she's dressed like a hick,
From the sticks.

The cutie in white looks like she's been crying
Drinking white wine all by herself.
Christ, I don't need that.

Best bet's the pink lady lush,
Please that old babe
In black
In the sack
And she'd spring
For a new cadillac.

Hey, girlie,
Bring me another bourbon and coke
And that lady a pink lady
And what are ya doing later, Baby!
Gotta score!
What's the score?"