Poetry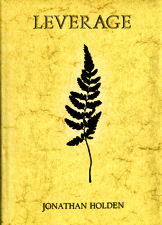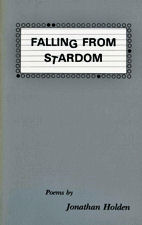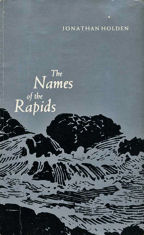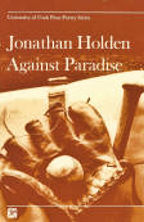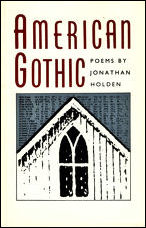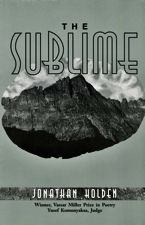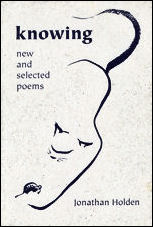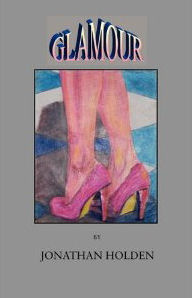 Memoir/ Non Fiction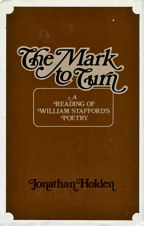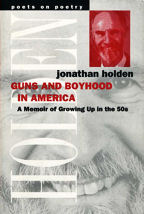 Biography

Jonathan Holden is the University Distinguished Professor and poet-in-residence at Kansas State University in Manhattan, Kansas. He earned his bachelor's degree in 1963 in English from Oberlin College, his master's degree in 1970 in English/Creative Writing from San Francisco State College, and his doctorate in 1974 in English from the University of Colorado. He has been at KSU since 1978.

Jonathan Holden has had a long a successful carreer as a writer and teacher, and has won many awards. He received the Distinguished Faculty Award at Kansas State University in 1986. He has been awarded two National Endowment for the Arts Creative Writing Fellowships. His collection Leverage was chosen by poet W.D. Snodgrass as first place co-winner in the 1982 Associated Writing Programs Award Series. His collection The Sublime was chosen by Pulitzer Prize-winning poet Yusef Komunyakaa as the winner of the Vassar Miller Prize for poetry in 1995. In the year 2000, Holden was part of the committee that chose the Pulitzer Prize winner for poetry.

Holden was also the first Poet Laureate of Kansas. He served two years, from July 2005 to July 2007.

Return to Top of Page
Bibliography ( - housed in Thomas Fox Averill Kansas Studies Collection)

Jonathan Holden has published poetry collections, memoir, and nonficti0n. His poetry has appeared in many magazines and journals. A few are: American Scholar, Kansas Quarterly, Prairie Schooner, Harper's, Poetry, Beloit Poetry Journal, Iowa Review, and Southwest Review.

Poetry Collections:

Chapter Books:

Ur-Math (State Street Press Chapbooks, 1997)


Memoir and Nonfiction:

Mama's Boys: A Double Life (Sandhills Press, 2007)

Old Formalism: Character in Contemporary American Poetry (University of Arkansas Press, 2000)

Guns and Boyhood in America: A Memoir of Growing Up in the 50s (University of Michigan Press, 1997)
Conversation, Initiation and Delight (Yarrow, 1991)

The Fate of American Poetry (University of Georgia Press, 1991)

Landscapes of the Self: The Developement of Richard Hugo's Poetry (Series in Modern and Contemporary Literature ( Associated Facultry Press, Inc. , 1987)

Style and Authenticity in Postmodern Poetry ( University of Missouri Press, 1986)


The Mark to Turn ( The University Press of Kansas, 1976)


Novels:

Books about Jonathan Holden:

The Poetry of Contemporary American Poet Jonathan Holden by Buchanan, C.J. (Edwin Mellen Press, 2003)

Return to Top of Page

Quotes on Holden's Work

Holden talks about his family so that your ears, your brain, your feelings will tingle for days. He has something to say; he says it with force and grace. Holden offers us the ordinary, the commonplace, the "redundant," but with the juice flipped on--brings us the jolt of the diurnal, switched on; the shock of the normal plugged in. Most poets who try to cut us in to our own circuits blow the fuses; he connects things so rightly that we illuminate ourselves.
---W.D. Snodgrass

Jonathan Holden's brilliant poetry shoots across the page like a multicolored comet. He draws on extensive knowledge of the poetry tradition as well as his own personal wisdom to entertain and to instruct his readers about life.
---Denise Low, second Poet Laureate of Kansas

Jonathan Holden is one of our most intelligent poets... It is not always easy to be both brilliant and generous of spirit. It is our good fortune that Holden wears his learning lightly and with such unaffected grace and charm.
---Ted Kooser, Poet Laureate, United States of America

Return to Top of Page

Writing Samples

Shoe Store

How foolish my own children both
seem as the salesman swirls  
around them, lacing, pressing  
with thumbs a stiff toe, touching  
them lightly, flattering,  
How does that feel?  
They answer with passive smiles.  
Now gingerly, on that carpeted  
altar, their feet annointed,  
they learn to walk again.  
They strut and turn and strut  
as if their feet were torches  
shedding glamor. They are far  
away, they've forgotten already  
who they are.  The shoes  
have won them.  The salesman  
laces them up and leads  
them to the mirrors.

The Names of the Rapids
---from The Names of the Rapids, reprinted in Knowing: New and Selected Poems

Snaggle-Tooth, Maytag, Taylor Falls--
long before we measured with our eyes
the true size of each monstrosity
its name, downriver, was famous to us.
It lay in wait, something to be slain,
while our raft, errant, eddied
among glancing pinpricks of sun
and every bend giving way to bend
seemed a last reprieve.
But common terror has a raw taste.
it's all banality, as when
you stare straight into a bad cut--
this sense of being slightly more
awake than you might like.
When the raft pitches sideways off
a ledge, what you land on is less
than its name.  It's a mechanism.  None
of the demented expressions
that the fleshly water forms
over that stone profile
is more than another collision,
a fleeting logic lost and
forming, now lost in the melee.
When the world is most serious
we approach it with wholly open eyes
even as we start the plunge
and the stone explanation.


Oz-
---from Against Paradise, reprinted in Knowing: New and Selected Poems

In Kansas the witches come in all colors;
they go in all directions when the wind weaves
the water dark over sloughs.  They're slippery.
They easily get away, vanish into the pale
grasses.  At night they ride the fields.
But in Oz there are only two witches.
You can spot the wicked one a mile away.
The single black object around, she's
a preposterous blot: black rags flapping
among the flowers, cursing the gay
Easter basket colors.  For she's been exiled,
she's not allowed to associate with trees.
There is no shade there, nowhere to hide.
You could put your fist through the dyed
sugar landscape.  The rocks chip if you 
brush them too hard.  Night doesn't come there
any more: it's an empty threat.  The bats
circling drearily at noon are easily picked off.
The birds cheep cheerily year after year,
canned laughter.  It will always be this way.
If the Wicked Witch's rags acquired the luster 
of a raven's coat, a rainbow shine
in bituminous wings, just as she started 
to grow transparent, a flash of wind across
the grasses, just as she was about to vanish,
before the spectrum was sewn in the waters, 
a humming would come from the south, 
the cheerful hum of her sister, the Good Witch,
Glinda, retouching the leaves with her wand.
One spray of her scented smile
would deaden the Wicked Witch while she
tidied the waters, straightened the flowers
and made the colors fast.

Full Circle, for Alan Nordby Holden (1904-1985)
---from Against Paradise, reprinted in Knowing: New and Selected Poems

Scared, I watch my son, eleven, his first
time on the mound, stare in
at the tiny lead-off man.
So tense he's poker-faced,
Zack's practicing the politician's trick
of looking confident, as if a man
could be substantial just by looking it.
But pitching, I learned young, isn't politics.
In the center of that dusty ring
where, as if under some unremitting examination
by the lights, your squirmy shadow's multiplied
by five, faking doesn't work.
The one thing not to do, I told him earlier,
is issue walks.  We were playing catch.
I whipped one back.  I was talking
as casually as I could, worried
about tonight, but trying to hide it,
to talk seductively.  I was talking
in teasy little parables, embroidering them--
about the time I walked eight batters in a row,
about the time I got mad at the umpire
and started to cry--anything that would make sure
what help I gave the boy would register
before he'd be alone there on the mound,
out of range.  His low fastball stung
my hand.  I whipped it back.  I told him
how sometimes in the middle of a game
if you get wild you can think about
your stride or where your shoulders face,
you can experiment, correct yourself.
As I talked and threw and talked, we never broke
the easy to-and-fro of pitch and catch, 
the more I talked the better
I remembered how.  I understood
my own shock when my father used to pause
from his obsessive work to talk to me, to offer--
always shrewdly, at a slight oblique--
what help he could.  Zack throws.
The batter takes.  Ball one.  Ball two.  Ball three.
And I prepare myself for the first of many walks.
Zack pauses, on the next pitch eases up.
It's nicked foul.  Impassive, Zack waits
for the ball.  He delivers easy,
call strike two.  If the advice is right
and handed out with style,
we never forget the things our fathers say.
They talk directly to our sons,
and our sons can deliver us
our own boyhood back a second time.
The batter whiffs.  We live redundantly,
and the second time is better than the first.

Return to Top of Page

What inspired you to begin writing?

I've always loved to write. It's play. Even as a child I wrote. My first poem was this:

I love the city with all its sights
And many pretty colored lights.
You can ride in taxis and big busses too.
Off to the city I'm going with you.

Has living in Kansas shaped your writing?

No. I would write wherever I lived.

In what ways has your position as a professor influenced your writing?

It's made things easier, for it gives me a guaranteed and highly literate audience.

Who are your favorite writers and poets? Are there any that you would name as influences on your own work?

This is a tough question. Probably my favorite poet of all time is W.H. Auden. Though I have many favorites. One of the best is the late Kansas poet William Stafford, about whom I wrote a book The Mark to Turn: A Reading of William Stafford's Poetry (U. Press of Kansas, 1977). Stafford moved from Kansas to Oregon and died in 1983.

During your service as the first Poet Laureate of Kansas, from July 2005 to July 2007, you worked hard to bring attention to literature in Kansas. Can you talk a little about the work you have done?

I gave poetry workshops around the state and, with the help of Greg German, instituted a radio broadcast called Shoptalk, in which, on Tuesday evenings, I interviewed various Kansas poets and had them read aloud over the radio, over Telenet.

Miranda Ericsson interviewed Jonathan Holden via email in July, 2007


Return to Top of Page


Links

Jonathan Holden—KSU Distinguished Professor and Poet in Residence
https://www.k-state.edu/english/people/holden.html

Jonathan Holden's website is designed by Greg German, another fine poet who deserves a presence on the Map of Kansas Literature.

A short biography and five poems by Jonathan Holden on the Kansas Poets Index.
http://www.kansaspoets.com/ks_poets/holden_jonathan.htm

An interview with Jonathan Holden from Valparaiso Poetry Review online
http://www.valpo.edu/english/vpr/holdeninterview.html

Kansas Poets Homepage—"a resource for Writers, Readers, and Students of Kansas poetry."
http://www.kansaspoets.com/

Kansas Poets Shoptalk Series—links to shoptalk with Amy Fleury, Denise Low, Steven Hind, and more.
http://www.kansaspoets.com/shoptalk.htm

Jonathan Holden In the News—An article about Holden from the Topeka Capital-Journal
http://cjonline.com/stories/040606/boo_book.shtml#.VyOmBE0UWM8

Photo and typed contents of a brochure from the 9th Annual Literary Festival at Old Dominion University in 1986.
http://www.lib.odu.edu/litfest/9th/holden.html

Jonathan Holden on Wikipedia.
http://en.wikipedia.org/wiki/Jonathan_Holden

Return to Top of Page

This page was constructed by Miranda Ericsson, 2007.