Frequently Used Resources
College Portrait
The College Portrait website provides basic, comparable information from over 300 public colleges and universities. The website is a tool for prospective students and their families during the college search process as well as a resource for high school guidance counselors, community college advisors, state policymakers. Each institution's College Portrait has a variety of information including the characteristics of students and faculty, admissions requirements, popular majors, average class sizes, campus safety, the future plans of graduates, and much more. Every College Portrait provides cost of attendance and financial aid information and an interactive tool for users to more specifically estimate their own costs at a particular institution.
The College Portrait was developed as a part of the Voluntary System of Accountability (VSA) for colleges and universities to provide greater accountability through accessible, transparent, and comparable information. VSA is a voluntary initiative for four-year public colleges and universities, developed through a partnership between the American Association of State Colleges and Universities (AASCU) and the Association of Public and Land-grant Universities (APLU).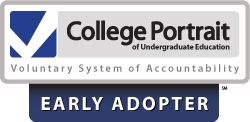 The Higher Learning Commission
Washburn University is accredited by the Higher Learning Commission (HLC). The HLC is an independent corporation and one of two commission members of the North Central Association of Colleges and Schools (NCA), which was founded in 1895 as one of six regional institutional accreditors in the United States. The Higher Learning Commission accredits, and thereby grants membership in the Commission and in the North Central Association, degree-granting post-secondary educational institutions in the North Central region.
College Navigator 
College Navigator, a tool provided by the National Center for Education Statistics, is designed to help students, parents, and high school counselors review information about nearly 7,000 postsecondary institutions. Information provided by College Navigator includes program offered, degreed awarded, retention and graduation rates, cost of attendance, available financial aid, campus safety, and accreditation.
Kansas Board of Regents
The nine-member Kansas Board of Regents is the governing board of the state's six universities and the statewide coordinating board for the state's 32 public higher education institutions (seven public universities, nineteen community colleges, and six technical colleges) including Washburn University. In addition, the Board administers the state's student financial aid, adult education, GED, and career and technical education programs.
College Board, Trends in College Pricing
Trends in College Pricing, an annual publication of the College Board, provides data on undergraduate tuition and fees, room and board, and other expenses at public two-year and four-year and private four-year institutions. The report also addresses the net price students actually pay after taking grant aid into consideration.
Association for Institutional Research
The Association for Institutional Research (AIR) supports its members in their efforts to continuously improve the practice of institutional research for postsecondary education planning, management and operations, and to further develop and promote the institutional research profession.