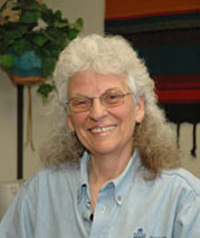 Nan Palmer
Contact

1700 SW College Ave

Topeka

,

KS

66621-1117

785.670.2136
Degrees & Certifications

The University of Kansas, Master of Social Work
The University of Kansas, Doctor of Philosophy
Teaching

SW 353 A, Macro Social Work Practice II
SW 390 D, Contemp Iss in Social Work
Scholarly Interests/Activities

Authored or co-authored articles on human rights such as Redefining Families:  Kinship Groups That Deserve Benefits, Mississippi Law Journal; The Essential Role of Social Work in Addressing Victims of Human Trafficking, ILSA Journal of International and Comparative Law; Women Enslaving Women, USC Law Review of Law and Social Justice. 
Other publications reflect her ongoing work in animal-assisted therapy and resiliency.
Also interested in GLBT issues.
Service Interests/Activities

Served on the board of Topeka Center for Peace and Justice
Social Work Advisory Committee to Kansas Behavioral Sciences Regulatory Board
Currently is on the Editorial Board for the Journal on Child Sexual Abuse 
Dr. Palmer and her standard poodle, Gracie, are a nationally registered Pet Partner team (Delta Society) visiting health care facilities in the greater Topeka area
Loves doing watercolors, walking and bird watching in nature, and yoga
Career Accomplishments

Served twice as Chair, Department of Social Work
Served twice as BSW Director, Department of Social Work
Dr. Palmer's innovative work on resiliency in adult children of alcoholics (development of the Differential Resiliency Model) continues to be in demand from other countries
Developed/taught (1987) the first clinical practice course addressing survivors of trauma
Developed and taught the first course on complementary healing practices
Served as the first Family Services Specialist for the State of Kansas (formerly SRS)
Was a founding member of the Joint Center on Violence and Victims Studies
Taught many summers for the National Victims Assistance Academy Institute
Was one of the founding faculty of the new MSW Program (1995) at Washburn
Received in 2002 the Herrick Award for Outstanding Service - Washburn University
Received in 2013 the Ned N. Fleming Award for Excellence in Teaching - Washburn University