Diversity Initiative
Mission Statement
The mission of our diversity initiative is to honor the Washburn University commitment to respect, embrace, enhance and celebrate diversity at all levels of the University and surrounding communities through faculty, staff, student and administrative efforts and community partnerships. Washburn defines diversity broadly to encompass gender, race, ethnicity, socioeconomic class, sexual orientation and identity, disability, age, religion and national origin.
Diversity Statement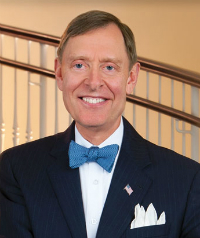 President Farley
Washburn University was founded in 1865 as a college with open doors and a welcome to all, regardless of race or gender, at a time when this was practically unheard of. We are very proud of this distinction and continue to expand upon the foundation established almost 150 years ago by making our University a place where differences among people are embraced and celebrated. We want Washburn University to be a place where all can learn, work and grow in an environment of respect, understanding and an appreciation of each individual.  Diversity in its broadest sense makes our world interesting and vibrant. Our graduates carry into society the experiences and knowledge they have received while at Washburn, so it is essential that we make continued progress in preparing them to succeed in a world that is increasingly interconnected, diverse and complex. Our commitment to diversity is a work in progress and I encourage everyone to be a part of the abundant activities and opportunities to pose challenging questions to each other, to explore cultural traditions and to learn from each other's life experiences. In doing so, we keep faith with the commitment of our founders and live the legacy they began.
Strategic Plan
The Diversity Initiative Coordinating Committee, composed of faculty and staff from across campus, has a game plan for achieving its mission.
Diversity Events Calendar
The Diversity Initiative generates and manages some original programming, such as the monthly Diversity Matters Film Series (free movies while you eat your lunch!). In some cases, it financially sponsors diversity programs generated elsewhere on campus. And it always supports and highlights all of the above through its online Diversity Events Calendar. Know of an event that should be added? Email us.
Places on Campus
The idea of diversity is integrated into the Washburn experience on many levels--curriculum, events, faculty and staff training, the student body itself. But here are some campus entities that directly address diversity on a daily basis.
University Offices and Initiatives
University Strategic Plan
Washburn University's current strategic plan, approved by the Board of Regents in 2010, addresses diversity in many ways. Of particular note is the Core Value of "Respect: embracing diversity and treating others collegially with civility, openness, and professionalism in all interactions, activities, and decision making," as well as Strategic Theme II, "Recruit, retain, and graduate a diverse student body." Read the details.
Curriculum
Washburn supports the integration of diverse perspectives into all course. But many programs and courses very directly address diversity-related ideas. For instance, the courses HI 229: The Civil Rights Movement, EN 361: World Literature II, LW 841: Native American Law, RG 102: World Religions. Or, say, available minors in Women's and Gender Studies or International Business. And many, many more. Because the course catalog is always evolving, students should consult the most current catalog or inquire with specific departments or their academic advisors for more information.