The Washburn University Dancing Blues are an integral part of Washburn spirit. Serving as the university dance team, the Dancing Blues perform at all home football games, select women's and men's basketball games, appear at university and alumni events and compete at the local and national level.
Tryouts are held in the spring and all Washburn University students in good standing are eligible to try out. Successful members will receive a scholarship for their commitment to the Dancing Blues. Contact coach Angie Price for more information.
The Dancing Blues are four-time American Dance and Drill Team National Champions with titles in 2013, 2015, 2017 and 2018. They also compete at Universal Dance Association's summer camp series in Warrensburg, Mo. and consistently bring home superior ratings, among other awards.
Currently, the Dancing Blues have 18 members representing 13 major areas of study. The 2018-19 Dancing Blues captains are Kassandra Hogan, senior, Abby Price, senior, and Michaela Trobough, senior. Co-Captains are Mikayla Griffin, junior, Caralea Manthe, junior, and Hayden Schlochtermeier, senior.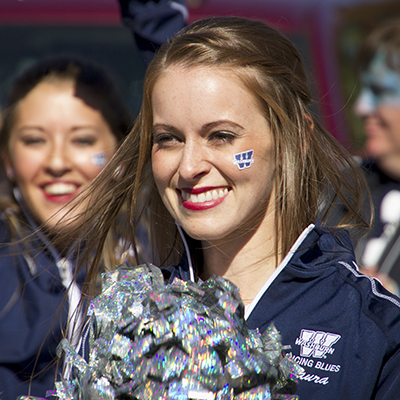 Mission
It shall be the mission of the Washburn University Dancing Blues to work as a team to deliver the best possible performances and be the best possible representatives of Washburn. We will recognize organization, punctuality, professionalism, hard work and respect as important keys to achieving success. We will come together as a team to achieve a level of physical fitness that will enhance our performance. We will strive to be positive role models at all times and remember that we are representatives of a larger organization. Our choreography will be thoughtful and challenging, while still keeping our audience in mind. We will make an honest effort as a team to maintain our commitment to improvement while still having fun!