Kelsey Rose
Recent graduate Kelsey Rose knew she wanted to accomplish a major feat of opening a food pantry on Washburn University's campus once she determined that there was a need. However, when it came to her decision about where to attend college, she was less urgent.  "I decided so late in the game—a week before I graduated high school--that I was coming to Washburn," Kelsey said.  Washburn's psychology department is so glad Kelsey decided to attend Washburn and so fortunate to have worked with her over the past five years. 
Kelsey is originally from Andover, Kan. and graduated with a major in psychology in May 2015. In her time at Washburn she has been involved in numerous activities such as Psychology Club, Ichtus Campus Ministry, Bods Feeding Bods, and taken on many roles, including Resident Assistant, Peer Educator, and Student Ambassador. 
One organization Kelsey is involved in, Bods Feeding Bods, is an organization that supports initiatives which provide food for Washburn students. One component of the program is the Exchange, a food pantry that Kelsey started.  "Two years ago I knew that I wanted to do something related to hunger on campus and so I did background research and I did a survey to establish the level of food insecurity [on campus]," said Kelsey.  "I think it was 52 percent of the students we had surveyed were food insecure.  This was not a small need but a huge need."  She shared this information with the executive council and received permission to open the food pantry.
In August 2014 she was able to get support from other people and organizations on campus and by November the food pantry was opened. Many people have donated food, time or money, and the response from students in need has been very positive. "They have been just so very grateful…It's been really cool to see that and to see that the hard work is paying off," Kelsey said. 
One of the reasons the food pantry has had such success is because of support from the psychology department. Kelsey said that a faculty mentor assisted her with background research and the psychology department donated its storage room to house the Exchange. 
The support from the psychology department also helped Kelsey in the classroom.  "The psychology department really wants you to succeed and I see that in all of the professors that I have worked with," said Kelsey. "I think they just really take that extra time to make sure that they are helping you get where you want to go." Kelsey definitely experienced that support as she was able to conduct three research studies as an undergraduate student at Washburn.
As for her future plans, Kelsey would like to continue to study psychology.  "Eventually I would like to get into a Clinical Psychology doctoral program.  I will spend the next year or two doing either research or a job related to Clinical Psych."  Kelsey has left a great impression on the psychology department and we wish her the best in the future!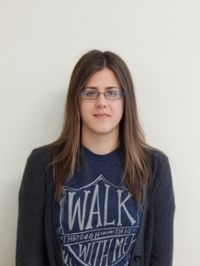 Molly Walter
Molly Walter is one of those people who came to college knowing what she wanted to do. The psychology department at Washburn has helped her to realize her dream of counseling others by assisting her in starting a local chapter of the national organization To Write Love On Her Arms (TWLOHA).
Molly is from Topeka and graduated in December of 2015 with a degree in psychology and a minor in communication studies. Molly says that the TWLOHA organization inspired her to decide to study psychology in her preteen years.  "I've always known that I wanted to do something like helping people, and then once To Write Love came into my life during middle school/high school, I was like, 'Oh, this is exactly what I want to do: counseling, therapy,' " Molly said. 
TWLOHA is a nonprofit organization that seeks to support and provide hope for people who struggle with addiction, depression, self-injury and suicide. Molly started the local chapter of the organization in her freshman year at Washburn and has since interned for the national organization in Florida. 
When asked about why she decided to attend Washburn, Molly said originally because it was close to home; but after being here for four years, there another reason why Washburn has been a good fit for her.  "I think for me the biggest thing about Washburn is that they really advocate for their students to do what they want to do," Molly said.  "To me, being able to start a new student organization for something that I was passionate about was huge."
Support from the psychology department was also crucial in getting TWLOHA started.  "The psychology department has been the biggest supporters of this whole thing from the very beginning. If it wasn't for my PY 100 teacher, this wouldn't have ever happened," Molly said.  Support from the department has also helped to make Molly's academic experience more meaningful.  "It's just really cool to see within the Washburn community, how close knit our psych community is.  [Professors] provide a relationship that is not intimidating--to ask questions," said Molly. 
In addition to TWLOHA, Molly is involved in Ichtus Campus Ministry, Psychology Club, and STAND. She has also worked for the psychology department since her first day at Washburn. As for after Washburn, Molly plans on getting her PhD in Clinical Psychology and fulfilling her dream of helping others.  Molly is such a great asset to our department!
GET IN TOUCH
WITH Department of Psychology
Department of Psychology
Henderson Learning Resource Center, Room 211
Washburn University
1700 SW College Ave.
Topeka, KS 66621