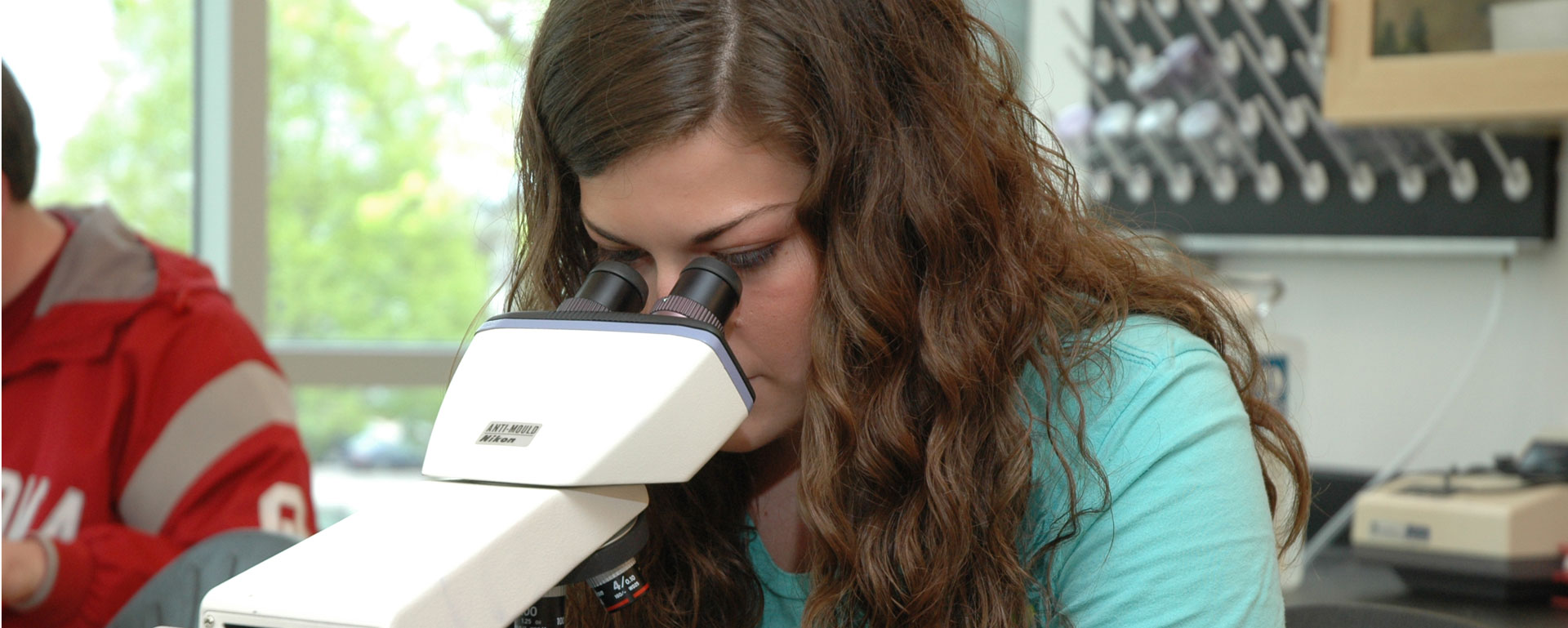 Become a Biology Teacher with Washburn
Pass on your love for science by earning a degree to teach students in grades 6-12. In addition to taking courses in the biology department, you'll take courses through the education department and student teach for a semester. When you graduate, you'll be ready to take the Kansas teaching licensure exam.
Course Plan and Major Maps
Teaching Licensure Only
This option is right for you if you already have a bachelor's degree and want to become a licensed biology teacher.
To satisfy Kansas State Department of Education requirements for teaching certification in Biology (grades 6-12), the state-approved program of the biology department at Washburn University requires that candidates fulfill the following requirements:
University and general education requirements
38 credit hours in biology

20 credit hours of biology core requirements, plus
18 credit hours of supporting biology courses, plus

Required 30-hour natural science concentration: 20 credit hours in one discipline
(Beginning with Catalog Year 2014)

Course Number

Course Name

Credit Hours

A. Biology, Secondary Education Specialization (BiED) Core Courses:

BI 102

General Cellular Biology

 5

BI 103

General Organismal Biology

 5

BI 301

General Microbiology

 4

BI 333

General Genetics

 4

BI 390

Biology Seminar

 1

BI 395

Biology Research

 1

Total Core BI Hours for BiEd Majors

20

B. Required Supporting Courses for BiED Majors:

Students must complete the following courses to satisfy Kansas teaching standards. Indicated courses may be substituted by course listed under Course Substitutions.

BI 155

Sexually Transmitted Diseases*

1

BI 202

Biology of Behavior

3

BI 250

Introduction to Human Anatomy**

3

BI 255

Human Physiology †

4

BI 310

Ecology ‡

4

BI 340

Evolutionary Biology

3

Total Supporting BI Hours

18

Course Substitutions

BI 275

Human Anatomy** (substitute for BI 250)

4

BI 325

Microbiology of Human Disease* (substitute for BI 155)*

5

BI 300

Field Biology ‡ (substitute for BI 310)

3

BI 330

Animal Physiology † (substitute for BI 255)

4

Total BI Hours for BiEd Majors
38

C. Required Chemistry, Math and Physics Courses for BiEd Majors:

CH 151/152

Fundamentals of Chemistry (1 year with lab)

10

CH 340/342

Organic Chemistry I (with lab)

5

MA 140
  or MA 151

Statistics 
  or Calculus & Analytical Geometry I

3
  or 5

PS 261-262
  or PS 281/282

College Physics (1 year with lab)
  or General Physics (1 year with lab)

10

D. Courses that may be used to fulfill the 30-hour NS Concentration (CH emphasis)

CH 341/343

Organic Chemistry II (with lab)

5

  or

5 cr hr of upper division CH

Total CH, MA, PS Hours
33-35

F. Professional Education Requirements (See BiEd advisor)


39
GET IN TOUCH
WITH Department of Biology
Department of Biology
Stoffer Science Hall, Room 202
Washburn University
1700 SW College Ave
Topeka, KS 66621