Please save the date for a lecture by Dr. Robyn Faith Walsh: March 2, 2023.
Argumentum ad lunam: Discourse and Competition on the Moon
Throughout Paul's letters in the New Testament there are curious references to cosmology, trips to the "third heaven," and even meditations on the nature and purpose of the moon and other celestial objects. When compared with ancient Greek and Roman writers and philosophers, such discourse is commonplace. But modern translations, influenced by later Christian theological understandings of the afterlife, obscure the degree to which Paul is engaged in demonstrating his authority on questions of extraterrestrial existence. In an age in which discourses and demonstrations involving the moon were rife, Dr. Robyn Faith Walsh will argue that Paul envisions Christ-followers ultimately existing among the stars in pneumatic or spiritual form, with a home specifically in the shadow of the moon.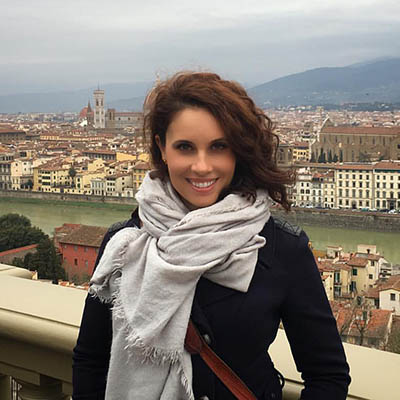 About Dr. Robyn Faith Walsh
Robyn Faith Walsh is an Associate Professor at the University of Miami (UM). She earned her Ph.D. at Brown University in Religions of the Ancient Mediterranean, with a focus on early Christianity, ancient Judaism, and Roman archaeology.
Her book, The Origins of Early Christian Literature: Contextualizing the New Testament within Greco-Roman Literary Culture, was published with Cambridge University Press.
About the Series
The Thomas L. King lecture series has been fortunate to have a number of distinguished scholars as speakers.  Previous lecturers have included Walter Brueggemann, Jacob Neusner, Martin Marty, John Dominic Crossan, Huston Smith, Wendy Doniger, Bart Ehrman, Peter Gomes, and Eva Morczek. In addition to the formal public lecture, speakers' schedules are typically arranged so they can meet informally with a class of undergraduates.
The Thomas L. King Lecture in Religious Studies always is free and open to the public. It is held each spring semester. 
First Congregational Lecture Series
March 27, 1983 - Walter Brueggemann
"Obedience and Imagination in the Life of Faith"
Thomas L. King Memorial Lecture Series
February 19, 1984 - Charles H. Talbert
"Mission, Formation & Community: Discipleship in Luke & Acts"
March 3, 1985 - Walter Harrelson
"The Prophet Ezra: Champion of the Law, Friend of Sinners"
April 13, 1986 - George W.E. Nickelsburg, Jr.
"The First Century: A Time to Rejoice and a Time to Weep"
April 26, 1987 - Elizabeth Achtemeier
"The Themes of Isaiah: Words for our Time"
March 27, 1988 - Leander E. Keck
"Paul: Problem and Promise"
Thomas L. King Lecture in Religious Studies
April 30, 1989 - David Ray Griffin
"Religion and Science in the Post-Modern World"
March 11, 1990 - Dennis E. Groh
"New Discoveries in New Testament Galilee: Excavations at Sepphoris"
April 14, 1991 - Rosemary Radford Ruether
"Eco-Feminism: Social and Symbolic Connections Between the Domination of Women and the Domination of Nature"
November 21, 1991 - Jacob Neusner
"From Doctrine to Imagination: A Different Kind of Judaeo-Christian Dialogue"
September 17, 1992 - Martin E. Marty
"The Extremes of Fundamentalism: Global and Local Issues"
October 14, 1993 - John Dominic Crossan
"Jesus the Peasant"
September 29, 1994 - E.P. Sanders
"Jesus as Prophet of the Restoration of Israel"
October 24, 1995 - Lawrence H. Schiffman
"Scholars, Scrolls, and Scandals: Christianity, Judaism, and the Dead Sea Scrolls"
November 12, 1996 - Huston Smith
"The Coming World Civilization"
October 13, 1997 - Paula Fredriksen
"Jews, Romans, and the Death of Jesus"
March 10, 1999 - Ron Cameron
"The Gospel of Thomas and Christian Origins"
March 7, 2000 - Langdon Gilkey
"The Creationism Controversy"
March 8, 2001 - Merrill Miller
"Redescribing Christian Origins"
October 25, 2001 - Karen L. King
"Early Christian Diversity and Contemporary Christian Identity"
April 16, 2002 - Jonathan Z. Smith
"God Save This Honourable Court": Religion in Public Discourse"
April 8, 2003 - Amy-Jill Levine
"Jews and Christians in Conversation: The Future of Interfaith Dialogue"
April 20, 2004 - John Dominic Crossan
"The Life of Jesus and American Christianity"
April 12, 2005 - Yvonne Yazbeck Haddad
"Islam in the West: History, Theologies, and Values"
April 4, 2006 - Wendy Doniger
"The Mythology of Magic Rings of Forgetfulness"
April 17, 2007 - Derek Davis
"Religion and Politics in the United States: Conflicts and Anomalies"
April 11, 2008 - Bart D. Ehrman
"God's Problem: How the Bible Fails to Explain Human Suffering"
April 25, 2009 - Peter J. Gomes
"Beyond the Bible: Recovering the Gospel"
April 14, 2010 - Mark D. Nanos
"Images of Jews and Judaism in Paul's Letter to the Romans: Challenging Translation Decisions That Subvert Paul's Message"
March 10, 2011 - Robert Jewett
"Jesus, Captain America, and Barack Obama: The Superhero Myth in Contemporary America"
October 26, 2011 - Ferdinand Schlingensiepen
"Dietrich Bonhoeffer 1906-1945: Martyr, Thinker, Man of Resistance"
April 24, 2013 - William E. Arnal
"Just How Christian Were the First Christians?"
October 28, 2013 - Robert Wuthnow
"Red State Religion"
October 15, 2015 - Amy-Jill Levine
"Pearls and Prodigals: Hearing Jesus' Parables Through Jewish Ears"
September 13, 2016 - Rami Arav
"Bethsaida from King David to Jesus"
March 14, 2018 - Barry Crawford
"The King Lecture at 35: Retrospect and Prospect"
February 25, 2019 - Eva Mroczek
"Out of the Cave: Manuscript Discoveries and New Biblical Pasts"
February 25, 2020 - Cyrus Zargar "Muslim Encounters with the Christian Other in Persian Sufi Poetry"
February 15, 2022 - Ann Taves
"Sacralizing and Desecrating Public Spaces: Civil Religion, Worldviews, and the Role of Ultimate Values in the January 6 Attack and its Aftermath"
GET IN TOUCH
WITH Philosophy and Religious Studies Department
Philosophy and Religious Studies Department
Morgan Hall, Room 206
1700 SW College Ave.
Topeka, KS 66621