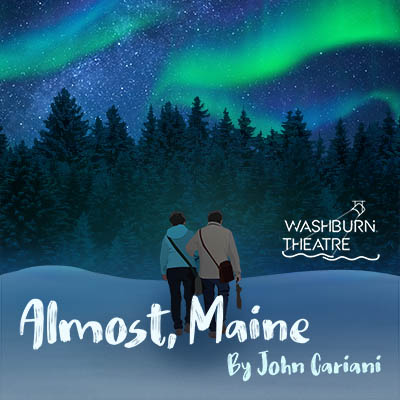 Almost, Maine
Location: Neese-Gray Theatre
Dates: April 13, 14, 15, 21, 22 and 23
In this comedic play, the magic of love, with the help of the aurora borealis touches the people of Almost, Maine. The play takes the audience on a journey to this remote community and into one evening of encounters between its residents through a series of intertwined short scenes.
Theatre Showcase and Awards
Location: Neese-Gray Theatre
Date: Fri 05/05/23 3:00PM
Program Auditions
In Person Scholarship auditions are February 10, 2023.
Video submission priority deadline is 5 p.m. February 10, 2023.
Step One: Prepare an audition and materials.
Acting students: Prepare a two-minute memorized audition. We suggest two contrasting monologues or a monologue and a musical theatre song selection. The total time you are allotted is two minutes.
Technical theatre students: Prepare a portfolio to present highlights of your work in an approximately two-minute presentation. You may choose the portfolio medium that is appropriate to communicate your technical expertise.
Step Two: All students should also bring or send:
A resume of theatre work

Headshot or portfolio for technical work

New students -- High school transcripts for new students or full application to Washburn University completed.
Returning students -- include current GPA on your resume.
Step Three: In-person auditions and interviews or video submission:
Admission to the Musical Theatre B.A. program requires a successful audition.

Auditions for 2022 are being accepted via video submission or in-person visit.

In-Person Visit Day: February 10, 2023
Video submission priority deadline: 5 p.m. February 10, 2023.
Please contact theatre@washburn.edu

 for video submission.
What to prepare for your Musical Theatre Program audition:
Two contrasting musical theatre songs and a short (45-60 second) monologue.

Musical selections should fit within 2 minutes. Please cut numbers accordingly.

Musical auditions must be recorded with accompaniment. No a cappella auditions will be considered.

The monologue may be an additional 45-60 seconds.

A brief resume of performance and theatrical experience with a contact email and phone number.
GET IN TOUCH
WITH Washburn Theatre
Washburn University Theatre
Garvey, Room 133
1700 SW College Ave.
Topeka, KS 66621