Bienvenidos!
If you plan to major in Spanish, we encourage you to begin your language studies as soon as you start at Washburn and continue to enroll in at least one language course each semester until graduation. Learning a foreign language is a cumulative process; it will benefit you to stay immersed in the language every semester.
In order to major in Spanish, a student must complete 30 hours of course work beyond the 100 level. SP 101 will count as part of the total number of hours needed for graduation. SP 102 fulfills a general education requirement in the Humanities.
A minor in Spanish is also available for students interested in supplementing another major with knowledge of the Spanish language. You can earn a teacher certification in conjunction with the education department.
Students whose native language is one of those taught by the department may not enroll in or challenge 100 and 200 level courses by examination.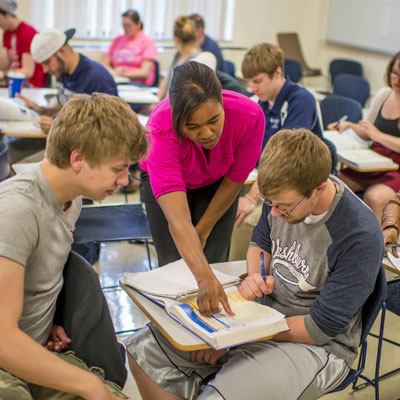 Spanish Conversation Table
The Spanish Conversation Table meets regularly during the semester for conversation.  Spanish Table is a fun, informal chance to practice your Spanish with fellow students without the pressure of grades, and is an excellent chance to brush up your speaking skills or keep them current.  Call the department at 670.1714 for information on the current meeting schedule. 
Contact the Modern Languages department for other information regarding the Spanish Conversation Table or the Spanish Club.
GET IN TOUCH
WITH Department of Modern Languages
Department of Modern Languages
Morgan Hall, Room 350
1700 SW College Ave.
Topeka, KS 66621