Student scholarships are awarded yearly to new and returning students
Work study positions are also available.
Contact the department chair, sharon.sullivan@washburn.edu for more information.
About Theatre Scholarship
 The Theatre Department at Washburn is seeking quality students. All students intending to enroll full-time are eligible. Scholarships are awarded on the basis of academic achievement, past performance and potential.
For Design/Tech interviews you will present a portfolio of prior work.
For performance, you will prepare a two minute audition of either two contrasting monologues or one monologue and a song.
Please bring sheet music for accompanist, (no recorded accompaniment.)
All applicants must submit a resume of prior work, transcript and headshot photo. Please contact the theatre department office for further information: theatre@washburn.edu or 785-670-1639.
Scholarships are available to full-time students enrolled in at least three hours of Theatre courses per semester.
Scholarship recipients must maintain a 2.0 GPA overall and a 2.5 GPA in Theatre courses.
Scholarship recipients must participate in all productions as assigned.
Non-performance assignments require a minimum 30 hour commitment per show.
Majoring in theatre is not required to receive a scholarship.
Scholarship recipients must submit the FAFSA for financial aid to be considered for university scholarships. For more information about Washburn's financial aid, visit Washburn Financial Aid Department.
Audition information
A note for Musical Theatre students:
If you plan on a Musical Theatre major and you want to be considered for scholarships, you'll complete two auditions. If auditioning in person on February 10, you'll indicate in your registration of that intent. If planning for video submission, follow the requirements for both the scholarship audition and program audition as explained below. Contact Julie Noonan, Musical Theatre Program Director, at
julie.noonan@washburn.edu
with questions.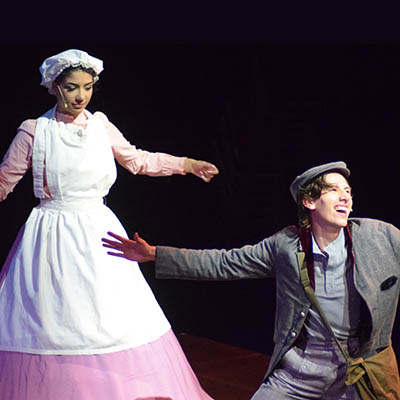 2023 Scholarship Auditions
In Person Scholarship auditions are February 10, 2023.
Video submission priority deadline is 5 p.m. February 10, 2023.

Step One:  Prepare an audition and materials.
Acting students: Prepare a two-minute memorized audition. We suggest two contrasting monologues or a monologue and a musical theatre song selection. The total time you are allotted is two minutes.
Technical theatre students: Prepare a portfolio to present highlights of your work in an approximately two-minute presentation. You may choose the portfolio medium that is appropriate to communicate your technical expertise.
Step Two: All students should also bring or send:
A resume of theatre work
Headshot or portfolio for technical work
New students --

High school transcripts for new students or full application to Washburn University completed.


Returning students -- include current GPA on your resume.
Step Three:  In-person auditions and interviews or video submission: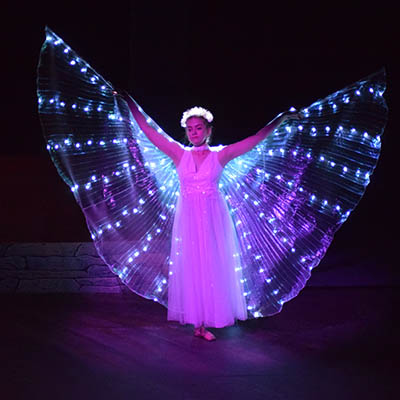 B.A. in Musical Theatre Program Auditions
Admission to the Musical Theatre B.A. program requires a successful audition. Auditions for 2023 are being accepted via video submission or in-person visit.
In-Person Visit Day: February 10, 2023
Video submission priority deadline: 5 p.m. February 10, 2023: Please contact theatre@washburn.edu for video submission.
What to prepare for your Musical Theatre Program audition:
Two contrasting musical theatre songs and a short (45-60 second) monologue.

Musical selections should fit within 2 minutes. Please cut numbers accordingly.

Musical auditions must be recorded with accompaniment. No a cappella auditions will be considered.

The monologue may be an additional 45-60 seconds.

A brief resume of performance and theatrical experience with a contact email and phone number.
GET IN TOUCH
WITH Washburn Theatre
Washburn University Theatre
Garvey, Room 133
1700 SW College Ave.
Topeka, KS 66621