Student scholarships are awarded yearly to new and returning students
Work study positions are also available.
Contact the department chair, sharon.sullivan@washburn.edu for more information.
About Theatre Scholarship
 The Theatre Department at Washburn is seeking quality students. All students intending to enroll full-time are eligible. Scholarships are awarded on the basis of academic achievement, past performance and potential.
For Design/Tech interviews you will present a portfolio of prior work.
For performance, you will prepare a two minute audition of either two contrasting monologues or one monologue and a song.
Please bring sheet music for accompanist, (no recorded accompaniment.)
All applicants must submit a resume of prior work, transcript and headshot photo. Please contact the theatre department office for further information (785.670.1639) and to arrange for an audition time for the scholarship and/or for the BA with Musical Theatre Concentration.
Scholarships are available to full-time students enrolled in at least three hours of Theatre courses per semester.
Scholarship recipients must maintain a 2.0 GPA overall and a 2.5 GPA in Theatre courses.
Scholarship recipients must participate in all productions as assigned.
Non-performance assignments require a minimum 30 hour commitment per show.
Majoring in theatre is not required to receive a scholarship.
Scholarship recipients must submit the FAFSA for financial aid to be considered for university scholarships. For more information about Washburn's financial aid, visit Washburn Financial Aid Department.
Audition information
A note for Musical Theatre students:
If you plan on a Musical Theatre major and you want to be considered for scholarships, you'll complete two auditions. If auditioning in person on February 18, you'll indicate that you want to audition for both the program and scholarship consideration when you arrive. If planning for video submission, follow the requirements for both the scholarship audition and program audition as explained below. Contact Julie Noonan, musical theatre program director, at
julie.noonan@washburn.edu
with questions.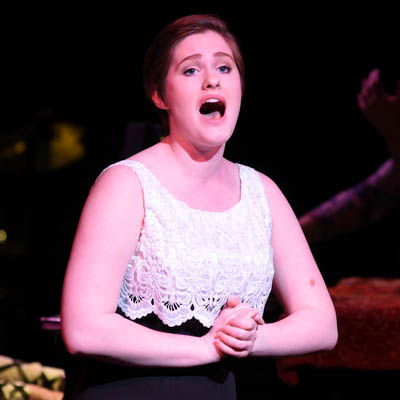 2022 Scholarship Auditions
Scholarship auditions are February 18, 2022.
Video submission priority deadline is 5 p.m. February 18, 2022.

Step One:  Prepare an audition and materials.
Acting students: Prepare a two-minute memorized audition. We suggest two contrasting monologues or a monologue and a musical theatre song selection. The total time you are allotted is two minutes.
Technical theatre students: Prepare a portfolio to present highlights of your work in an approximately two-minute presentation.  You may choose the portfolio medium that is appropriate to communicate your technical expertise.
Step Two:  All students should also bring or send:
A resume of theatre work
Headshot or portfolio for technical work
New students -- High school transcripts for new students or full application to Washburn University completed.
Returning students -- include current GPA on your resume.
Step Three:  In-person auditions and interviews or video submission:    
Auditions will be held 1-4 p.m. February 18, 2022. Please call 785-670-1639 or email theatre@washburn.edu to schedule an appointment. 
Auditions may be recorded and submitted via https://video.washburn.edu/dropbox/audition. Any musical selection must include accompaniment. No a cappella singing will be accepted as an audition. 
All video submissions are due by 5 p.m. on February 18, 2022. Please put "Scholarship audition" in your video description.
Video size is limited and must adhere to the two-minute parameter.  Please see Video Dropbox Information for Students below for further instructions.
We encourage all auditionees to join us in-person for the speaking and interview portions. If you cannot attend in-person, please contact us at theatre@washburn.edu to schedule a Zoom interview time.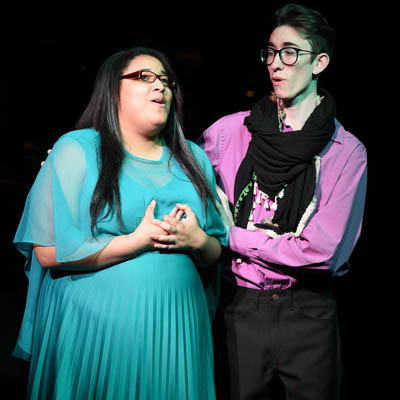 B.A. in Musical Theatre Program Auditions
Admission to the Musical Theatre B.A. program requires a successful audition. Auditions for 2022 are being accepted via video submission or in-person visit.
In-Person Visit Day: February 18, 2022
Video submission priority deadline: 5 p.m. February 18, 2022
What to prepare for your audition:
Two contrasting musical theatre songs and a short (45-60 second) monologue.

Because of the video format, both musical selections must fit within 2 minutes. Please cut numbers accordingly.
Musical auditions must be recorded with accompaniment. No a cappella auditions will be considered.

The monologue should be sent in a separate file not to exceed 30 seconds. Please edit to include up to 30 seconds on the piece.
Also include a brief resume of performance and theatrical experience, with a contact email and phone number. You will be contacted to schedule a short interview regarding your goals and experiences.
How to submit your video audition
Submit your video files (there should be two) and other materials via this web form: https://video.washburn.edu/dropbox/audition

Include Musical Theatre Program Audition, along with your name, in the description of the video. Please see the Video Dropbox Instructions below for further tips and instructions.
NOTE: Program auditions may be scheduled after February 18 with approval from the program director. Please contact julie.noonan@washburn.edu with any questions.
Recording the Video
If you are recording a video file on your phone or a tablet you will want to make sure that you hold the device in the correct orientation. It is not unusual for people to hold their device in a way that will cause the video that they submit to appear sideways or upside down. This video will help prevent this from happening on your recording: https://video.washburn.edu/Watch/Af42Gog5 
Uploading the Video
You will find the video dropbox for your class at the following link: https://video.washburn.edu/dropbox/audition 
Before you begin, I would recommend that you watch the following video which provides an overview of the process: https://video.washburn.edu/Watch/s2L3Eyn8.  I would also recommend that you move the files that you need to upload from your recording device to the hard drive of a computer, preferably one that is connected to the internet via an Ethernet cable. Uploads from cell phones and other portable device occur slower and have a tendency to time out.
Troubleshooting Upload Issues:
There are 4 primary issues that you may experience when uploading to the Washburn Video server. Below is a list of these issues along with information about how to resolve them.
Make sure your files are completely uploaded. When you upload your video file, you cannot close the window or navigate away from the upload page before you receive the following message: "Thank you for submitting your content through the Ensemble Video Dropbox." If you do, your upload will be cancelled.
Timeouts caused by uploading from phones/tablets. When the screen saver engages on your phone/tablet the upload will cease. To prevent issues, we recommend that you make sure that the files that you are trying to upload have been moved from your recording device to the hard drive of a computer, preferably connected to the internet via an Ethernet cable. Uploads from cell phones and other portable device occur slower and have a tendency to time out.


Your Internet Connection Speed. When uploading video files you need to have an upload speed of 3-5 MBPS. A slower connection will cause the upload to take longer and could time out. To determine the speed of your upload connection you can conduct a speed test at: www.speedtest.net. If you have a slower internet connection, you will need to find a location with a faster location (like a local library).


The size of the file you are trying to upload. If you are trying to upload large files, the file size can make the upload take a very long time. To avoid this you can re-encode your files (into a more compressed format) using a free program called handbrake (it can be downloaded via the following url: https://handbrake.fr/). Below are instructions on using Handbrake.
Using Handbrake:
Once you are in Handbrake, you will need to locate where it says "Open Source" in the upper left corner of the Handbrake window and click on it. You will then want to select either "Folder" (if there are multiple files) or "File" (if there is only one). Now an "Open" window will appear on your screen. Navigate to the file (of folder) you want to encode and open it. You will be taken back to the Handbrake window.

You will now need to locate the "Presets" on the right side of the screen and select "Very Fast 720p30." Once you have done this, locate the "Destination" box (it will appear on the left side of your screen). On the right side of the box there is a "Browse" button, click on it. A "Save As" window will now open, select where you want the new file saved and give it a name (different that the original file). Now you will click "Save" and will be taken back to the Handbrake window.

Finally, locate the "Start Encode" button at the top of the Handbrake window. Once this is done you will be given an estimate of how long the conversion will take at the bottom of your screen (this will be determined by the size of the file and the ram/processor in your computer). When the file is complete it will say "Queue Finished" at the bottom of the screen. You can now close Handbrake and upload your new video file.
GET IN TOUCH
WITH Washburn Theatre
Washburn University Theatre
Garvey, Room 133
1700 SW College Ave.
Topeka, KS 66621