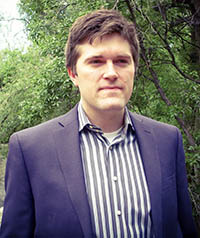 Joseph Piontek
Area of Specialty: Piano
Contact

1700 SW College Ave

Topeka

,

KS

66621-1117

..
Degrees & Certifications

Univ of Colorado-Boulder, Master of Music
Scholarly Interests/Activities

Piano, Theory, Composition
Career Accomplishments

A new addition to the Northeast Kansas community, Joseph Piontek currently teaches adjunct courses at Washburn University, acts as the pianist for the choir program at Free State High School, and plays organ and piano for the choir and congregation of First Baptist, Topeka. Before arriving in Kansas, Mr. Piontek resided in Boulder County, Colorado where, besides completing his Masters degree in Piano Performance at the University of Colorado, he won prizes in international, regional, and local competitions such as the the 2015-16 Colorado MTNA Young Artist Competition (winner) and the 2016 Boulder International Chamber Music Competition (semi-finalist), and collaborated with musicians of the Colorado Ballet Orchestra and the Boulder Philharmonic.

Mr. Piontek's primary training has been on the piano, and during his time at the University of Colorado and the University of Central Missouri, he studied with Andrew Cooperstock, Mia Hynes, Richard Smith, and Wesley True. In addition, he has played for master classes given by William Wolfram, Thomas Rosenkranz, Kevin Kenner, Carolyn True, and Dan Velicer, and received chamber music coaching from Norman Krieger and William Terwilliger at the Vianden Music Festival in Luxembourg. During his studies and into his professional career, Mr. Piontek's interests have expanded to include harpsichord, organ, and composition.