Pick your campus experience
What better way to experience the personal attention Ichabods enjoy than to come experience it firsthand? It's the best way for you to get to know us, and we'd be thrilled to meet you!

There are many ways for you to visit Washburn: personalized campus visits, Ichabod Days and virtual visits.
Personalized visits and virtual visits are all about you! You'll speak with our faculty in the area of your academic interest and meet with an admissions counselor. On campus visits will include a tour with a current student, but we also encourage you to take our virtual tour and check out our YouTube channel for day-in-the-life looks at being a student at Washburn. In-person visits are expected to last two hours. Virtual visits can be held via Skype, Zoom, FaceTime, Duo or phone call.

Ichabod Days are events where you and your friends can explore Washburn together and get all of your questions answered about the admissions process, options for paying for college, housing options on campus and much more.

Call us at 785.670.1030 and we'll arrange a campus visit opportunity that suits your needs.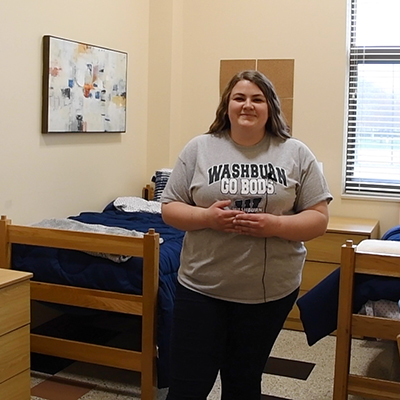 Tour Lincoln Hall and the LLC
Abby and Alaina are your guides to checking out two of the options to live on campus: Lincoln Hall and the Living Learning Center. They also answer some questions like: Are freshmen required to live on campus? Where do you eat on campus? How many students share a bedroom/suite? What amenities are included?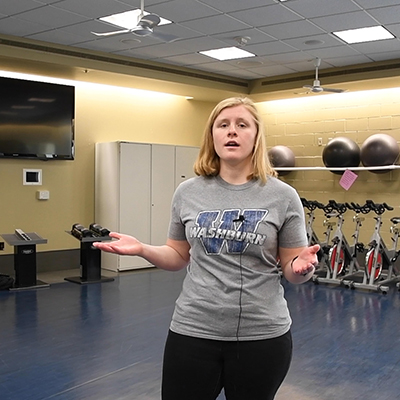 Quick tour: The Rec
Washburn students Abby and Macy take you on a quick tour of the Student Recreation and Wellness Center, which is the on campus gym for Washburn students. They also answer some common questions such as:
Do you have to pay to use the Rec?

What intramural sports do they have?

Can I work at the Rec?
GET IN TOUCH
WITH Admissions
Washburn University Admissions
Morgan Hall Suite 100
1700 SW College Ave.
Topeka, KS 66621