Dean's Welcome:
Washburn University created the Center for Student Success and Retention (CSSR) in July 2011, in order to better support the successful transition of students into and through their first-year of studies.  Students and, therefore, the Washburn Community of Learning continue to benefit from the creation of the CSSR because First-Year student retention is increasing. 
The CSSR and the initiatives that come out of it are changing success outcomes well beyond the first year for students. On this page, you can learn about our activities.  You can also learn how to join and support the CSSR in improving student achievement at Washburn University.
In the age of metrics, we know the CSSR is making a difference because, as publicly reported by the Kansas Board of Regents, Washburn University leads the way in improving the success outcomes of students in our state.  Our full-time, first-time First-Year students retain at a rate 8% higher than in 2011 and greater than 10% than that of similar institutions across the nation. 
Retaining students into the second year is the crucial step in setting them on a path towards on-time graduation. At Washburn University, the Community of Learning committed to helping students pursue and accomplish their dreams, creating the CSSR to help them discover success.
All the good things occurring plus those to come mean we are in need of assistance, so to join others in the Washburn Community of Learning please consider becoming a mentor and joining our Friends group.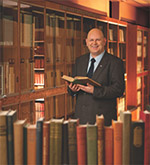 Best Wishes,
Alan Bearman, Ph.D.
Professor of History
Dean of University Libraries and the
Center for Student Success and Retention