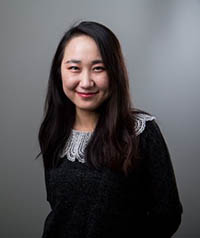 Kowoon Lee
Adjunct Instructor
Music
College of Arts and Sciences
Area of Specialty: Piano
Contact

1700 SW College Ave

Topeka

,

KS

66621-1117

785.670.3876
Degrees & Certifications

Univ of Missouri-Kansas City, Doctor of Musical Arts
Teaching

MU 109 A, Piano for Beginners I
MU 267 B, Piano
MU 467 B, Piano
Career Accomplishments

A native of South Korea, pianist Dr. Kowoon Lee debuted as a concerto soloist at the age of 16. She has since performed internationally, including in South Korea, the United States, Puerto Rico, Italy, and Czech Republic, and with many orchestras and ensembles. As a strong advocate of new music, Dr. Lee has been working with many renowned living composers, such as Chen Yi, Gabriela Ortiz, James Mobberley, Juri Seo, Karen Tanaka, and Vera Ivanova, to name a few. She recently co-founded Duo Confluence, a flute and piano duo that dynamically merges both Asian and Jewish culture into exciting and informative concerts. Duo Confluence's first project is entitled "Homeland," which celebrates music by underrepresented composers, and includes concerts in Puerto Rico.

Dr. Lee specializes in music by women composers. Her doctoral research project involved piano music written by women composers, and included an original research paper and a recording. Her lecture-recital series of music by women composers "21st Century Music for Solo Piano by Living East Asian Women Composers" and "Finding Their Own Voices: Piano Etudes by Women Composers in the 21st Century" has been presented at the Women Composers Festival of Hartford, the International Alliance for Women in Music, the Asian Classical Music Initiative, and the College Music Society in the United States, and the 10th World Piano Conference in Serbia. Her Duo Century, a women's trumpet and piano that she founded, has been promoting music by women composers and they have been selected to perform "The Visual and Aural Connections: Character Pieces for Trumpet and Piano by Living Women Composers" at the 2022 International Women's Brass Conference.

Dr. Lee earned her Doctor of Musical Arts in Piano Performance at the University of Missouri-Kansas City, her Master of Music and Performer's Diploma at Indiana University. Before studying in the United States, she finished her Bachelor of Music from Sookmyung Women's University in Seoul, South Korea, and graduated from the Chungnam Arts High School. Dr. Lee joined Washburn University as an Adjunct Instructor of Piano in Fall 2022. She also teaches at Cottey College as an Adjunct Assistant professor of Music, and works for the Puerto Rico Center for Collaborative Piano as a committee member.
Related Links