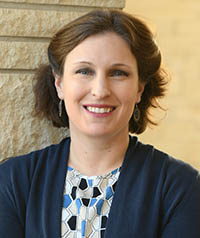 Vanessa Steinroetter
Associate Professor & Chair English
English
College of Arts and Sciences
Contact

1700 SW College Ave

Topeka

,

KS

66621-1117

785.670.1734
Degrees & Certifications

Cath Unv Eichstaett-Ingolstadt, Master of Arts
Univ of Nebraska at Lincoln, Doctor of Philosophy
Academic History

Washburn University, Associate Professor, 2017-present; Assistant Professor, 2011-2017.

University of Nebraska-Lincoln, Teaching Assistant, 2007-2011.

Nebraska Wesleyan University, Adjunct Instructor, 2006-2007.

Catholic University of Eichstaett, Germany, Adjunct Instructor, 2005-2006.
Teaching

EN 208 VA, Professional Writing
EN 330 A, American Lit through 1865
EN 331 A, American Literature since 1865
EN 385 A, Dir Reading/Writing/Resrch
KS 395 A, Indep Study - Kansas Studies
KS 397 XA, Internship in Kansas Studies
Scholarly Interests/Activities

Nineteenth-century American literature and print culture, especially of the antebellum era and Civil War; periodical literature; history of the book; women's literature; Digital Humanities; American ethnic literatures; transatlantic literary studies and translation studies.
Service Interests/Activities

Co-Director of the Center for Kansas Studies, starting August 2017; Campus Content Manager for the English Department website, 2011-2017;

Faculty IT 

Advisory

 Committee; Faculty Development steering committee; 

member of the WU Diversity Initiative; English Department literature emphasis committee.
Career Accomplishments




Publications:

Journal Articles & Book Chapters:

"'[T]o hold time and place together': The Power of Material Objects in Rebecca Harding Davis's Civil War Stories." Women's Studies: An Interdisciplinary Journal. (Forthcoming fall 2020)
"Vacant Chairs and Absent Bodies: Material Disruptions of Domestic Spaces in a Southern Scrapbook." Mississippi Quarterly 71.4 (Fall 2017/18; published in December 2019): 423–438.
"Materiality in the Civil War Poetry of Herman Melville and Walt Whitman" in "This Mighty Convulsion": Whitman and Melville Write the Civil War, edited by Tyler Hoffman and Christopher Sten. Iowa City: University of Iowa Press, November 2019: 33–49.
"Unsettling Landscapes: Prairie Madness and EcoGothic Themes in U.S. Plains Literature," Great Plains Quarterly 39.3 (Summer 2019): 291–310.
"Daughters of a Reading People: Representations of African American Girlhood and Female Literacy in the Christian Recorder" in Saving the World: Girlhood and Evangelicalism in Nineteenth-Century U.S. Literature, edited by Robin Cadwallader and Allison Giffen. London: Routledge, 2017: 52-70.
 "Walt Whitman in the Early Kansas Press," Kansas History: A Journal of the Central Plains 39.3 (Fall 2016): 182-193.
"Soldiers, Readers, and the Reception of Victor Hugo's Les Misérables in Civil War America," Reception: Texts, Readers, Audiences, History 8 (2016): 5-28.
"'Reading the List:' Casualty Lists and Civil War Poetry," ESQ: A Journal of the American Renaissance 59.1 (Spring 2013): 48-78.
 Chapter on Civil War literature in Civil War America: A Social and Cultural History, edited by Maggi Morehouse and Zoe Trodd. London: Routledge, October 2012.
 "'Pioneers! O Pioneers!' and Whitman's Early German Translators," 19: Interdisciplinary Studies in the Long Nineteenth Century 9 (2009). 
"The Politics of Humor: Max Cohnheim's Columbia (1863-1873), a German Newspaper in the Nation's Capital," American Periodicals: A Journal of History, Criticism, & Bibliography 19.1 (Spring 2009): 21-48.
"A Newly-Discovered Translation of Louisa May Alcott's 'My Contraband' in a German American Newspaper," New England Quarterly 81.4 (December 2008): 703–713.

Other Publications:

Review of Tommy Lee Jones, The Homesman (Film). In: Kansas History: A Journal of the Central Plains 38.2 (Summer 2015): 115–117.
"'Barbaric Yawp' in German," one of twelve invited essays focusing on the translation of Walt Whitman's famous phrase "I sound my barbaric yawp over the roofs of the world" in eleven different languages. Published in a special English-language issue of the Polish scholarly journal Rocznik Komparatystyczny/Comparative Yearbook titled "Civilized/Barbaric? Intercultural Dialogue in Poetry," 4 (2013): 273–280
"'Leaving it to you to prove and define': 'Poets to Come' and Whitman's German Translators," an essay co-authored with Prof. Walter Gruenzweig and solicited by the Walt Whitman Archive for its translation section (August 2012).
Review of David M. Stewart, Reading and Disorder in Antebellum America, (Columbus: The Ohio State University Press, 2011). In: SHARP News 21.2 (Spring 2012).

Conference Presentations (Selected):

"The Idea of the Borderlands in the Civil War Writings of Rebecca Harding Davis." 2020 Society for the Study of Southern Literature (SSSL) Conference, Fayetteville, April 2-5,
2020.

"John Whittaker Watson's 'No Letter' (1865): The 'Vampyre Clutch' of the Postal Worker and the Civil War Post Office." 2019 MMLA Conference, Civil War Caucus, Chicago, November 14-16, 2019.

"Vacant Chairs and Absent Bodies: Material Disruptions of Domestic Spaces in a Southern 

Poetry Scrapbook." 2018 MMLA Conference, Civil War Caucus, Kansas City, November 

16-18, 2018.

"Revisiting Melville's Skepticism toward Reconciliation in 'Magnanimity Baffled.'" 2017 

MMLA Conference, Civil War Caucus, Cincinnati, November 10-12, 2017. 

"Revisiting Prairie Madness: Unsettling Landscapes and the EcoGothic in Plains Literature." 2017 Western Literature Association (WLA) Conference, Minneapolis, October 26-28, 2017.
"The Mean Face of War: Moral Borderlines and Sectional Conflict in the Civil War Stories of Rebecca Harding Davis." MMLA Convention, St. Louis, MO, November 10-13, 2016.
"Seeking to the Fill the Void: Unsettling Objects and the Collecting Impulse in Civil War Literature." C19 Conference, State College, PA, March 17-20, 2016.
"'Delicate souvenirs de la guerre': Material Traces of the Civil War in Rebecca Harding Davis's 'David Gaunt.'" American Literature Association (ALA), Boston, May 21-24, 2015.
"'A Strange Mixture of War and Dante and Robinson Crusoe': Soldiers' Reading and Autobiographical Accounts of the American Civil War." American Literature Association (ALA) Symposium on "War and American Literature," New Orleans, October 10-12, 2013.
"Walt Whitman's Western 'Jaunt' and Early Reception in the (Mid-)Western Press." Reception Study Society (RSS) Conference, Milwaukee, September 26-29, 2013.
"A 'Great Army of Letters': Letter Writing and Patriotic Duty in Women's Literature of the Civil War." Fifth Conference of the Society for the Study of American Women Writers (SSAWW), Denver, October 10-13, 2012.
"Soldiers, Readers, and the Reception of Victor Hugo's Les Misérables in Civil War America." American Literature Association (ALA) Conference, San Francisco, May 25-28, 2012.
"Dead Letters, Absent Bodies, and the Uncertainty of (Re-)Union: Representations of Letter Reading in American Literature of the Civil War." Reception Study Society (RSS) Conference, Maryville, MO, September 2011.
"Annotating Whitman's Civil War Correspondence in a Digital Environment." Association for Documentary Editing (ADE) Conference, Philadelphia, October 15-17, 2010.
"Reading for Respectability: The Free Black Community in Antebellum Philadelphia and the Culture of Reading." Modern Language Association (MLA) Convention, Philadelphia, December 27-30, 2009.

Other Accomplishments and Awards:

Invited contributor to the companion website for the Bedford Anthology of American Literature Vol. I, Second Edition.
Contributing editor for the Walt Whitman Archive
Caleb Loring, Jr. Fellow at the Boston Athenaeum, 2010-2011
P.E.O. Scholar Award, 2009-2010

Certificate of Teaching and Learning 2015-2016

Certificate of Teaching and Learning 2016-2017

Certificate of Teaching and Learning 2017-2018

Certificate of Teaching and Learning 2018-2019

Certificate of Inclusive Teaching and Learning 2018-2019