The arts come alive at Washburn University. Students here write plays, compose music and perform their hearts out for their fellow Ichabods several times a year. Catch a faculty ensemble, a senior recital or a holiday concert in White Concert Hall.  
Don't miss out on the thrill of opening night at the Andrew J. and Georgia Neese-Gray Theatre. There are typically five productions per year. Students are involved in every aspect of each production, from costumes and set design to performance and lighting.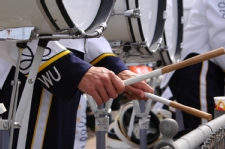 And don't forget, you can be a part of the action during every home football game as a member of the Marching Blues.
See upcoming performances and shows
Learn about performance degrees