It all Started February 6, 1865
Washburn was founded as Lincoln College, a private Congregational school, on February 6, 1865. Since few young people had a high school education at that time, the founders decided to offer a three year high school curriculum in addition to the college curriculum. Classes began January 3, 1866 with 38 high school students enrolled, including one African-American student. The stage was set and the first two college students enrolled in Lincoln College in the fall of 1866.

The economy immediately following the Civil War made it difficult to raise money, so the fledgling college struggled to keep its doors open. The Board appointed Rev. Horatio Q. Butterfield, professor, to be its fundraiser in order to solicit money to help with expenses and to create an endowment to put the college on a more secure financial footing.
We recognize our origins annually on Founders Day, a celebration of Washburn University and its long and storied past. From its founding on the heels of the Civil War to the 1966 tornado to the 21st century institution it is today, Washburn University is resilient, determined, well-established and stands the test of time.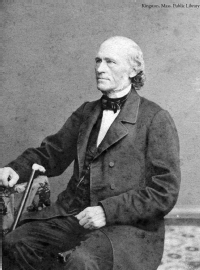 Ichabod Washburn worked his way from indentured apprentice to captain of industry. The businessman was also a fervent Congregationalist, abolitionist and philanthropist who believed in the rights of all people to an education.
Washburn was sent before the age of 9 to learn leather harness-making because his widowed mother could not provide for him. He later became an apprentice blacksmith and learned machinery. By the time he was 33, in 1831, Washburn had developed a machine and technique that made wire stronger and easier to produce, which ultimately led to his fortune.
His innovations in wire led some to call him a father of the industry. His company, Washburn and Moen Wire Works, named for Ichabod and his son-in-law and partner Philip Moen, was the largest wire producer in the world for a time. It was the primary domestic producer of piano wire and crinoline wire, which became an affordable alternative to whale bone in the popular hoop skirts of the 1850s and '60s. Washburn and Moen produced tons of telegraph wire and, after Washburn's death, the company secured a patent for and mass produced barbed wire, which fenced the homesteads of the American West.
When Horatio Q. Butterfield, a professor and lead fundraiser at financially struggling Lincoln College in Kansas, visited Washburn's home in Worcester, Mass. in October 1868, the businessman apparently liked what he heard. Founded by the Congregational Church in 1865, the school enrolled women and men, including one African-American man, in its first class. The college also offered scholarships to honorably discharged Union soldiers among others. Washburn, a church deacon, pledged $25,000 to the college. The following month, the one-building institution was renamed Washburn College, at Butterfield's recommendation, in recognition of the pledge. Washburn died Dec. 30, 1868 after complications of a stroke. He never set foot on his namesake campus.
Non Nobis Solum
Washburn's motto, "non nobis solum," speaks directly to the university's founding principles. It means "Not for ourselves alone." Charlotte Leavitt, professor of English, suggested the motto in the early 1900s.
"For Washburn and Her Team"
The name of Washburn shall never fall,
Midst the great and small, she's the best of all;
For her fair name,
Then, we'll win the game,
And add another victor's crown
So then, we'll smash, crash against the line
"As in Auld Lang Syne,"
Crush them down,
So Cheer now, yes, cheer, cheer, cheer
Just for Washburn and her team!
"Alma Mater"
A song of our prairies wide,
A song of breezes strong,
A song of our pride, the true and the tried,
Of our college dear, a song.
Chorus:
Washburn, Washburn, we love thee well,
Ours is the joy thy praise to swell;
With voices free we'll sing of thee
And ever thy praise we'll tell.
'Tis not for thy hoarded light,
'Tis not for thy stately halls, But 'tis for the right, 
the sword of might,
Thy sons obey thy calls.
(repeat chorus)

Lucy Platt Harshbarger, Attendee, wrote the music and Frances Storrs Johnston, BS 1892, MD 1893 wrote the words. Lucy took music courses at Washburn for three years and also taught harmony for one year. Her husband, William Harshbarger was an 1893 Washburn graduate and he taught mathematics at the university for many years. Frances graduated from the Washburn Academy (high school) in 1885, and attended Washburn College and the Kansas Medical School alternately. She was one of the first women to graduate from the medical school. She had a private practice in Topeka for a while and later moved to Scotland with her husband.
The Rich History of Washburn University