The Day of Transformation is a chance for students to present their completed WTE project to the public (students, faculty, guests)
Students from any of the four (4) WTE areas are welcome to present at the Day of Transformation.
Presentations at the Day of Transformation may be poster or oral presentations.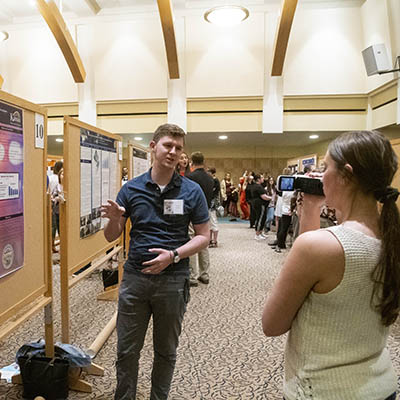 Need money to cover the cost of printing your poster?
No problem.  You need only check 'Yes' for 'Are you requesting WTE poster grant funding to print your poster?' in the DoT registration form.
Posters must be printed at UMAPS (University Mailing and Printing Services; Memorial Union - Ichabod Service Center). 

Posters must be submitted to UMAPS at least one (1) week prior to the event in order to ensure they are printed in time.

Maximum poster award amount is $85. 

Most posters cost about $65.

Students can receive poster money for every WTE project they complete. 

Complete 4 WTEs, get money for 4 different WTE posters.

Poster money can be used for on- and off-campus events (e.g., Day of Transformation, Apeiron, off-campus conferences).
Previous Day of Transformation Programs