Earn a scholarship by participating in the Garvey Scholarship Competition!
The Garvey Scholarship Competition is an essay competition with a 75 minute time limit used to determine Garvey Scholarships. Essays should be between 400 and 500 words and in response to the following prompt:
"Washburn's motto is Non Nobis Solum, Not for ourselves alone, which is ingrained in what it means to be an Ichabod. How will you, as a student at and alumnus of Washburn, embody this motto?"
High school seniors with a 3.25 or higher cumulative GPA are eligible to participate in the Garvey Scholarship Competition. Garvey Scholarships are $1,500 and may be renewed up to four consecutive years by maintaining a 3.25 or higher GPA, and can only be used at Washburn University.
This competition is offered to high school seniors annually in late November and early December, with multiple test data and location options available. Candidates will only participate in the competition once.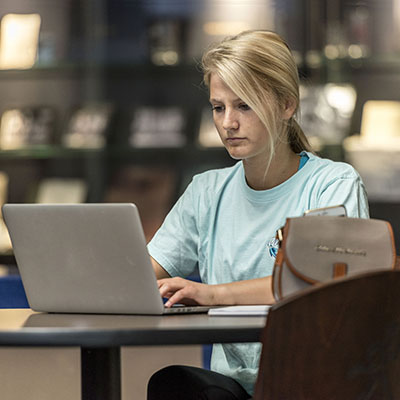 2023 Garvey Scholarship Competition Dates
Check back for competition information soon!
GET IN TOUCH
WITH Admissions
Washburn University Admissions
Morgan Hall Suite 100
1700 SW College Ave.
Topeka, KS 66621