Bring your group to campus!
Let us arrange a visit for your school or community-based organization to learn about all the exciting things at Washburn! Group visits are a great introduction to student life and academics. Sign up below!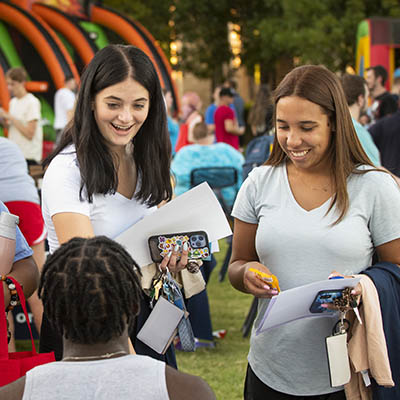 A group visit at Washburn includes:
Campus tour
Admissions meeting
Other activities based on your group's interest
Request a group visit
Please make your request at least 10 business days in advance of the requested day. Group visits can be scheduled Monday through Thursday year round.
Parking & Drop-off
Free on-campus parking is provided for cars and vans at Morgan Hall in parking lot 18, located just east of the entrance. If you plan to use bus transportation, please drop off your students at Morgan Hall. During your visit, we will furnish you with a parking pass to enable parking your bus at parking lot 11, located on the northwest corner of the campus.
GET IN TOUCH
WITH Admissions
Washburn University Admissions
Morgan Hall Suite 100
1700 SW College Ave.
Topeka, KS 66621