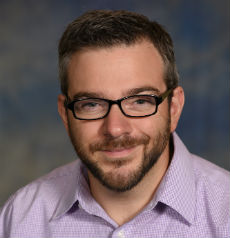 Chris Jones
Associate Professor of Religious Studies
Philosophy & Religious Studies
College of Arts and Sciences
Contact

1700 SW College Ave

Topeka

,

KS

66621-1117

785.670.1543
Degrees & Certifications

Oklahoma Baptist University, Bachelor of Arts
Garrett-Evangelical Theol Sem, Master of Theology
Univ of Wisconsin-Madison, Doctor of Philosophy
Academic History

Bergendoff Visiting Fellow, Augustana College 2015-2017

Visiting Assistant Professor, Beloit College 2014-2015
Teaching

HN 201 D, Seminar Humanities Fine Arts
RG 101 A, Intro to Religion
RG 101 B, Intro to Religion
RG 103 A, Introduction to the Bible
RG 306 A, Ritual
RG 386 A, Special Study
RG 398 A, Senior Thesis Preparation
RG 399 A, Senior Thesis
Scholarly Interests/Activities

My research concerns the Hebrew Bible-- nothing more, but also nothing less. That means I study a lot of writing from the ancient world, whether or not it was written by Jews and whether or not it eventually became part of the Bible. Specifically, I focus on the books of Ezra and Nehemiah, and the ways that they have impacted the development of (respectively) globalism and nationalism in the modern world.

I am also active in the scholarship of teaching and learning, with publications on backward design and the use of sacred canons in religious studies classes.
Service Interests/Activities

Co-chair of the Chronicles-Ezra-Nehemiah program unity of the Society of Biblical Literature

Peer Reviewer for publishers of scholarly books on ancient Judaism
Career Accomplishments

Early Excellence in Teaching Award, University of Wisconsin-Madison, 2007

Certificate of Teaching and Learning 2017-2018

Certificate of Teaching and Learning 2018-2019

Certificate of Inclusive Teaching and Learning 2018-2019

Certificate of Teaching and Learning 2020-2021

Certificate of Inclusive Teaching and Learning 2020-2021

Certificate of Teaching and Learning 2021-2022

Certificate of Inclusive Teaching and Learning 2021-2022

Certificate of Teaching and Learning 2022-2023
Related Links