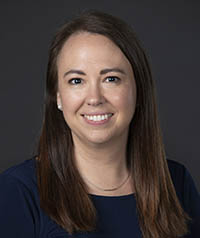 Christa Smith
Executive Director Strategic Analysis Research and Reporting
Strategic Analysis Rsrch, & Rprtng
Contact

Garvey Fine Arts Ctr

Suite 233

1700 SW College Ave

Topeka

,

KS

66621-1117

785.670.1873
Degrees & Certifications

Kansas State University, Bachelor of Science
Kansas State University, Master of Arts
Career Accomplishments

Christa Smith is the Executive Director of Strategic Analysis, Research and Reporting. She joined Washburn University in 2012 as a Research Analyst and served in this position for two-multimillion-dollar US Department of Labor Trade Adjustment Assistance Community College and Career Training (TAACCCT) grant projects.

Christa was raised on a farm near Frankfort, Kansas. She earned a Bachelor's of Science and a Masters of Arts, both in Sociology, from Kansas State University. After graduation, Christa accepted a position as a Research Associate/Evaluator for the Office of Educational Innovation and Evaluation, an evaluation center at Kansas State University that specialized in internal and external program evaluation.

Christa continues to lead interdisciplinary teams in the internal evaluation of federal grant programs at Washburn. Christa's interests in research and program evaluation are in examining the educational and occupational barriers for traditionally underrepresented groups.

In her spare time, Christa enjoys exercising, baking, camping and gardening. She lives with her husband, Justin, in Wamego, with their two cats.
Related Links