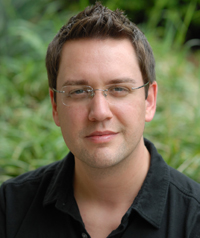 Jim Schnoebelen
Professor Communication Studies/Chair
College of Arts and Sciences
Contact

1700 SW College Ave

Topeka

,

KS

66621-1117

785.670.1426
Degrees & Certifications

University of Central Missouri, Bachelor of Science
University of Central Missouri, Master of Arts
The University of Kansas, Doctor of Philosophy
Academic History

Degrees & Certifications

Ph.D. in Communication Studies, University of Kansas
M.A. in Speech Communication, Central Missouri State University
B.S. in Speech Communication, Central Missouri State University

Academic History

I have taught for the Washburn University Department of Communication since completing my Master's degree in 2001. At this time and through the 2007-2008 academic year, I was also Assistant Director of Forensics. Since 2008, I have served as the undergraduate Mock Trial coordinator in addition to my teaching duties.

Courses Currently Teaching

CN 101 Principles & Practices of Human Communication
CN 150 Public Speaking
CN 309 Political Communication
CN 341 Persuasive Speaking
CN 361 Communication in Social Movements
CN 364 Gender Communication
CN 498 Communication Senior Capstone
Teaching

CN 150 B, Public Speaking
CN 364 VA, Gender Communication
CN 491 XA, Senior Capstone Internship
Scholarly Interests/Activities

I am primarily interesting in researching the communication practices of candidates for elective office, specifically the presidency. My specific focus is on issues of marginalization and diversity within this realm of communication, especially in terms of gender and sexual orientation.
Service Interests/Activities

I have had the privilege of serving the Washburn community by being a part of College Faculty Council (CFC), CAS Dean's Strategic Planning Committee, and the Gender and Women's Studies Advisory Committee. I have also served my discipline in various organizations, including the Central States Communication Association, National Communication Association, American Mock Trial Association, National Forensics Association, National Parliamentary Debate Association, and Pi Kappa Delta.
Career Accomplishments

Co-author (in 2011): Will the 'real' candidates for president and vice president please stand up? 2008 pre- and post-debate viewer perceptions of candidate image. American Behavioral Scientist, 55(3), 232-252.

Co-author (in 2009): "It's 3 a.m.": Strategic communication in Hillary Clinton's 2008 presidential primary televised announcements. In T. F. Sheckles (Ed.), Cracked But Not Shattered: Hillary Rodham Clinton's Unsuccessful Campaign for the Presidency, 149-172. Lexington: Lantham, MD.

Lead author (in 2009). Hillary, you can't go home again: The entrapment of the first lady role. In T. F. Sheckles (Ed.), Cracked But Not Shattered: Hillary Rodham Clinton's Unsuccessful Campaign for the Presidency, 45-68. Lexington: Lanham, MD.

10 Peer-reviewed conference paper or panels presented at various conferences

Certificate of Teaching and Learning 2021-2022

Certificate of Inclusive Teaching and Learning 2021-2022

Certificate of Teaching and Learning 2022-2023

Certificate of Inclusive Teaching and Learning 2022-2023