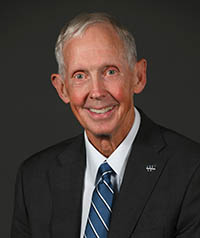 Loren Ferre
Contact

Petro Allied Health Center

Rm 200

1700 SW College Ave

Topeka

,

KS

66621-1117

785.670.1794
Career Accomplishments

Loren Ferré became Washburn's director of athletics in February of 1996 after a six-year appointment at Black Hills State University in Spearfish, S.D. Ferré is a dynamic leader who has implemented many internal changes within the athletic department since arriving on campus. While at Washburn all of the athletic facilities have been renovated or built from scratch including the $20 million indoor athletic facility, one of the best venues in the country that opened in 2020.

He has put increasing scholarships and departmental fund-raising at the top of his list. He has been at Washburn for 36 of the 42 MIAA titles won and 113 of the 123 NCAA appearances in school history.

In 2005, Ferré was named the Central Region Athletic Director of the Year. At Washburn, Ferré has been instrumental in the establishment of a strong Ichabod Club support team and the raising of funds for athletic scholarships. 

While at BHSU, Ferré was also director of the Donald E. Young Sports Fitness Center, a 172,000 square foot, $10.2 million facility. During his Black Hills tenure, the athletics department nearly tripled its outside revenue, including large increases in ticket sales and scholarship funding. All 10 varsity teams won a conference title in his final three years.

Before joining the staff at Black Hills State, Ferré spent 17 years at the University of North Texas. He was the director of the Coliseum (1987-90) and was the associate and assistant director since 1980. He held the post of event coordinator (1978-80).

Ferré is a 1971 graduate of Texas Christian University, earning a bachelor of arts degree. He earned a master's in journalism from North Texas in 1982. 

Ferré also served a three-year term as Chair of the NCAA Division II Men's Basketball South Central Regional Chairman.

Ferré and his wife Sarah, have two daughters, Caitlin and Hope, and a grandson, Ben.