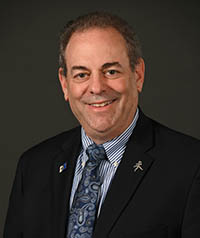 Marc Fried
General Counsel and Secretary to the Board of Regents
General Counsel & Board of Regents
Contact

1700 SW College Ave

Topeka

,

KS

66621-1117

785.670.1712
Career Accomplishments

Marc Fried is General Counsel and Secretary to the Board of Regents for Washburn, serving in that role since 2014. In addition to reviewing contracts and providing legal advice to departments across the Washburn campuses, Fried has been part of initiatives to rewrite the equal opportunity/Title IX policy, redrafting board by-laws and policies, and provided input for and serves as a trainer for Washburn's Adjunct Institute and the Supervisor Essentials Program. Fried also served as an adjunct professor for one semester teaching Higher Education Law at the Washburn University School of Law.

Prior to his position at Washburn, Fried served 4+ years as general counsel at St. Louis Community College (STLCC). While at STLCC, Fried served as an adjunct instructor teaching introduction criminal justice to first and second year college students and Higher Education law to Doctoral Education Administration candidates. Prior to working at STLCC, Fried worked for Armstrong Teasdale LLP in St. Louis, providing legal counsel to STLCC and numerous other political subdivisions in Eastern Missouri.

Fried previously served as the County Counselor, the First Assistant to the Prosecuting Attorney and the District Public Defender in Jefferson County, Missouri. Fried graduated from Washington University of Law (1985) and earned a B.S. in Accounting and Business Administration from the University of Kansas (1982).

Fried is currently a member of the Topeka Heartland SERTOMA club, serves as the Board Chair for the United Way of Kaw Valley and previously served on the Topeka Planning Commission. While in St. Louis, Fried was involved in several community organizations including the Lions Club of Kirkwood (Past President), FOCUS St. Louis's BRIDGES over Racial Polarization (Co-Chair of meeting group) and Eliot Unitarian Chapel (Board Chair 2012-2013). Fried enjoys playing golf, where he usually pays less per stroke in green's fees than his playing partners, and pickleball.