Who is a First Generation College Student?
You are a First Generation college student if neither of your parents/legal guardians completed a bachelor's degree, regardless of siblings and other relatives. This website provides information to help first generation students find university resources and navigate college expectations.
Questions? Contact First Generation Student Specialist Graciela Berumen, 785-670-1941.
Find answers to your questions on our First Generation Student Resource Guide.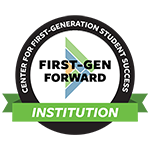 First-Gen Forward
Washburn University is a NASPA First-Gen Forward Institution, one of 80 universities in the nation recognized for its high-impact programs for first-generation students in the inaugural 2019-2020 cohort.
FAQ – Resource Guides to assist in your engagement with our first-generation students at Washburn University. These guides are made available by the Title III Strengthening Institutions Grant and sponsored by the Center for Teaching Excellence and Learning.
Small class sizes are ideal for First Generation students who are often hesitant to ask for help.
Washburn faculty are student-focused and provide a strong support system for First Generation students.
The First Generation Mentor program will connect students with alumni and community members who can help broaden students' academic and professional networks.
Washburn was founded on the principle that all people – regardless of family income, race, ethnicity, or gender – have the right to earn an education.